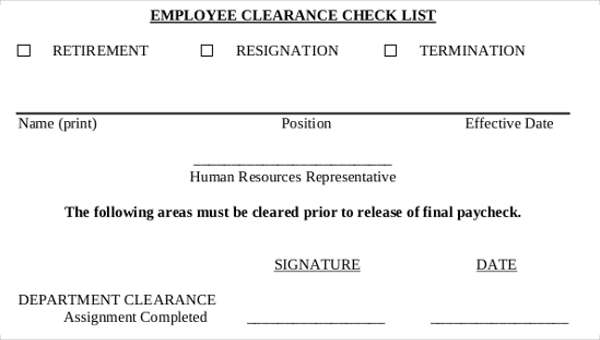 A Clearance Form is a document that allows an individual to proceed with a certain action. This form is usually used in granting licenses such as a driver's license and an operator's license. In the field of medicine, a clearance is used for knowing if the patient is qualified to undergo clinical procedures and operations.
There are only a few types of clearance forms, and one of the few is the Exit Clearance Form. This type of clearance tackles the requirements and conditions associated with a person's retirement. This form is commonly used by foreigners and employees who are moving out of their company.
Employee Exit Clearance Form
Employee Clearance Checklist
Employee Exit Clearance Checklist
Volunteer Exit Clearance Form
What is an Exit Clearance Certificate?
An Exit Clearance Certificate is a document that will serve as a proof that a person has no other obligations left which will hinder his departure. Employees should acquire this certificate before leaving the company to clear up any possible liabilities. To request for a Clearance Certificate, an employee should submit an Employee Clearance Form. This form contains the taxes of the employee and a checklist to indicate whether that employee is clear from causing company property damages. Authorized signatures are indicated if the employee is approved for his desired departure.
What is a Travel Exit Clearance?
The world has been evolving so much that tourist destinations are increasing in number. Due to this, people are traveling from one country to another, and experiencing the so-called wanderlust. But when a person arrives at a different location, he is considered an alien and he can't easily march out of that place without a Travel Exit Clearance. Some government agencies only provide this clearance for overseas employment purposes. The certificate will also protect the user from travel taxes and airport fees. The person who applies for this certificate must submit all the necessary requirements which include a completely filled out Medical Clearance Form to ensure that he is fit to travel.
Exit Property Clearance Checklist
Exit Interview Clearance Form
Federal Employee Exit Clearance
Attaining a POEA Special Exit Clearance
Before, an applicant would have to wake up early and line up for a number of hours or days just to acquire government forms and certificates. But nowadays, due to the evolution of technology, long lines of waiting and impatient people have ceased. To sign up and apply for the POEA Special Exit Clearance, all you have to do is log in to their website and input your information into the boxes. The clearance can also be printed at any time of the day and any place in the world that is associated with the agency. Here are few tips you'll need to remember after submitting your application online:
Pay the e-payment service fees and print your application.
Have your priority number from the POEA office.
Be sure to bring your employment contract, ID pictures of 1×1 or 2×2 sizes and all needed documents.
Take a medical examination and make sure that your Medical Clearance Form is fully filled out by the recommended physician.
Attend the seminars and take down important notes.
Have your fees assessed by the authorized counter at the agency.
Wait for the releasing of your Special Exit Clearance.