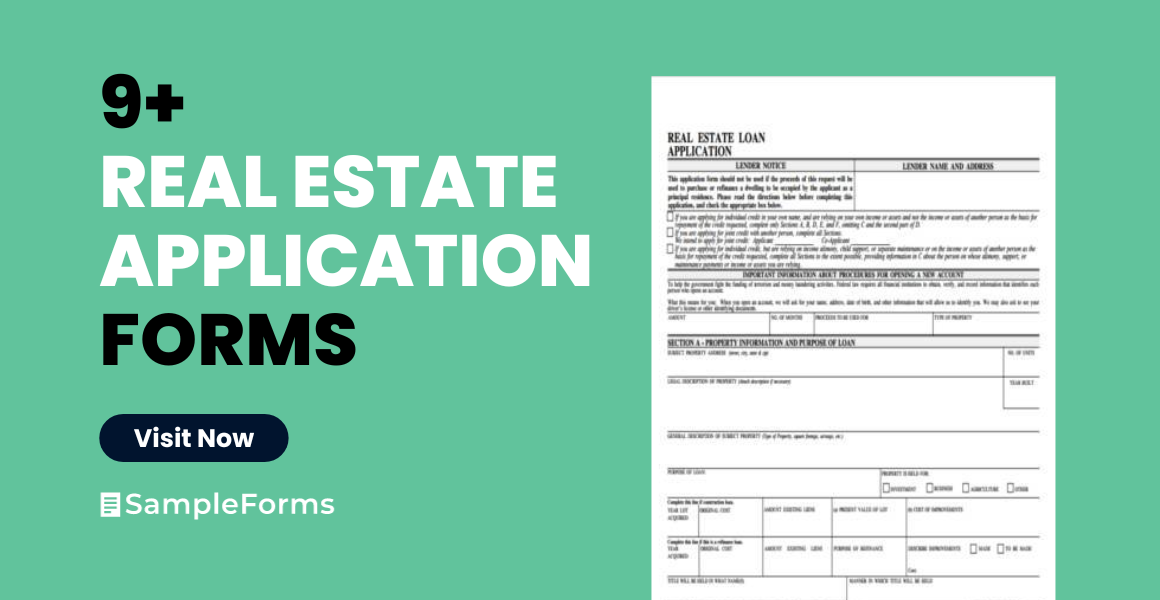 Renting out real estate property can be a risky business. Although putting your real estate property up for lease can be a form of passive income that does not necessarily need supervision or the hiring of much staff, letting other people use your property can be risky because you are actually putting your property on the line. It is therefore crucial to properly screen your potential renters to make sure that they will not cause damage to your rental unit, and that they also have the ability to pay the amount of rent due.
Real Estate Forms have to be properly and thoroughly drafted in order for these to be enforceable and to avoid any disputes or misunderstandings that may arise between the tenant and the landlord. Our Real Estate Agreement Forms and Real Estate Offer Forms contain the key contents needed in a Real Estate Application and provide easy access to help you save time and money.
Real Estate Rental Application Form
Real Estate Agent Application Form
Real Estate Loan Application Form
Real Estate Tenancy Application Form
Sample Real Estate Rent Application Form
Using a Real Estate Application Form allows both tenants and landlords to establish a written agreement outlining the terms and conditions pertaining to the lease of a property. Verbal agreements are a thing of the past, and in a world where people forget and memories easily fade, agreements just cannot be done anymore with the mere shake of hands. Below is a list of the items that should be indicated in a Real Estate Application Form:
the full name of the landlord
the full name of the tenant
the complete address of the real estate property that is being leased
the landlord's service address
the amount of rent due each month
the preferred mode of payment
the schedule of payment
the duration of the tenancy
specific terms and conditions
obligations and responsibilities of the tenant
obligations and responsibilities of the landlord
house rules
forfeiture clauses
As soon as an applicant has accomplished a Real Estate Application Form, landlords will typically perform a verification on the candidate to see if he is eligible for the tenancy. Tenant verification will normally include background checks on the employee's credit history, criminal record, and history of tenancy. Once a landlord is able to confirm the claims made by an applying tenant, he can then decide if he will accept the candidate or not. When a landlord accepts an applicant for tenancy, he then becomes a tenant. A Real Estate Lease Agreement will then be needed to finalize terms and conditions between both the landlord and the renter.
Real Estate Agreements are Legally Binding
When a landlord and a tenant have agreed on the terms and conditions for renting out a residential space, both parties have to willfully affix their names and signatures on the agreement. Residential Lease Agreements are legal and binding and therefore obligate both parties to comply with the conditions set in the agreement to avoid disputes.
Real Estate Credit Application Form
Residential Real Estate Application Form
Real Estate Application Form in PDF
Real Estate Application Form in Word Format
Real Estate Tax Transfer Application
Discussion of Maintenance Cost
Some landlords cover the costs for maintaining and repairing a leased property, unless stated otherwise. There may be instances, however, wherein a tenant is required to cover the expenses for repairs, especially if the damage incurred was caused by the tenant, whether deliberately or not.
Tenant Privacy and Confidentiality
As a paying tenant, landlords must be sure to maintain the privacy of a tenant by asking for permission before entering into the premises for repairs. It is also the landlord's duty to make sure that the information collected for screening purposes remains confidential and should only be used for the purpose of the tenancy. Information collected from renters must be properly disposed of.
Terminating a Rental Agreement
Tenants and the landlords may want to terminate a lease agreement before it even ends. Terminating an agreement may be mutual or may arise when a portion of the agreement's terms and conditions have not been met. However, as with other contracts, terminating a lease agreement has to be done in a clearly documented way to avoid disputes or lawsuits.