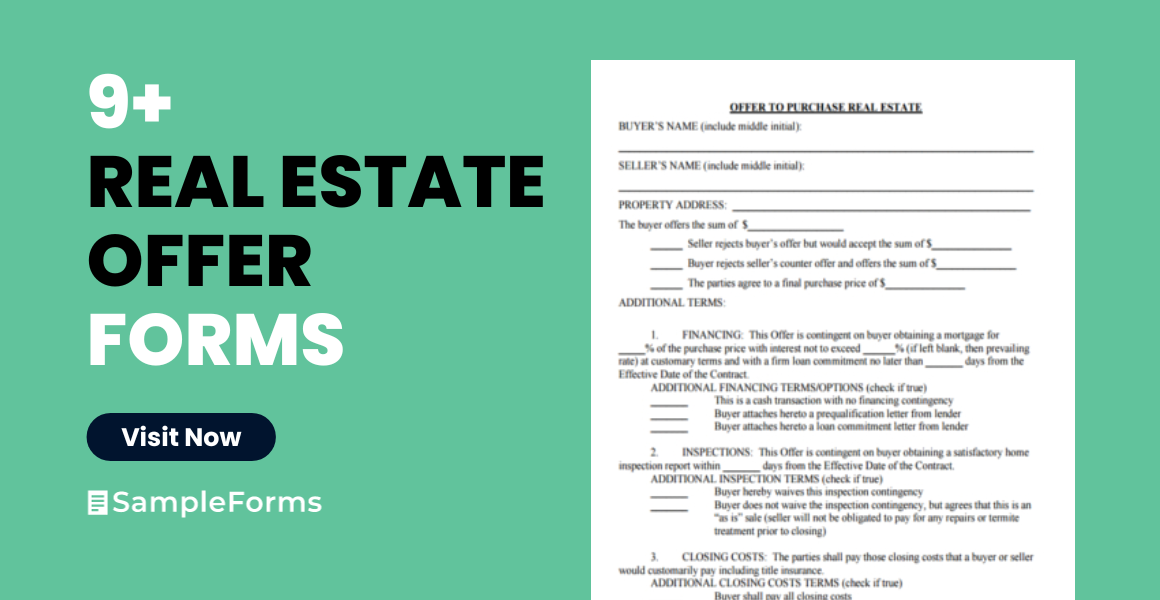 If you are new to trading in real estate, the details of Real Estate Forms might bewilder you. Whether buying or selling, you have to be extremely detail-oriented. A real estate offer form is exactly that – an offer to buy or sell property.
If you have no idea where to start with selling your house, the safest option would be to get a lawyer, preferably with a real estate license. Realtor associations publish purchase contracts. However, anyone can draft the actual contract beforehand; they just can't be compensated for it.
Considering you need a place to start, we have listed some helpful and professional real estate offer forms that you can download as samples or templates completely free of charge.
Purchase and Sale Agreement Form
Real Estate Purchase Contract Form
Letter of Intent For Purchase of Real Property Form
Real Estate Offer Form in PDF
Standard Offer to Purchase Real Estate Form
What to Use These Templates For
Standard Offer to Purchase Real Estate Form. Normally these are drafted by the buyer along with a real estate agent. This sample should give you an idea on the layout.
Letter of Intent for Purchase of Real Property. A letter of intent is drafted before anyone gets into any sort of contract. Essentially, this letter states your desire to enter into a real estate transaction with another party, in this case the seller. (See additional links below for more free templates for letters of intent.)
Real Estate Counter Offer Form. A counter offer is drafted by a seller who is rejecting the initial terms made by a buyer's purchase offer. Essentially, the counter offer accepts the offer for purchase, but only under certain changed conditions (a higher price or deposit, a change in service provider, etc.).
Use these documents as templates or samples, available as free tools for download and print.
Bonus
You might also want to look into how to write up Real Estate Disclosure Forms. These are officially documented statements that the seller gives the buyer detailing the condition of the house. Normally, disclosures should cover previous improvements, renovations, repairs, or upgrades done to the property. Doing this well also protects the seller from legal action in the future.
Commercial Real Estate Purchase and Sale Offer Form
Real Estate Counter Offer Form
Real Estate Offer and Acceptance Form
Free Offer to Purchase Real Estate Form
Real Estate Contract Offer Form
More Templates for Real Estate Documents
If you found these Offer To Purchase Real Estate Forms useful, you might be interested in these related topics. Look them up on SampleForms.com for more helpful freebies:
Real Estate Offer Form (Letter of  Intent). Before entering into a contract, you will have to draft a real estate offer form or a real estate letter of intent. Letters of intent state your willingness to go into a sale or lease transaction with one or more parties. These documents are non-binding and must happen before any contract is signed.
Real Estate Purchase Agreement Form. This is legally binding and is signed after the offer to purchase form is approved under the stated terms and conditions.
Real Estate Counter Offer Form. This document may be needed before the agreement is signed. This is drafted by the seller who accepts the offer to purchase from the buyer, but only under certain changed conditions. This counter offer spells out those conditions.
All these documents and more are available for free download on SampleForms.com.