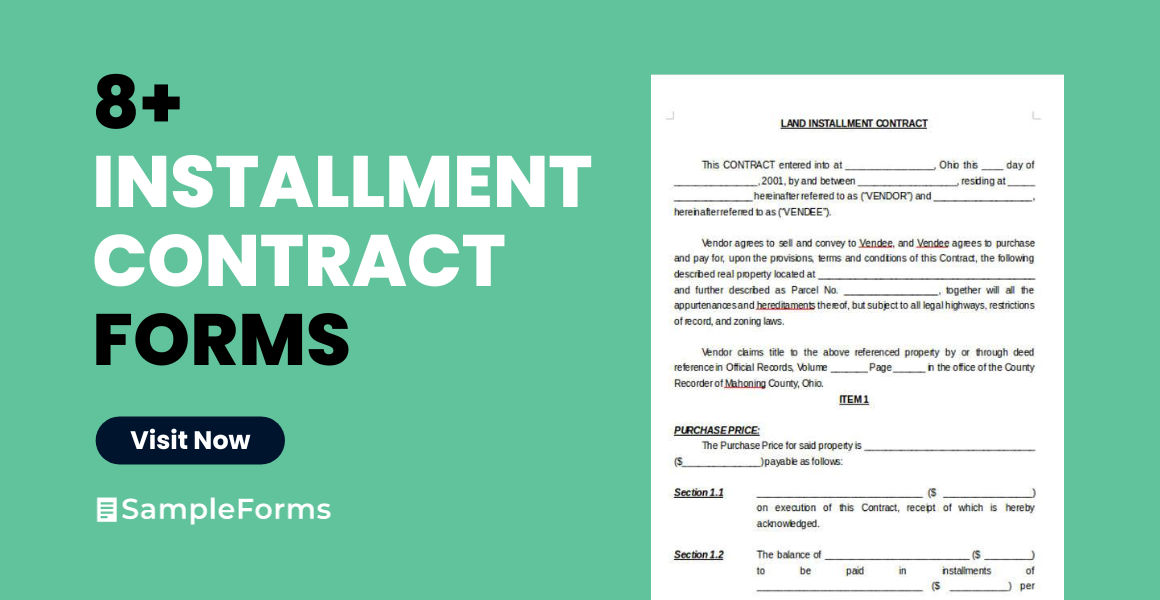 An Installment is a a sum of money due as one of several equal payments for a product or service, spread over an agreed period of time. Basically, if a person can't pay everything in one go, he can decide to pay it in fractions of what it's worth through months of continuous payment until he reaches the full amount.
How does one set up an installment mode of payment with a company? How would one know how long he has to keep paying until it's all fully settled?
Installment Contract Forms are used to let the buyer know the details of the installment plan he decides to take part in.
Retail Installment Contract Form
Land Installment Contract Form Example
Installment Plan Contract Form
Motor Vehicle Installment Contract Form
The Different Kinds of Installment Contract Forms
There are various forms that a buyer can use to assess what kind of installment plan a product has before he makes a purchase. Here are some examples of these kinds of forms.
Land Installment Contract Forms are forms used when a certain person wishes to buy property. If that person can't pay in full, then he may decide to use this form to purchase the property with a long series of payments.
Motor Vehicle Installment Contract Forms are forms used by those who wish to pay for any type of motor vehicle, be it a car or a motorcycle, in the form of installments.
Installment Plan Contract Forms are used by buyers and sellers to check and agree upon the type of installment plan a certain product or service has before purchase.
Loan Installment Contract Forms are forms used when a person loans from a bank and will pay the loaned money in monthly payments until the full amount is paid.
Retail Installment Contract Forms are used by those people who purchase any product from retail stores and wish to pay for those products in quick and easy installments.
Free Installment Contract Form
Installment Sales Contract Form Sample
Installment Payment Contract Form
Installment Contract Form Example
General Installment Contract Form
The Importance of Installment Contracts
Having these kinds of contracts can be very beneficial to both the buyer and the seller. A buyer who won't be able to pay the full amount in one go can decide to pay for the product in installments. It may take time to pay it in full, but at least it's a plan wherein the buyer can pay the amount in full after a given time.
These contracts are also important to the seller. They can guarantee that the buyer will stick to the contract and pay the installment on the times they are supposed to do so. If the buyer violates the contract, then the seller has every right to take the product back and keep the money that the buyer has already paid with the previous installments.
Buyers must make sure to uphold the installment contracts if they want to keep the product they've been spending for on a monthly basis.