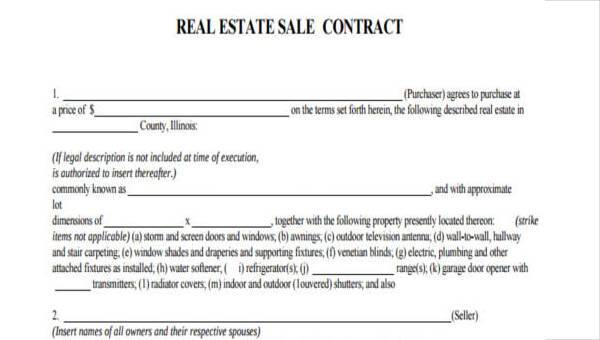 When a customer purchases something from a company, such a transaction is called a sale. Sales happen every single day. It's important for companies to keep track of the sales they make every single day.
It's also important for companies to make sure they form proper contracts before they conduct a sale. How do they do this? They use Sale Contract Forms that allow them to make sure that the client knows what he purchased and agrees to the terms before buying the product.
Sample Land Sale Contract Form
House Sale Contract Form
Used Car Sale Contract Form Example
Installment Sale Contract Form
Estate Sale Contract Form Example
The Different Types of Sales Contract Forms
There are various forms that companies or small business owners can use to ensure a proper contract is formed before a purchase. Here are some examples of these Sales Contract Forms that can do just that:
Car Sale Contract Forms are the kinds of forms that are used when a person wishes to purchase a brand new car from a certain car company such as Toyota, Suzuki, Honda, and so much more.
Used Care Sale Contract Forms are forms that are similar to Car Sale Contract Forms with the only difference being that they use these to set up a contract for a used-car purchase.
Land Sale Contract Forms are used by those people or companies that wish to purchase land from another company or private owner. This helps set up the contract between both parties.
House Sale Contract Forms are used by companies to form contracts with those who want to purchase a form and set up the payment plan along other agreements needed.
Installment Sale Contract Forms are used by companies to form contracts for purchases that require an installment plan.
Sale of Apartment Contract Forms are forms that are used by those who want to buy an apartment and furnish a proper contract between the client and the landlord.
Car Sale Contract Form Sample
Sale of Real Estate Contract Form
Sale of Apartment Contract Form
Sample Sale of Goods Contract Form
General Contract for Car Sale
The Importance of Making a Sales Contract
Whether it's a business refilling an order with a longtime customer or rolling over an annual contract, it's a good idea to get things in writing to benefit of both parties. A Sales Contract can prevent any miscommunication that can damage relationships or put companies in a financial bind, and it will help them better manage their finances and business relationships.
This is especially true in cases involving the purchase of real estate. Contracts such as Real Estate Sales Contract Forms can help prevent any disputes that a client may have before purchasing any facility and satisfy whatever it is he or she may need.
Even a slight miscommunication between a company and a longtime customer can strain the relationship and potentially lead to the loss of a good client. In addition, getting just one aspect of a sale wrong can allow a buyer to completely cancel the transaction. Hence, it's important that both parties make sure that they go over and stick to the agreements stipulated in the contract.