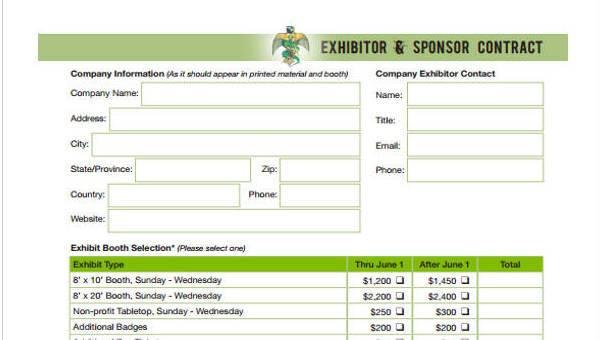 A contract is considered to be a legally enforceable agreement between two or more parties. It can be done verbally or written, which contains an essential set of promises. Typically, one party promises to do something for the other in exchange for a benefit. Whenever both parties reach a certain level of agreement, they have to create Contract Forms. It should also contain essential components to be legally enforceable. One thing to consider in drafting these type of forms is a legal purpose. Both parties must also have a level of mutual agreement and each party must agree to give up something of value in exchange for a benefit.
Conference Sponsor Contract Form
Event Sponsorship Contract Form
Sponsorship Contract Form Example
Free Sponsorship Contract Form
Sometimes you will need extra hands to get something done, and assigning your contracts to another can be one them. In such case, you will have to create Contract Assignment Forms, which will help you hand over contractual rights or responsibilities while focusing on what really matters most. These forms are needed if you want another person or business to take responsibilities over a certain contract, or if your business is assuming responsibilities over a contract owned by another business. These forms practically allow reassignment of contractual rights and responsibilities to another party.
In creating these forms, you should include information such as the name of the person handing over contractual duties, the recipient of such rights and obligations, other parties which may have anything to do with the contract, the name of the contract, and the duration of its validity. More so, it should clearly specify that such transfer has the original owner's consent to assigning the rights, when it was obtained, and when the agreement will take effect. Ideally, these forms should only be used at extreme necessity and both parties can be assured of their full trust and confidence with one another.
External Sponsor Contract Form
Exhibitor & Sponsor Contract Form Example
Exhibitor/Sponsor Contract Form
Sponsorship Contract Sample Form
Most event planning professionals know exactly that event contracts are an essential component to their chosen type of business. This basically forces both parties to set terms and conditions before an "event" can take place. Event Contract Forms typically protect the best interests of all parties involved. Having these types of forms in place ensures that both you and your client have a clear understanding of the task that is set to be completed and other necessary aspects of doing business together. In some circumstances, the consequences can be small but can prove detrimental and costly.
Specifying the details as to the type of services you will be providing is critical as it limits your job to providing only what has been specified. Though event planners perform a broad range of services, specifying each type will save both time and money and can speed up the process. The terms of payment and the payment schedule should also be specified in the contract. The terms of cancellation must also be well-defined to avoid further inconvenience of both parties.