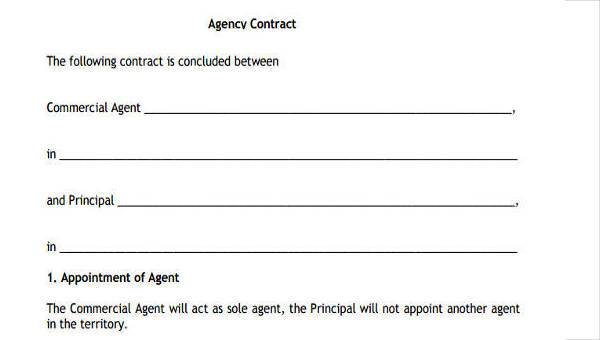 An agency is a business or organization established to provide a particular service, typically one that involves organizing transactions between two other parties. Basically they're people who have one particular job that they're known for doing, and they're there if you require their services. They know what they're doing, all they ask for in return is any form of compensation, which usually goes in the way of monetary compensation.
However, before these people can make any deals with certain agencies, they need to make sure that they understand what they're getting into first. They need to know the terms and conditions of hiring these agencies for their services, and the one thing that can help them out with that is the use of Agency Contract Forms.
Model Agency Contract Form
Travel Agency Contract Form
Advertising Agency Contract Form
Agency Contract Form Example
Modeling Agency Contract Form
The Different Types of Agency Contract Forms
Specific agreements are required if any agency is going to provide you with some sort of service, which is why it's very important to document them in Agency Contract Forms . Here are some examples of these types of forms.
Catering Agency Contract Forms are the kind of forms that are utilized by those that wish to hire any kind of catering agency for certain events. These allow one to establish when, where, and what event will take place, as well as the type of food that these catering agencies will need to provide for the event.
Talent Agency Contract Forms are formed by those people who request the services of particular talent agencies. Talent agencies provide aid to those who wish to showcase their unique sets of skills and abilities. So long as both parties comply with the agreements in these forms then there should be no problems.
Modeling Agency Contract Forms are mainly used by anyone that wishes to form a contract with a modeling agency which will help them enter the fashion business.
Traveling Agency Contract Forms are for those people that wish to make arrangements with a traveling agency as to where they should go and how they should get there.
Advertising Agency Contract Forms are used by companies when they want to strike a deal with an advertising agency to let their products or services be known to the public.
Talent Agency Contract Form
Agency Contract Form Sample
Agency Contract Format
Agent Commission Contract Form in Doc
The Importance of Having These Agency Contract Forms
If you were hiring any kind of company or organization for any kind of service, you'd want to know how it's going to work and how much you'll be expecting to pay. This is why there are forms like Real Estate Agency Sales Contract Forms to help you out with that.
People who wish to become clients of any agency need to understand the contract before it is created. Before clients agree to signing these contract forms, they must look into all the terms and conditions before they accept anything. This will allow them ample opportunity to negotiate with the agency if there are specific agreements that they feel are not acceptable.
This also helps look into important mattes such as the payment details, as well how these agencies will operate while under contract.