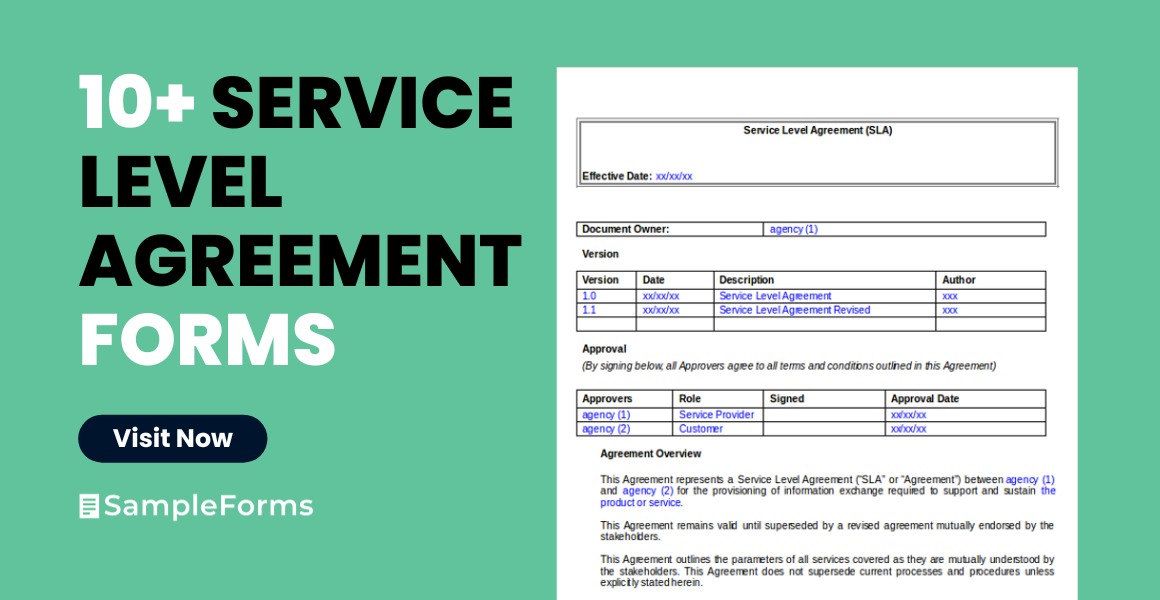 You often hire a service provider or contractor to get things done like repair work, construction etc. However, sometimes a lack of understanding and communication can botch things up. In order to avoid such a situation, it is always advisable to sign a service level agreement with the service provider. In the Agreement Forms, you can define all that you expect the person to fulfill along with the amount you are willing to pay for the services.
Sample of Service Level Agreement
This is an example of a service level agreement and gives you a fair idea as to how you can draft one. It comprises of all the crucial elements and can be used after making some minor changes.
Service Level Agreement IT Support
When you hire a contractor to offer IT support to your firm, it is a good idea to sign a service level agreement with him to ensure that he understands your expectations.
Cloud Service Level Agreement
As the name indicates, this service level agreement comes in handy when you hire a cloud service provider to handle and manage your data. In the agreement, you can direct the provider as to what services you are expecting.
Internal Service Level Agreement
This agreement can be used by IT companies that intend to hire contractors to offer their maintenance services. The agreement defines the duties of the contractors along with their fee.
Service Level Agreement For Recruitment
If you hire an external agency to help you with the recruitment of new employees, it is advisable that you sign this agreement with the agency. This ensures that the provider is well aware of what services he needs to offer.
Service Level Agreement Form
As might be obvious from the name, this is a service level agreement template in MS Word format. So, in case your system does not support PDF, you can use this to help you draft a perfect agreement.
Customer Service Level Agreement
If you are a service provider, you can use this to sign an agreement with a customer interested in signing up for your services. In this agreement, you can elaborate on the services you are willing to provide.
Data Center Service Level Agreement
Use this to sign an agreement with a data center whose services you may have hired to help you manage all the crucial data of your organization.
Education Service Level Agreement
This agreement is used by the educational institutions to get their teachers to sign a contract which defines their duties towards the institution and its students.
Finance Service Level Agreement
This service level agreement can be used when your organization hires financial services to help with the accounts and other financial details of the firm. In this agreement, you can elaborate on the level of service that you are expecting.
Target Audience for Service Level Agreement
The target audience for service level agreement is
Service providers

Contractors

Business Organizations

Chartered Accountants

IT professionals

Educational Institutions
What are the Benefits of using Service Level Agreements?
The agreement clearly defines the services that the client expects, hence ensuring that the service provider does not have any confusion on a later stage
It can also be used to elaborate on the services that the contractor offers thus helping in avoiding any hassles in future
It defines the fee for the services that has been mutually agreed by both the parties
It can be used as a valid proof in case of a legal hassle You may also see Rental Agreement Forms.
Need help in drafting a service level agreement? Don't want to hire an expert for the purpose? Well, all you need to do is browse through our collection of service level agreements. You are sure to find the one that is perfect for your needs. You can download this and easily customize it as per your requirement. You can also see Lease Agreement Forms.