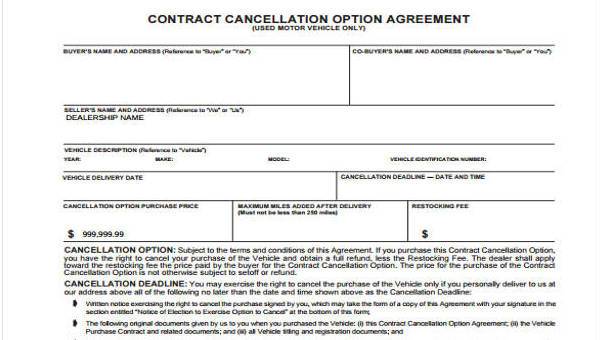 A contract is a legally binding document that obligates all parties involved to meet or fulfill the terms, conditions, duties, and responsibilities that have been outlined in the contract. However, some situations call for the termination of a contract that makes the agreement null and void. If such a situation occurs, only the people involved in the contract are eligible to terminate it.
A Contract Cancellation Form is a document that is filled out by any of the parties involved in a written agreement who wish to terminate it. You can use our Contract Forms and Cancellation of Contract Forms to help you save time.
Real Estate Cancellation Agreement Form
Notice for Deed Cancellation Contract Form
Contract Cancellation Agreement Form
Contract Cancellation Option Form
There are various reasons that could lead parties to the termination of a contract. However, because a contract is legally binding, the reasons for cancelling it will have to be properly considered. Some contracts provide an allowable notice period, which is typically up to 30 days.
Some reasons for terminating a contract may include:
Insolvency – This is when a contract is terminated because the other party is unable to continually pay its dues.
Breach of Contract – This is when one party intentionally does not honor its terms of the contract, thus warranting a termination.
Expired Contract – When the inclusive dates indicated in the contract have already expired.
Force Majeure – When outside or unforeseen circumstances do not allow one or both parties to fulfill the services.
Mutual Agreement – When both parties agree to bring the contract to an end.
Rescission – When a contract ends because an individual misrepresented himself, acted illegally, or made a a mistake.
Completion of Service – When obligations outlined in the contract have been fully met.
Cancellation Form Format
Cancellation Request Form Example
Free Services Contract Cancellation Form
Consumer Contract Cancellation Form
Simple Contract Cancellation Form
Contracts are sensitive and confidential documents that require proper keeping and documentation. When cancelling a contract – especially one that has not been completely fulfilled just yet – always make sure to use a Cancellation Notice or a Contract Cancellation Form.
Your original will usually include details pertaining to the provision of the notice and the time period allowed to cancel the agreement. Both parties should make sure to comply with these provisions.
Your Contract Cancellation Form should include the reasons that led you to end the contract as well as a relevant form of reference or information to provide further supporting details to your notion. If the Contract Cancellation Form is given out to bring a contract to an end in a circumstance where it should not have been, the party sending out the cancellation form may face legal disputes for compensation issues.