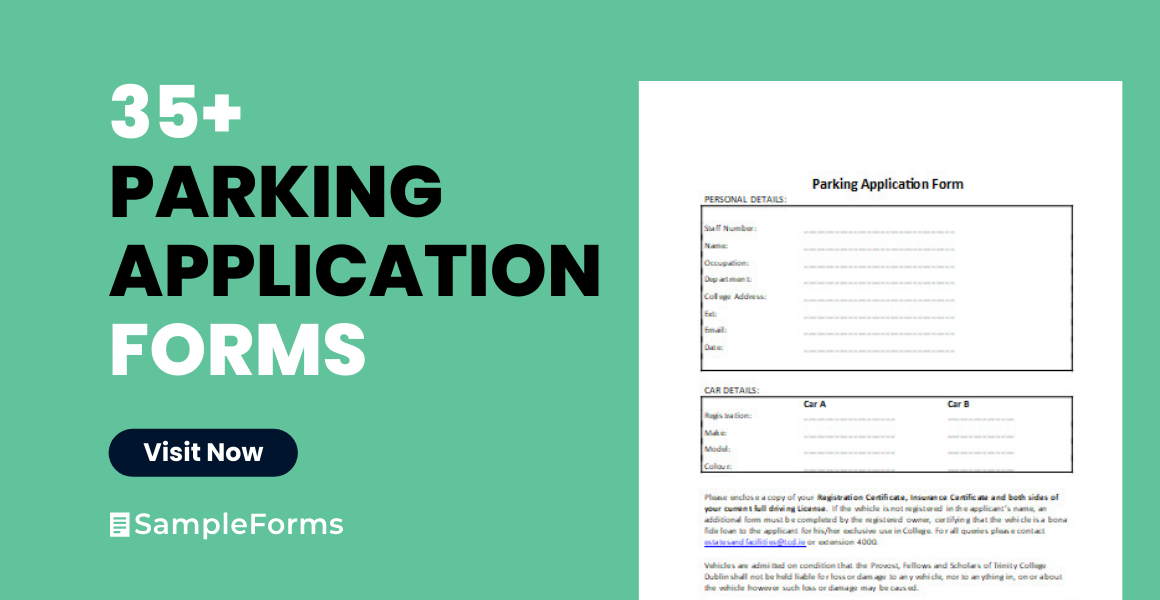 A Parking Application Form serves as a bridge between vehicle owners and parking space administrators. Whether it's a corporate office, residential community, or a public event, managing vehicular movement becomes imperative. This form streamlines the process of allotting parking spaces, ensuring authorized access and systematic organization. By delving into its meaning, types, and nuances of creation, we unveil the importance of such forms and offer guidance on crafting an efficient and effective parking application process.
What is a Parking Application Form ? – Definition
A Parking Application Form is a document used by organizations, institutions, or property managers to allow individuals to apply for a designated parking spot or permit within a specific area or facility. These printable form typically gathers information about the vehicle, the applicant, and any relevant fees or terms of use. Its primary purpose is to ensure that parking spaces are allocated efficiently, only to authorized users, and to maintain an organized record of all vehicles using the space.
What is the Meaning of a Parking Application Form?
The meaning of a Parking Application Form lies in its function as a structured tool for gathering, assessing, and organizing information about individuals seeking access to a specific parking area. It acts as a formal request by the vehicle owner or operator to secure a designated spot or permit within a particular location. Beyond its logistical use, these fillable form embodies an agreement between the applicant and the parking administrator, setting the terms of parking, responsibilities, and any associated costs. It ensures that both parties are aware of the rules and expectations, promoting a harmonious and orderly parking environment.
What is the Best Sample Parking Application Form?
The best sample Parking Application Form would be comprehensive, capturing all essential details for both the administrator and the applicant. Here's a basic template to illustrate:
PARKING APPLICATION FORM
Organization/Property Name:
Address:
Contact Number:
Email:
APPLICANT DETAILS:
Full Name: _____________________________
Address: _______________________________
Contact Number: _________________________
Email Address: __________________________
VEHICLE DETAILS:
Vehicle Make & Model: ____________________
License Plate Number: ____________________
Color: _________________________________
Registration Number: _____________________
PARKING DETAILS:
Preferred Parking Zone/Area: ________________
Duration of Parking Required:
[ ] Daily
[ ] Weekly
[ ] Monthly
[ ] Yearly
Special Requirements (if any): ______________________
---
PAYMENT DETAILS:
Parking Fee: $_________ (as applicable)
Mode of Payment:
[ ] Cash
[ ] Credit/Debit Card
[ ] Check
[ ] Online Transfer
TERMS AND CONDITIONS:
(Include any specific rules, responsibilities, and guidelines for the parking area. This could cover topics like security, liability, hours of access, etc.)
I, [Applicant's Name], have read, understood, and agree to abide by the terms and conditions set out above.
Signature: ___________________________
Date: _______________________________
This template serves as a basic structure. Organizations or properties can customize it further, incorporating specific terms, conditions, or any other relevant sections as per their unique requirements. The design should ideally be user-friendly and straightforward, ensuring that applicants can quickly understand and fill it out.
FREE 35+ Parking Application Forms in PDF | MS Word
What information do I need to provide on the Parking Application Form?
On a Parking Application Form, the information you typically need to provide can vary based on the specific requirements of the organization or facility managing the parking. However, most forms will ask for the following details:
Applicant Details:

Full Name: The name of the person applying for the parking space.
Contact Information: This includes phone numbers, email addresses, and sometimes a mailing or residential address.
Driver's License Number: In some cases, a copy of the driver's license might be required.

Vehicle Details:

Vehicle Make & Model: The brand and model name of the vehicle.
License Plate Number: The registration number displayed on the vehicle's license plate.
Vehicle Color: Useful for identification.
Vehicle Type: Whether it's a car, motorcycle, truck, etc.
Vehicle Registration Document: Some forms might require a copy or details from the vehicle's registration papers.

Parking Preferences (if applicable):

Preferred Parking Zone/Area: If the facility has different zones or areas.
Duration: How long you intend to park – daily, weekly, monthly, etc.
Special Requirements: Any specific needs like proximity to elevators for persons with disabilities.

Payment Details (if there's a fee involved):

Mode of Payment: Options like cash, check, credit card, etc.
Payment Frequency: One-time, monthly, quarterly, etc.

Emergency Contact Information:

Name, relationship, and contact details of someone to reach out to in case of emergencies.

Purpose or Reason for Parking:

Especially if the parking facility serves multiple purposes like resident parking, visitor parking, event parking, etc.

Acknowledgment or Agreement:

A section where you agree to the terms and conditions related to parking, ensuring you've read any rules or guidelines and agree to abide by them.
Remember, while these are common fields found on many Parking Application Forms, the exact information required can differ based on the organization, locality, or specific needs of the parking facility. Always read the form thoroughly and provide accurate information. You should also take a look at our Sample Disability Parking Forms.
How long does it take to process the Parking Application Form after submission?
The time taken to process a Parking Application Form after submission largely depends on the organization or facility managing the parking, as well as the specific system or procedures they have in place. Here are a few general scenarios:
Automated Systems: Some modern parking facilities or organizations use automated systems to process parking application forms. These can approve applications almost instantly or within a few hours, especially if there's no need for manual verification.
Manual Review: For organizations that manually review each application, the processing time can vary. Generally, it might take anywhere from a day to a week, especially if they need to verify vehicle details, check against available parking slots, or confirm payment details.
High Demand Areas: In areas where parking is in high demand or if there's a limited number of spaces, processing might take longer. This is because the management might be operating on a waitlist system or might need to allocate spaces strategically.
Special Events or Occasions: If you're applying for parking related to a specific event or occasion, the processing might be faster, especially if the organization is looking to fill spaces quickly.
Additional Verification: If the organization requires additional documents or verification (e.g., confirming your address, vehicle registration, or employment status), this can add to the processing time.
Local Regulations: In some areas, local regulations or policies might require additional checks before issuing parking permits, which can add to the processing time.
It's always a good idea to check directly with the parking facility or organization for an accurate estimate. Often, they'll provide a general timeframe either on the application form in MS Word itself or during the submission process. If timely parking is crucial, consider submitting your application well in advance or inquire about expedited processing if available.
How will I be informed of the status of my Parking Application Form after submission?
The method by which you're informed about the status of your Parking Application Form largely depends on the communication methods adopted by the parking facility or organization. Here are some common methods they might employ:
Email Notification: Many organizations send automated or manual email notifications updating applicants on the status of their form. This could range from an initial acknowledgment of receipt to a final decision or request for further information.
SMS or Text Message: If you provided a mobile number during the application, you might receive status updates via SMS or text message. This method is especially common for time-sensitive updates.
Online Portal: Some parking facilities or organizations have online portals where applicants can log in to check the status of their application. These portals often provide real-time updates and might also offer other functionalities, like payment or uploading additional documents.
Phone Call: In some cases, especially if there's a need for quick clarification or if the applicant doesn't respond to other forms of communication, the organization might call directly.
Postal Mail: While becoming less common due to the speed and efficiency of electronic communication, some organizations might still send out physical letters or notifications, especially for official parking permits or decals.
In-Person: If the parking facility or organization has a physical office and operates on a first-come, first-served basis, they might inform you of the status immediately upon in-person submission or ask you to return after a specified period for an update.
App Notifications: If the organization uses a mobile app for parking management, notifications about the application's status might be sent directly to the app.
Always ensure that the contact information you provide on the sample application form is accurate and up-to-date. If you're expecting communication, regularly check your email (including the spam/junk folder) and keep your phone handy. If there's an unusual delay and you haven't heard back within the expected timeframe, it might be a good idea to proactively reach out to the organization for an update.
Can I edit my details after submitting the Parking Application Form, and if so, how?
The ability to edit details after submitting a Parking Application Form depends on the policies and systems in place at the parking facility or organization. Here are some general guidelines:
Immediate Edit Option: Some online application systems provide a short window of time after submission during which you can re-access the form and make edits. This feature is useful if you realize a mistake immediately after submitting.
Online Portal or Dashboard: If the organization uses an online portal, you might have the ability to log back in and edit your application, especially if it's still under review or hasn't been processed yet.
Direct Contact: If you've submitted the form (either online or in person) and later realize a mistake, it's often a good idea to contact the parking facility or organization directly. This can be done via phone, email, or sometimes through a contact form on their website. Explain the situation and ask for guidance on how to make corrections.
Re-submission: Some organizations might require you to submit a new form if there's a significant error on the original. This is especially true if the error pertains to essential details like vehicle registration or payment information.
Administrative Interface: For minor changes, if you approach the organization in time, their administrative team might have the capability to edit certain details on the back end without requiring a complete re-submission.
Written Request: In more formal or regulated settings, you might need to provide a written request or complete an official amendment form to change any details.
Documentation: Depending on the nature of the change, you may be asked to provide supporting documentation. For instance, if you need to update vehicle information, you might need to provide a copy of the new vehicle's registration.
To avoid complications, always review your application thoroughly before submitting. Ensure that all information is accurate, especially crucial details like contact information, vehicle details, and payment information. If you're unsure about any section of the form, it's often best to seek clarification first before submitting. Our Parking Lease Agreement Forms is also worth a look at
Where can I get a copy of the Parking Application Form if I lose my original?
If you lose the original copy of your Parking Application Form, there are several avenues you can explore to obtain a new one:
Parking Facility or Organization's Office: Often, the most straightforward approach is to visit the administrative office of the parking facility or organization from which you originally obtained the form. They usually have copies on hand and can provide one upon request.
Online Portal or Website: Many organizations today offer digital versions of their application forms on their official websites. You can download and print a copy if needed.
Email or Contact Form: Reach out to the organization via email or their online contact form explaining that you lost your original form and request a new one. They might send a digital copy or guide you on where to pick up a physical one.
Phone Call: Call the organization directly and inquire about obtaining a new form. They'll guide you on the best method, whether it's emailing you a copy, directing you to a download link, or asking you to pick up in person.
Mobile App: If the parking facility or organization has an app, there might be an option to access and fill out the application form directly from your mobile device.
Ask a Colleague or Neighbor: If you're applying for parking in a communal area, such as an office or residential building, someone else might have a spare form or know where to quickly obtain one.
Archive or Backup: If you downloaded the form or received it via email initially, check your computer's downloads folder, email archive, or any backup systems you use. You might have a digital copy saved.
Whenever obtaining a new form, especially if sensitive personal or financial information is involved, ensure that you're sourcing it from a legitimate and official channel to protect your information and avoid potential scams or fraudulent schemes.
How often will I need to renew or re-submit a Parking Application Form?
The frequency of renewing or re-submitting a Parking Application Form depends on the terms set by the parking facility or organization, as well as the type of parking permit or arrangement you have. Here are some general scenarios:
Short-term or Temporary Parking: If you've applied for temporary parking, such as event parking or short-term guest parking, you may not need to renew at all. The parking permit will be valid for a specified period, after which it will expire.
Annual Permits: Many parking facilities, especially in educational institutions or residential complexes, offer annual parking permits. In such cases, you'd typically need to renew or re-submit the application form once a year.
Monthly Parking: In areas with high demand, especially in city centers or commercial districts, monthly parking permits might be more common. You'd then need to renew every month.
Automatic Renewal: Some parking facilities might offer automatic renewals, especially if there's a recurring payment method in place. Even with such systems, it's essential to keep track and ensure that your permit doesn't lapse.
Change in Vehicle or Details: If there's a change in your vehicle or any other crucial information since your last application, you might need to re-submit or update your application form, even if your permit hasn't expired.
Waitlist Systems: In areas where parking space is limited, there might be a waitlist system. In such cases, even if you've previously applied, you might need to re-apply or confirm your interest periodically to remain on the list.
Policy Changes: If there are changes in parking policies or regulations, even longstanding permit holders might be required to re-submit applications to comply with new rules.
To avoid inconveniences, always keep track of the expiration date of your parking permit. Many organizations send reminders when it's time to renew, but it's good practice to set your own reminders. This ensures that you renew in time and don't find yourself without a valid parking space. Also, always check the specific policies and terms set by the parking facility or organization to which you're applying. In addition, you should review our Parking Space Rental Agreement Forms.
Who should I contact if I have questions or issues with my Parking Application Form?
If you have questions or face issues with your Parking Application Form, it's essential to reach out to the right point of contact to get accurate and prompt assistance. Here's who you might consider contacting:
Parking Facility's Administrative Office: This is usually the primary point of contact for most parking-related queries. The administrative office or parking management team will have direct knowledge of the application process and any specific requirements.
Parking Facility's Website: Many organizations have a 'Contact Us' section on their websites that provide phone numbers, email addresses, and sometimes even chatbots or live chat options for immediate assistance.
Customer Service or Help Desk: If the parking facility is large or is part of a bigger establishment (like a mall or office complex), there might be a dedicated customer service or help desk to handle queries.
Assigned Parking Coordinators: In some office complexes or institutions, there might be individuals assigned as parking coordinators or liaisons. These individuals help facilitate the parking process and serve as a bridge between applicants and the parking administration.
Online Portal Support: If you're applying or managing your parking application online through a portal, there's often technical support available specifically for the portal. This can be particularly helpful if you're facing technical issues or glitches.
Human Resources (for employees): If you're applying for parking in your workplace, the HR department might be the right place to start, especially if they coordinate employee benefits and facilities.
Property Management (for residents): If the parking facility is part of a residential complex, the property management team or the building manager could be a helpful contact.
Parking Enforcement: If your query is related to penalties, tickets, or violations, you might need to reach out to the parking enforcement department or agency directly.
Feedback or Suggestion Platforms: Some parking facilities have dedicated channels for feedback, suggestions, or complaints. If you have broader concerns or suggestions, these channels can be a good option.
Whenever reaching out, it's a good practice to have any relevant documentation or details at hand. This includes your original basic application form, any confirmation or reference numbers, and specifics about the issue or question you have. Being prepared can expedite the process and ensure that you receive accurate assistance.
How to Create a Parking Application Form?
A Parking Application Form is an indispensable tool for streamlined vehicle space management, offering clarity and organization. From its inherent purpose to varied types, crafting this form with precision is paramount. With the right structure and user-friendly features, such a form simplifies the process for applicants and administrators alike, ensuring efficient and effective parking space allocation. You may also be interested in our Parking Space Rental and Lease Agreement Forms.