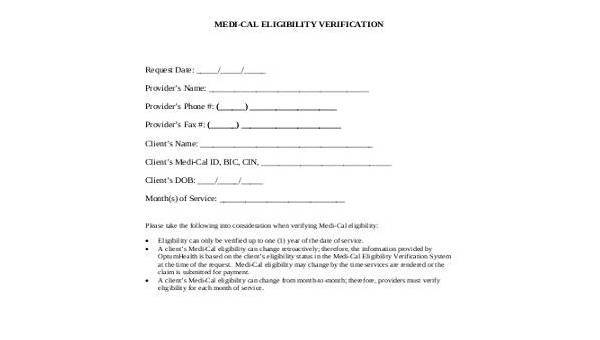 There are some people with disabilities that could possibly hinder their performance in the workplace. It could be anything from arthritis, to heart disease, or any other chronic illness. If they want their employer to know about their condition, then they can employ what's referred to as Medical Verification Forms.
Medical Insurance Verification Form
Medical Eligibility Verification Form
Medical Verification Form in PDF
Health Care Professional Verification Form
Medical Director Verification Form
Each with Their Own Purpose
Situations in which you need to provide a Medical Verification Form may vary from time to time, so here's a list of possible scenarios:
Tracking your medical school progress. Certain conditions might affect a student's performance in the medical arts, so it's best if the school knows about it ahead of time.
Acquisition of medical insurance. If the condition requires it, then being eligible for medical insurance will help in the long run.
To inform the company about your condition by having a Healthcare Professional or a Medical Director confirm it. Some companies, depending on your illness, might ask you for a verification form from either of the two.
These are to show your possible employers about any condition or disability you may have. You'll need to go through the necessary evaluations to see if you're eligible for insurance, a job, or even for medical school.
Employers may ask for your Medical Verification Form in a PDF format, but they usually go for the more common MS Word format.
Medical School Verification Form
Medical Verification Form Example
Medical Disability Verification Form
Medical Record Verification Form
Medical Verification Form in Word Format
Why We Need Them
If you have a disease or condition that prevents you from performing certain tasks at a job, or if you think that there's too much for you to handle given your illness, then going out of your way to prepare and present these forms will help you out.
Each and every one of these forms is important in their own right. It could mean the difference between getting hired, being eligible for insurance, continuing your studies, or even being considered to be kept by your company.
It's good to let your employers or anyone else know about your condition, otherwise it could lead to consequences that might affect not just the company you're working for or the various activities you might participate in, but it might also affect you and your personal health, ultimately proving disastrous.
So whether it's Work Verification Forms, Insurance Verification Forms, Medical Record Verification Forms, Healthcare Professional and Medical Director Verification Forms, or even Medical School Verification Forms, it's best to be prepared, because these will affect how you're assessed as a functioning member of society.