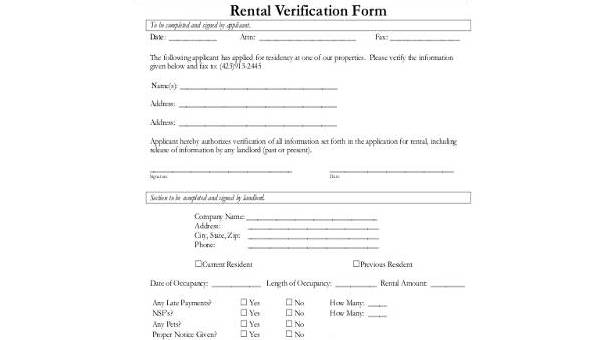 Rental Applications are a lot like employment applications. Tenants need to demonstrate to the landlord that they are socially and financially equipped and can be reliable renters while landlords conduct checks and inspections to verify the information and the character you have provided.
Most Rental Verification processes are done with the aid of a Rental Application Form or a Verification Form. Through the information they have obtained from these, landlords will be able to run credit checks, check if the applicant has committed a felony, conduct employee verification, and run through a tenant's history.
Rental History Verification Form
Rental Verification Form in Word Format
Tenant Verification Form in PDF
Employment Rental Verification Form
Rental Application Verification Form
How to Properly Screen Your Tenants
Every landlord's biggest concern is how to get good and quality tenants who can pay the rent on time, keep the rental unit in good condition, and not be a nuisance among other renters. Screening tenants allows landlords to accept candidates who have those qualities, because, let's face it, you are giving these people access to your property – which costs quite a lot. So you would understandably want to take in renters who will not potentially cause damage to your property.
Tenant Verification is the process of finding out everything there is to know about a potential renter by using their provided information so that they may be able to conduct a clear and precise background check. These checks are to see if the tenant has any kind of criminal records, and to check on the the sources of income as well as the stability of the tenant's employment. This is to ensure that the tenant is able to keep up with the payments, as well as determining if whether or not they're applicable to stay in the establishment.
Rental Applications Go a Long Way
Utilizing a Rental Application Form or a Rental Verification Form is the best form of defense that you can use against irresponsible tenants because it allows you to collect data that you need to verify their character and identity, and helps you weed out tenants who are merely falsifying the information they have provided.
Rental Income Verification Form
Rental Verification Release Form
Rental Verification Request Form
Blank Rental Verification Form
Free Rental Verification Form
Rental Applications should require an applicant to provide the following information:
Personal Information
Personal data pertaining to the applicant's name, date of birth, Social Security number, driver's license, address, and contact information.
Employment History and Source of Income
Your Tenant Verification Form or Tenant Application Form should require applicants to provide a list of their current and previous employers going back at least 5 years, as well as their salary information.
Rental History
This section of the application form requires your applicants to provide the names, addresses, and contact information of previous landlords going back at least 5 years.
Consent Form
In order for you to conduct background checks, credit checks, and rental verification legally, you must first include a consent form in your application form. This way, proper expectations will be set between you and the applicant, and you will not be sued for invasion of privacy. Take note that laws pertaining to conducting tenant verification vary from state to state. Not all states permit landlords to conduct checks on an individual's criminal record or credit history.
Rental Verification should always be a process practiced by landlords in ticking off the boxes for a qualified renter or a potential applicant. If the applicant has had records of breaking previous leases, incurring all sorts of property damage, or has even been evicted, then it's for the best that these landlords decline their applications on the spot. This is to prevent the same problems from happening in their own establishment and to ensure that they avoid tenants that could disrupt the flow of income.