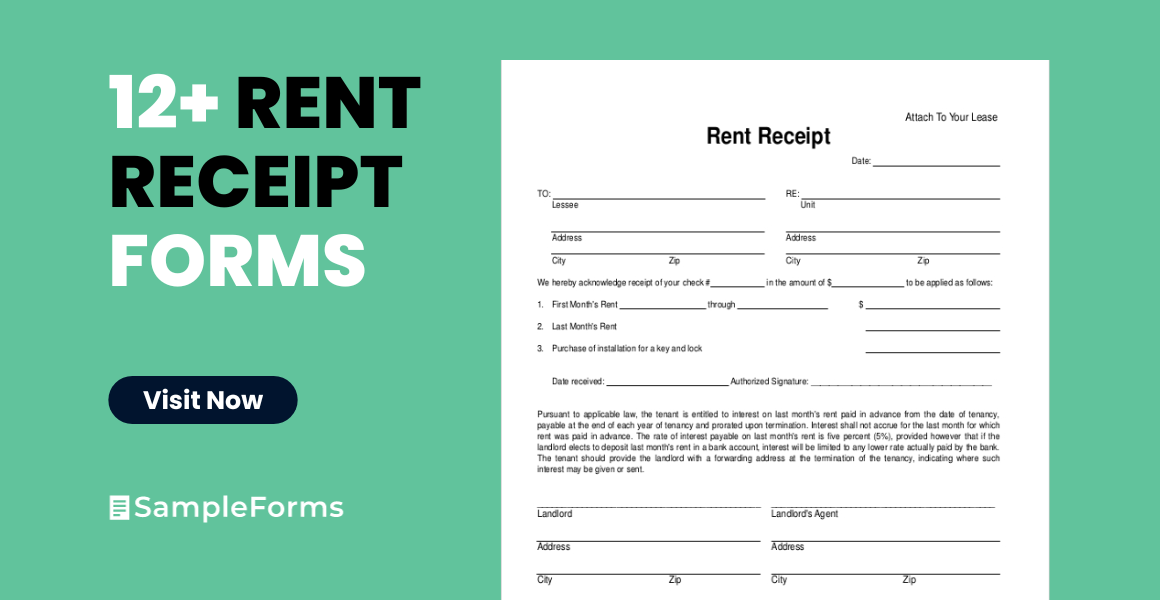 Whenever you make use of any kind of rental service, you will receive a receipt after making a payment. Receipts are a business norm and important because they serve as recorded proof that a business or a service transaction has occurred. Whether you're the buyer or seller, keeping receipts is a good practice. There are many kinds of payment receipts meted out for different services. Each kind of receipt has its own value and usefulness. You may also see Blank Receipt Forms
Apartment Rent Receipt Form
An apartment rent receipt is generally handed out by landlords to their tenants upon receiving the monthly or yearly rent of the apartment which they have leased to the tenant.
Sample Cash Rent Receipt Form
A cash rent receipt is useful when a tenant has handed over rent money in hard cash to the landlord. The receipt contains the date of payment and rent amount in numbers. If the rent amount is not paid is in full, there is space allocated in the form to fill in the remaining dues.
Car Rent Receipt Form
If you have a car rental service, you are obliged to hand out car rent receipts when they give you the rent amount at the time of renting your car. Usually, a car rent receipt has details about the driver – the license number and name, the country in which the vehicle was rented, the date and time – stipulated date and time of return, and the total amount paid as car rent.
House Rent Receipt Form
A house rent receipt form features the details of the landlord and the tenant, followed by a description of the property rented. Date and receipt number are to be specified at the top-right of the document.
Sample Landlord-Tenant Rent Receipt Form
Such an elaborate form is usually used to get an overview of the rental transactions which have taken place between a tenant and landlord over a specific period of time. Along with the name and details of both parties, payment amounts, and their respective dates are also mentioned.
Monthly Rent Receipt Form
Many landlords prefer to receive monthly rents from their tenants. A monthly rent receipt form is very useful in this case. The format is very simple. If any conflicts arise and higher authorities get involved, both or either party can show this rent receipt as proof alongside the property lease papers.
Residential Rent Receipt Form
When a landlord and potential tenant reach an agreement regarding renting out a residential property to the latter, a residential rent receipt form needs to be tabled and filled out by both parties.
Standard Rent Receipt Form
A simplified version of a rent receipt form is also readily available. The format is straightforward. Fields are provided in which specifics need to be inserted. Date of payment, payment sum, the month of payment, rented property address, signatures of the landlord and tenant respectively.
Sample Tenant Rent Receipt Form
This is an easy-to-download and customizable tenant rent receipt template. All the fields are given in the PDF template. The template contains twin rent receipts. You can make edits as you wish.
Rent Receipt For Income Tax Purposes
Landlords have to pay income tax for the properties they have leased out on rent. A specialized rent receipt for income tax purposes is used in such situations. The form specifies that the tenant has paid up the specified amount to the landlord for the current tax year. Address of the property and period of rental have to be specified.
Basic Rent Receipt Form
Rent Receipt Affidavit Form
Use of Rent Receipt Form
The core purpose of a rent receipt form is that it is recorded proof which is useful for justifying the payments collected by a landlord from his tenant over a specific period of time – mostly on a month-to-month basis.  Rent receipts come in handy for both parties especially when they go to file their income tax returns. Rent receipt forms are available in many different formats, based on the context they are being used for. Apart from real estate, businesses that specialize in rental services also make use of rent receipt services. Useful Business Expense Forms
The Target Audience of Rent Receipt Form
Rent receipt forms are used in several business sectors. Whether you're a rent out a home, car or any other entity, a rent receipt form is a must-have. The target audience of a rent receipt form is variable based on the context. If it is real-estate-related, the rent receipt will be exchanged between a tenant and landlord, similarly, if a car-owner has rented out his vehicle, the rent receipt will be filled out and exchanged between the car-owner and customer who has rented the car. Rent receipts are handy paperwork to keep a check on the payment cycles for the entity in question.
Online Availability of Rent Receipt Form
Users looking for samples of rent receipt forms don't have to search long and hard anymore. There are various ready-made templates easily available online now. The templates are readily formatted, however they can be personalized as per your wish because the templates allow customization. The templates are available in different formats – namely MS Word, Excel, and PDF. Our website has a good collection of rent receipt form templates. Download the template of your choice and customize it if you need to. You can also see Car Sale Contract Forms
Rent receipt forms are popularly used in real estate and many other businesses. Depending on the purpose, you'd easily be able to get your hands on the preferred type and format of a rent receipt. What's more, the templates are pre-designed and open for personalization. And if you wish to only watch and learn, the forms are well-equipped.