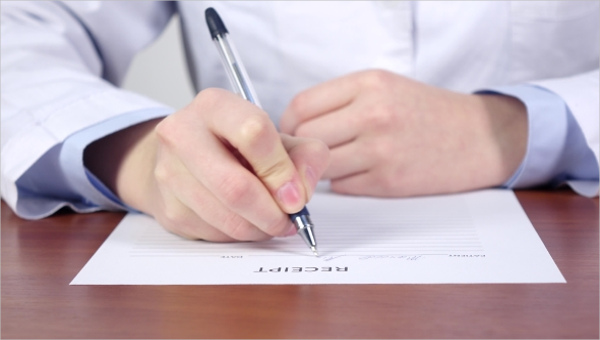 Making a transaction wherever you happen to be; either buying at a grocery store, eating at a restaurant, checking-in at a hotel, or having some possession of yours to be fixed at a repair shop, there is a need for you to ask for a receipt. Even when receiving a delivery, you must request for a delivery receipt. A receipt is an acknowledgment that an exchange of some goods, products or services has taken place.
An official receipt is issued to the customer or consumer upon receiving their payments of a certain purchase of products or services. This kind of receipt is a documented sale of service that is being issued by the cashier or anyone who is responsible for cash remittance of the company. In order to request for a receipt, one must fill out a receipt form.
Why Do We Need To Write a Receipt?
The importance of writing a receipt are the following:
Record Completion: having a receipt helps you track your past transactions made
Used as Deduction or Refund: in any cases that there are corrections or the transactions you have made, you could refer to your receipt and ask for either a deduction or a refund
Decreases Tax Payments: receipts are used as expenses that could be deducted to sales and minimize tax payments due to lower net income
Minimizes Audit: properly issued receipts can minimize risks involving audit
Used as Evidence: that the transaction has been made and most especially during the government audit
If you plan to create a receipt of your own business, refer to blank receipt forms.
What are The Types of a Receipt?
There are only two types of receipts that are acceptable as legal and valid by the Bureau of Internal Revenue are the sales invoice and the official receipt.
Sales Invoice is used as an acknowledgment of goods and products sales
Official Receipts are used to acknowledge the sales of services
If it happens that a customer or client makes a purchase of products and availed for services, an official receipt is issued after the billing statement is presented and paid. To see various examples of downloadable receipt forms, refer to sample receipt forms.
What to Include In a Receipt?
A receipt should contain information that are essential or relevant to the transaction being made. Here are the following common elements that are included or found in a receipt:
Customer name (contact details, address, and other information are not necessary)
The name or type of the purchased product/s or the availed service/s
The amount payable of the transaction
The cashier's name or the one responsible for the transaction process
Affixed signature of the both the customer and the cashier
Not all receipts includes the breakdown of the payment where value added tax payments are specified, except sales receipt forms.
Instructions for Filling a Receipt Form
Since there are receipt forms which already have details that are in order, what is needed to be done is to write or fill the space provided with information. The order of details is usually as follows:
Date (of when the receipt is to be issued)
Received From: (the customer's or client's name)
of: (the company name or address of the customer or client)
the amount of: (the amount rendered as to the payable)
as partial or full payment for: (the name or type of the transaction made)
by: (the authorized signature of the receiver of payment)
To see more  examples of receipt forms, refer to free receipt forms.