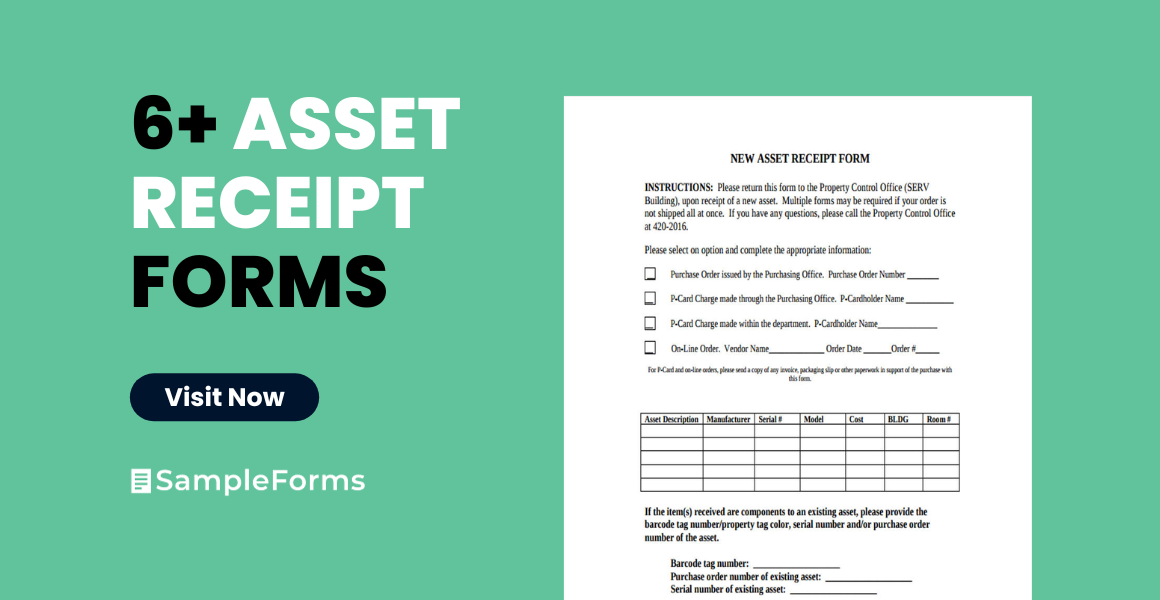 Asset procurement is a practice that occurs in most companies and organizations either to aid in production, to increase earnings, or as a tool for employees. To make this process effective, organizations need to appoint a person who will sign an asset delivery receipt form and be accountable for the asset.
Sometimes, company assets like computer equipment and cars may be assigned to employees for work purposes. In these cases, the employees sign a receipt form to acknowledge their responsibility for taking care and using the equipment for work-related actions only. These forms also include wording for the return of the assets upon the employee's termination at work or as per management request.
Capital Asset Receipt for Employee
Company Asset Receipt
Fixed Asset Receipt
 Company Asset Receipt Example
What Exactly Is a Receipt for Assets from an Independent Executor?
Another variant of an asset receipt form may be found in the use of an estate's independent executor. However, it is vastly different in format from that of printable receipt forms and petty cash receipt forms. An independent executor is an individual appointed by a probate court judge to act as the administrator of a decedent's (legal person who died without a will) estate. The independent executor is chosen from a pool of upstanding citizens in district or city, just like how a jury members are chosen for a jury court.
Under law, the executor is expected to act in good faith and fairness for the benefit of the decedent's beneficiaries. A receipt for assets document is provided to the beneficiaries of a will for them to sign to attest that the independent executor has been able to successfully transfer the ownership of the decedent's assets to the his/her beneficiaries.
As an independent executor, here are a few tips that can help you with the task at hand:
Make sure to find the latest will.
If it is your first time acting as an independent executor, you may always ask for the assistance of the probate court.
Remember to inform the internal revenue services of the decedent's death and to file for estate taxes.
Read up and study the decedent's family situation so that you can accurately distribute the estate.
Remember to inform the decedent's creditors of his/her death and to pay the creditors accordingly.
Capital Equipment Asset Receipt
Sample Asset Receipt
New Asset Receipt
How to Create Fixed Assets from a Purchase Order Receipt in Accounts Payable
On the other side of the spectrum, asset receipt forms may also be seen on ledgers used by accountants. If you are an accountant or just well-versed in reading accounting tables, you will find that when a business entity acquires an asset in the real world, this asset will also find its representation in an accountant's ledger. This way, there will be no missing receipt forms filed when it is time to balance books.
Creating fixed assets from purchase order receipts in the Accounts Payable column/field in an accounting ledger will vary on the type of software that your company uses to run its accounting and finance systems. Different types of cash flow management applications are: Microsoft Dynamics 365. bill.com, QuickBooks, Intuit, Pulse, Xero, and Netsuite.
For instance, in systems running under Microsoft Dynamics, setting up Fixed Assets can be done by recording the transaction in the Journal voucher page. Then click Fixed Assets on the Offset Account Type > Select Fixed Asset Number in the Offset Account box/field. And on the Fixed Assets tab, input the correct numbers for the Book and transaction type boxes.
Remember that the steps listed above are applicable to Microsoft Dynamics 365 accounting spreadsheets only. If your organization is using a different software, follow your own set of steps. You may also use these steps when creating security deposit receipt forms.