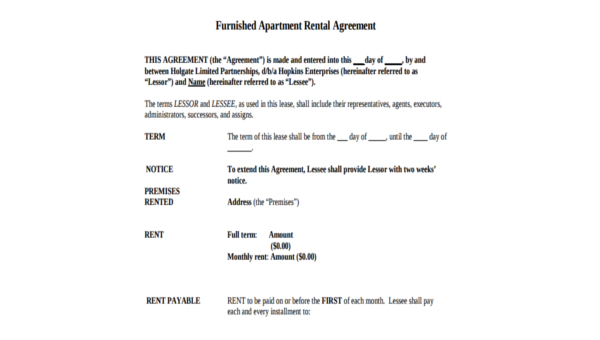 If you are in the business of renting out residential units, it's likely you already know the importance of having your tenants sign Agreement Forms as part of the rental process. This keeps everyone legally in check and allows for a profitable landlord-tenant relationship.
It can be a relatively straightforward process, provided you have all the necessary details in place. If you're not sure what these details are, it helps to have sample options to guide you.
Specific to renting out apartment units, here is a list of free, basic rental agreement templates you can download for free in either Word document or PDF formats.
Simple Apartment Rental Agreement
Free Apartment Rental Agreement
Residential Rental Lease Agreement
Basic Residential Rental Agreement
Residential Rental Agreement in PDF
How to Use These Templates
Of the many Sample Lease Agreement Forms we offer for free on this site, you will find templates specific to the residential rental business – Sample House Lease Agreement Forms being one popular example.
But not every residential offer is quite the same. You want to make sure your agreement contracts properly reflect the terms and conditions specific to your situation.
Even among these basic rental agreements, you'll find some of these templates will suit your needs better than others:
Generic apartment agreements. These will include the rock-bottom basics as details of both signatories as well as the terms, conditions, and payment for tenancy. Any of the above samples can fit this situation.
Month-to-Month Rental Agreement Form. This is explicitly a rental agreement that renews itself every 30 days. This can be easily converted to a long-term or fixed-term agreement.
Furnished Apartment Rental Agreement. You might also want to include a walk-through, "condition of rental property" inspection checklist to this agreement if you include furniture as part of the rented package.
Apartment Clubhouse Rental Agreement. For when the apartment complex also offers a community room for leisure activities. May include rules and regulations concerning the use of the "clubhouse."
Employee Residential Rental Agreement. This contract is signed with a tenant who receives an apartment as part of their job compensation.
Once you've identified your situation, simply click to download these templates for free, and modify them to tailor-fit your needs.
Month to Month Rental Agreement Form
Furnished Apartment Rental Agreement
Apartment Clubhouse Rental Agreement
Employee Residential Rental Agreement
Additional Resources for Landlords
After signing the agreement, there may be other forms you will need as a landlord managing a series of tenancies. To save you drafting time, SampleForms.com stocks templates for the following contracts as well, so be sure to check them out:
House Lease Contracts. You can use these contracts when you want to rent out a residential building or a whole house instead of just one apartment unit or one room.
Extension Forms (Lease Renewal Forms). This is for situations when you want to extend a fixed-term contract before the lease expires. Since most rental contracts have a fixed term or are fixed-term contracts, these forms are going to come in handy. You may also see our Sample Month-to-Month Rental Agreement Forms to offer your tenants a more flexible contract.
Eviction Letters and Notices. You will need these for practical and legal reasons when you are to evict a tenant who is in violation of the terms and conditions of a rental agreement.