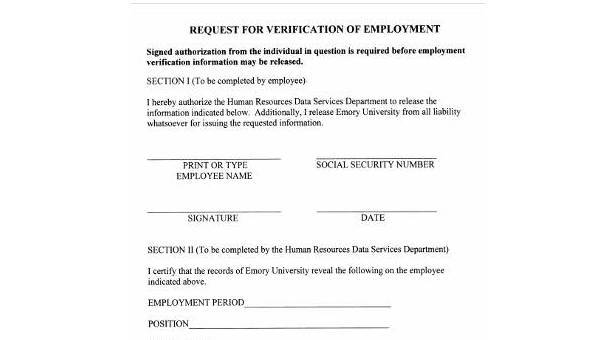 You'd be surprised to know that a significant number of job applicants do not exactly state real details about themselves and of their employment history on their resumes. Resumés and curricula vitae submitted by an applicant are usually tailored to make them look good. Most of the time it highlights their achievements, pushes the ugly details under the rug, and sometimes even contains false information to make their resumés appear stellar.
Employment Verification matters when a company or an employer is considering hiring an employee, and there are a good number of reasons why they should implement it. Employee Verification is the act of verifying the employment and eligibility of a potential employee based on his previous and current work history.
Work Experience Verification Form
Work Schedule Verification Form
Employment Verification Form
Employment Eligibility Verification Form
Employment Verification Form
Employee Verification Forms
Employee Verification Forms, Work Verification Forms, or Job Verification Forms may be utilized when conducting preliminary screenings for applicants. Verification Forms help outline the necessary information needed to do background checks. Applicants are usually asked to supply information about themselves through an application form. Application Forms usually consist of a table that requires them to provide information about their previous employers, job positions, as well as the previous employer's contact details or office address. Rule of thumb is to provide employment history details going back at least 5 years.
Employee Verification and its Benefits
Below is a list of reasons as to why an employer or a recruiter must always verify information obtained from an employee prior to hiring or promoting them:
Lowers the potential of hiring employees who falsify their resumes
Provides access to information that may have been swept under the rug by a potential employee but can be expounded by the former employer
Prevents an employer or a recruiter from hiring an employee who is not qualified to perform the work he was hired to do
Saves an employer from taking in an employee whose work habits do not coincide with the company's principles and goals
Lowers the risk of hiring employees who are not capable of performing their obligations or cannot be productive
Safeguards a company from employees with false identities who may become a threat to the workplace's safety
Protects a company from being potential victims of Intellectual Property Theft
Work History Verification Form
Generic Work Experience Verification Form
Printable Work Verification Form
Employment Verification Request Form
Before Conducting a Verification
Employers must always seek permission or authorization from an applicant prior to conducting an Employee Verification. If a candidate denies authorization of such process, an employer may request the applicant to provide documents or paperwork that will support the information indicated on his resume. Supporting documents may be in the form of a recent payslip, tax documents, government ID, company ID, or a Certificate of Employment.