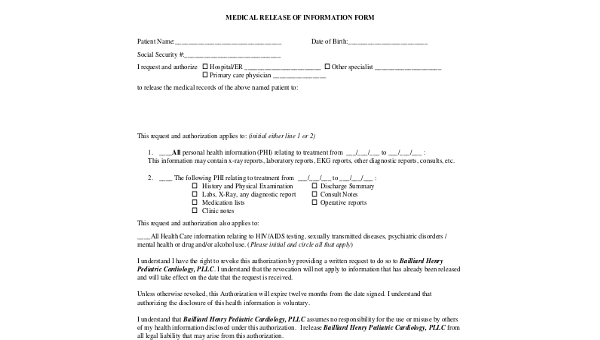 If you want to secure data that is treated with confidentiality, you will need Sample Release Forms. Sample Release Forms are forms which the source of the information, a medical facility, for example, will need before anything is to be released. Where to get these forms, you ask? Well, this very website you are viewing right now contains easy-to-understand forms that will help you send your requests and pleas across. Success is a guarantee when you download our forms here on our website, so what are you waiting for?
Medical Release of Information Consent Form
Authorization to Release Medical Information Form
Medical Record Release of Information Form in PDF
Medical Release of Information Form Free
Blank Medical Release of Information Form
General Release Forms are used when requesting a release of non-specific, general information. Specific ones, such as tattoos have Tattoo Release Forms, photographs have Photo or Image Release Forms, videos have Video Release Forms, and so on and so forth. Media Release Forms, on the other hand, deal with, well, media. Say, pictures of an alternative rock band, a ramp model, or a hockey athlete could never be shared to anyone but to their managers or to the official photographers those celebrities have permitted or hired; however, if filled-out versions of these forms are provided, then the movie star's photographs should be shown.
Our website specializes in providing you Release Forms that are recognized by professionals around the world, so if I were you, I would grab this rare opportunity being offered. Worry not about paying us, because we will not charge you anything!
Employee Medical Release of Information Form
HIPAA Medical Release of Information Form
Generic Medical Release of Information Form
Patient Medical Release of Information Form Example
Social Security Medical Release of Information Form
General Medical Release of Information Authorization Form
We design a lot of forms people can take advantage of, like Medical Release Forms, for example. Medical Release Forms are created primarily for medical purposes. (What else?) Basically, any information about a patient's medical records should never ever be revealed by the doctor or the hospital where he or she was admitted to; however, if a signed version of that form is produced, then, his or her records that are being stored will be shared. But the information must only be kept within the hospital or medical facility grounds and should only be used as a reference and nothing else. In short, the patient is giving the doctor or the hospital the go signal to open the folders.
The forms in question and all other forms discussed here are now waiting for you to be downloaded. Worry not though. The instructions are quite easy to understand, reading through them will just be a breeze. And did I mention that all these forms are for free?