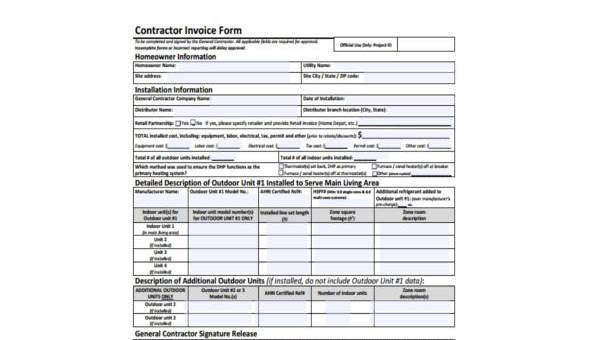 Being a freelance worker requires you to practice and refine the skills of being able to manage cash flow. Nobody finds the idea of being paid late palatable, and being able to properly document your cash flow helps you avoid just that as well as help keep you and your business stay afloat.
Using Invoice Forms or providing invoices to your clients enables you to provide a clear and accurate breakdown of the details of your work and showcases your skills of being an organized and business-savvy individual. Constructing an Invoice Form can prove to be a hectic task and can take a huge amount of your time. Our Invoice Forms can be tailored according to what you prefer by using our Blank Invoice Forms or our Standard Invoice Forms.
Contractor Job Invoice Form
Free Job Invoice Form
Construction Job Invoice Form
Printable Job Invoice Form
Using an Invoice for Work
Using an invoice lends a sense professionalism and legitimacy to your work. Before filling out the contents of an invoice, a freelancer must first decide on a few aspects to include in his form. Below are suggested tips that you may want to put into your invoice form.
Stating Your Price
As with all businesses, the million-dollar question after deciding on a product is the amount of money they will charge for it. Since your profession requires skill and years of practice, it is important to base your product price according to what it's worth and being up front with your clients about the cost.
Demonstrate Professionalism in your Invoices
Your invoice is a means for you to promote your skills, so take a little time off your busy schedule to whip up an invoice that perfectly showcases your talents and abilities.
State Your Terms and Conditions Outright
Providing an invoice is the best way to itemize and outline the details of a project. By stating your set terms and conditions, your clients will be able to clearly understand the cost, the project, and the type of service better. This reduces the chances of late payments being made.
Job Invoice Form in PDF
Job Invoice Form in Word Format
Job Invoice Form Example
What Should Be Stated in an Invoice
Invoices should be properly and carefully structured to be effective among your clients. Below is a list of the basic items that need to be indicated in an invoice.
Client's Name
As with other types of receipts or business forms, your client's name as well as their business address should be stated in the invoice. This creates a more personalized feel to your invoice and can be used as a reference in the future.
Provide Reference Details
Since invoicing is also considered as a method of documentation, make sure that your invoice contains the necessary details such as an invoice number, the name of the project, the invoice date, and a reference number. Your invoice number and reference number should vary per client.
Itemize the Cost
To save you from getting into long and tedious conversations of having to explain your total cost of work to your client, create a description of all the work carried out in the project, including overtime work, travel expenses, daily or hourly rates, and miscellaneous expenses. Indicate the cost of each item and then provide a point of comparison from the total amount due and the original estimated cost. Highlight any additional cost or work that was not included in the first estimate so that your client can clearly see the difference.
Provide the Total Amount Due
After outlining the expense of each item, provide the total amount due and the due date. State the amount needed for down-payment for the project to commence, the mode of payment, and any charges or interest for late payments.