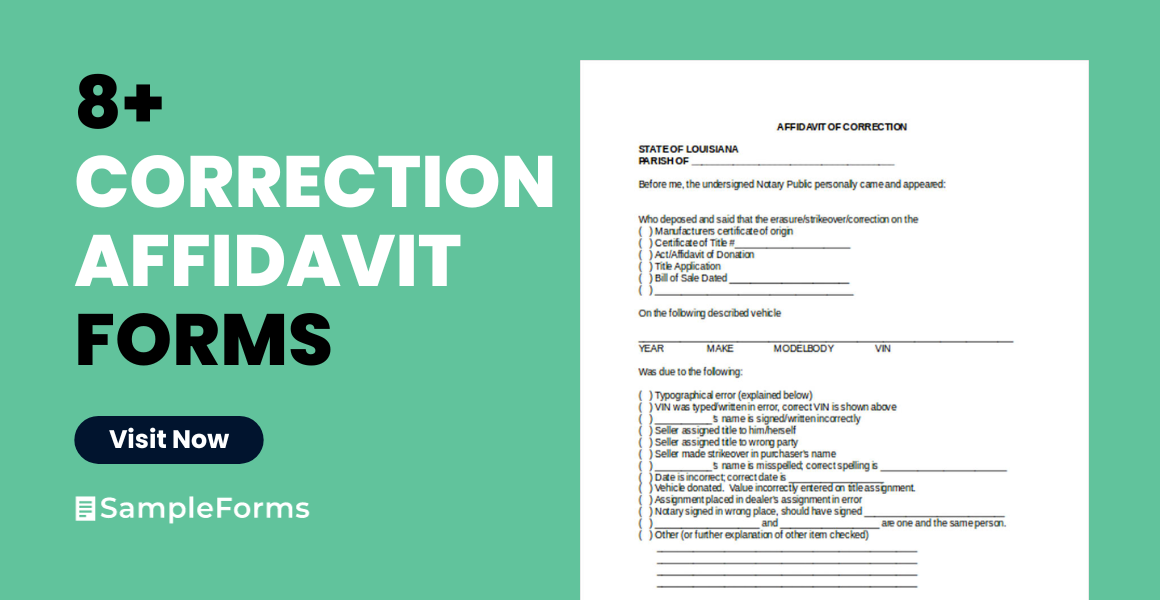 Having a signed affidavit is what one would need in the event that he or she is required to submit proof of certain facts regarding a situation. The information provided in the affidavit will then be used in the court of law during certain legal proceedings wherein the information is required.
The uses of something as a sworn affidavit is to provide evidence. So whatever information is being stated in the document will be considered as fact. However, the affiant must know that all information within the affidavit will be subjected to perjury, meaning that any false information will result to the affiant receiving certain legal consequence
Birth Certificate Correction
Name Correction
Title Correction
Passport Correction
What Is an Affidavit of Correction?
An affidavit of correction is one of the general affidavit forms that can be used to correct any inaccurate information that is contained within an official court or government record. This kind of form can be used on many different types of documents such as DMV records wherein you would like to change the vehicle's registration information or title.
You may even use these forms to change the information within birth and death certificates. It will notify those in charge of handling these records about the error and you will be the one offering the right information that it should be changed to. And like all affidavit forms, you will need to have it signed and sealed by a notary.
How to Fill Out an Affidavit of Correction
When filling out an affidavit of correction, you will first need to understand the type of correction you will need to  make. Is it one for your vehicle? your address? your name? You will need to know which form to use for the right type of correction.You must point out in the affidavit as to what kind of error was made.
Once that is done, you will have to provide the correct information of whatever you need changed. Then very similar to filling up sworn affidavit forms, you must then fill up the date of when you have sworn the following information under oath.  Then provide your signature as well as the signature and seal of the notary.
Address Correction
Death Certificate Correction
Pan Card Correction
Free Correction Affidavit
What To Include In a Name Correction Affidavit?
A name correction affidavit is exactly what it is called. It is what one uses in the event that he or she has a name error in any government related documents. So details such as the persons' correct full name, date of birth, father and mother's name, and address must all be placed in the affidavit.
It must also contain the incorrect spelling as well as the document in which the incorrect version is placed in.  If you would like to know more about name correction affidavits, then you may go through our affidavit forms in Word to help you get all the information you need to know.
How Do I Fix an Error in an Affidavit?
In the event that you have made any errors within your affidavit, then you only have one option. You are going to have to create a new affidavit.  Creating a new affidavit does not replace any of the previous affidavits that you have made. What it does is just add more written evidence to the court in file.
So when making the new affidavit, you will have to state that you are making it to give the court new information. Then you may set the new information that you would like to provide. If it is just a typo error, then there is no need to create a new one. All you have to do is take the affidavit to a notary, correct the mistake in ink, write your initials on the corrected line, then have the notary re-swear the affidavit and sign it again.
If you would like to learn more about other affidavit forms, such as affidavit of service forms which show proof of a service, then you may view any of our sample affidavit forms to help you.