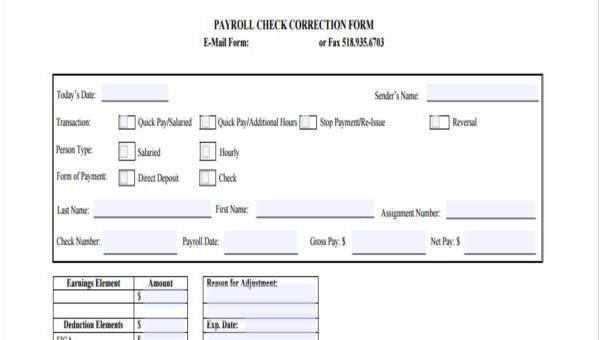 A companies payroll is very important as it contains a list of all of a company's employees. Not only that, but it also contains information regarding just how much these employees should be paid for their services. So it is a record of all employee's salary, bonuses, and even taxes.
A payroll, from an accounting perspective, can help determine a company's net income as well and another reason why it is needed is because they are subject to laws and regulations. From an employee's point of view, the payroll tells them how much they should be paid as well as knowing if it contains any errors and irregularities. So make sure that once you receive your payroll form, check it at least twice to make sure all the numbers are accurate.
Payroll Check Correction Form
Payroll Correction Request Form
Payroll Correction Form in PDF
Payroll Error Correction Form
What Is a Payroll Correction Form?
Payroll correction, or payroll change forms are submitted in the event that any form of error in a payroll has been noticed. This is most commonly used in the event that an employee has spotted an irregularity concerning his or her salary. The purpose of the form can either be for addition, subtraction or change.
Change can mean a change in information such as the name contained within the payroll. Addition or subtraction is in the event that one's salary number needs to be increased or decreased. So long as one verifies the information as to why the payroll information should be changed, then there should be no problems.
How to Write a Payroll Correction Form
For those that need to have information within their payroll changed, make sure the following information is included in the form:
Date of when the correction is made
The payroll period
Name of the employee
Employee number
Choose the type of correction (addition, subtraction, or change)
Amount that needs to be changed
Information that needs to be changed
Employee signature
Explanation for the change
Signature of the supervisor
All one has to make sure is to provide everything above to ensure that the change is done as soon as possible.
Payroll Timecard Correction Form
Payroll Correction Form Example
Free Payroll Correction Form
Payroll Check Correction Form in Doc
Payroll Request and Payroll Correction Form
The Importance of a Payroll and Payroll Corrections
The payroll is always an integral part of any company. The payroll has a huge effect on any business as it affects the business's every aspect from its reputation to all the way to the employee's morale. Payroll corrections can have a huge impact on an employee's morale. It could either be good or bad depending on the type of change being made.
If one uses a payroll deduction form, then it obviously means that the employee's salary will be deducted due to reasons such as incurring one too many absences, which in turn will demoralize the employee. If it's for a salary raise, then one can expect the employee to be more productive. It can even be used to change other information such as the employee's shift schedule. So if one has any errors within the payroll, then make sure to provide the information to be corrected with these forms.
Payroll tasks and management are crucial endeavors. In order to ensure that payroll cycle of an employee or subject runs smoothly, it is important that payroll management is handled in a correct manner. This is achievable with the help of payroll forms. Depending on different situations, different kinds of payroll forms need to be populated and should be forwarded to the concerned parties.