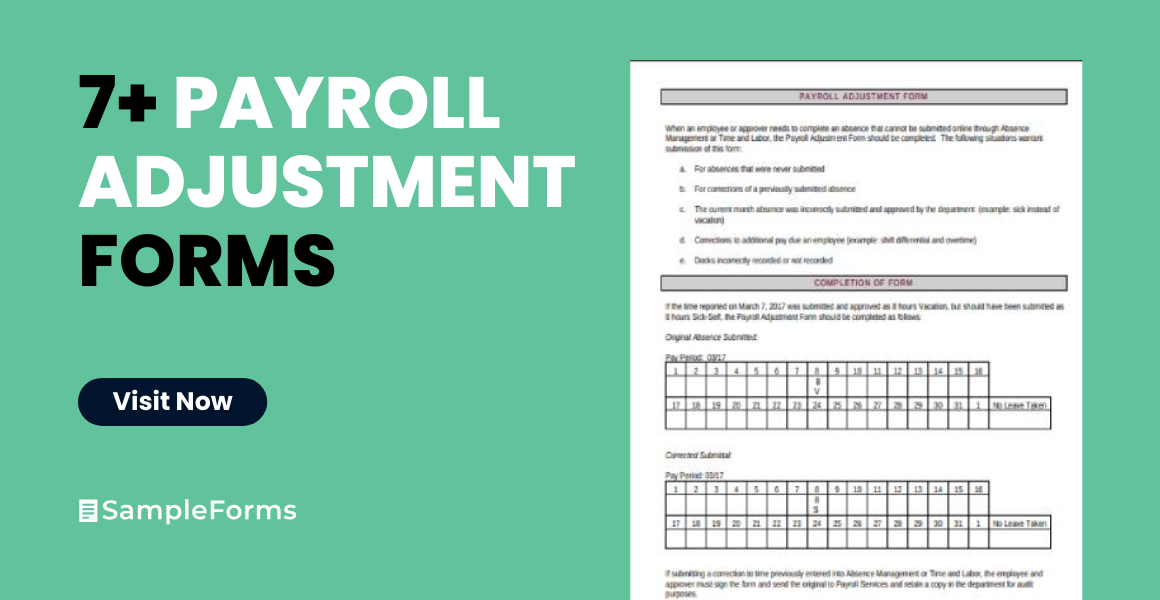 You've just received word about an employee's exemplary work. And on top of that, he is also recognized for being an exceptional team player. In recognition for being such an asset to the company, you've been thinking of giving him a salary raise and a job promotion that he so deserves. However, being the owner of a very young company, it is your first time to award a job promotion to one of your employees. So you consulted the matter to one of your HR specialists and found out that you lacked the essential document for that purpose, the Payroll Adjustment Form. Knowing that time is crucial, you hurriedly scour the world wide web in search of a Payroll Adjustment Form template to provide your company a standard Payroll Adjustment Form for future use.
What Is a Payroll Adjustment Form?
Payroll Adjustment Forms are change forms used in increasing or decreasing an employee's gross pay. Such adjustments could either be from deductions from government benefits for employees, income tax, and infractions, or pay increases such as bonuses, paid overtime work, and salary change requests. These forms are filed before the payslip for a certain period is issued to the employee and requires the HR's approval before a payroll adjustment is to be made.
FREE 7+ Payroll Adjustment Forms in MS Word | PDF | Excel
1. Sample Payroll Adjustment Form
2. Payroll Adjustment Form Sample
3. Payroll Adjustment Form Template
4. Student Payroll Adjustment Form
5. Employee Payroll Adjustment Form
6. Monthly Payroll Adjustment Form
7. Payroll Adjustment Form Sample Template
8. Payroll Adjustment Report Form
Why make a Payroll Adjustment to an Employee's Salary?
There are several reasons why payroll adjustments are made. Most of these are done for employment tax purposes and deductions from government benefits provided to the employees. Sometimes, payroll adjustments are made by employers due to special reasons such as rewarding an employee for exemplary work or penalizing for infractions made by an employee.
Listed down below are the variety of reasons why employers make payroll adjustments for their employees.
1. An employee gets promoted to a higher job position.
2. Allowances from the increase in living costs, transportation coverage, and travel expenses.
3. Infractions due to working under time, lates, absence without notice, and damage to company property.
4. Pay deductions from government-mandated benefits such as social security and healthcare.
As mentioned above, employers make payroll adjustments for their employees because they want to reward an employee for exemplary work. Rewards are awarded to an employee for one purpose, and that is to motivate them to do better in the future. According to the Incentive Theory of Motivation by Clark Hull, workers are motivated to work harder and better, especially if they are rewarded with something that they so desired. Such rewards may come in the form of certificates or a pay raise (with the latter being most commonly desired due to practicality.) Monetary rewards such as a pay raise, are often reflected in payroll adjustments made by employers.
How to Make a Payroll Adjustment Form
You have a model employee that needs to be awarded and recognized for the exemplary work he has done. But being a very young company, there are still a number of things that you lack, including documents such as the Payroll Adjustment Form. In the search for such a document, you scoured the vastness of the internet and, luckily, came across this article. Upon reading this article, you learned what a Payroll Adjustment Form is about, along with interesting things that are tied with it. It also includes a section that teaches you how to make such a document conveniently using ready-made templates provided by this article. Listed below are the steps on how to make a Payroll Adjustment Form for all payroll adjustment needs.
Step 1. Choose and Download a Payroll Adjustment Form Template
First off, choose a variety of ready-made Payroll Adjustment Form Templates provided in this article. These ready-made templates are already in a standard and user-friendly format, which means that you can easily make a Payroll Adjustment Form more quickly than those made from scratch. To get started in making your company's standard Payroll Adjustment Form, hit the download button.
Step 2. Place your Company Name and Logo on the Template
After choosing and downloading a Payroll Adjustment Form Template, you can now start customizing it by placing your company name and logo. Place your company name and logo on the header section of the template. Make sure that it doesn't overlap with other elements of the form. The template already has the elements that most Payroll Adjustment Forms contain. But if you wish to customize it any further, replace those elements with the ones that you like or need.
Step 3. Print the Payroll Adjustment Form Template
Print the Payroll Adjustment Form Template after you're done editing and customizing it. Print multiple copies of the form using your office printer, if possible. Printing multiple copies of Payroll Adjustment Forms allow you to conveniently hand such forms to employees who wish to request changes in their salaries. If printing numerous copies is beyond the capacity of your office printer, you can always use the services of a commercial printer instead.
Step 4. Let the Lucky Employee Fill-in and Sign the Payroll Adjustment Form
After printing a Payroll Adjustment Form, hand it to the lucky employee and have him complete it. The Payroll Adjustment Form will usually ask for information to be provided by the employee, such as personal information and employment details. Such information are required to be given to records keeping purposes. Let him sign the Payroll Adjustment Form after he has completed it.
Step 5. Submit the Payroll Adjustment Form to the Company HR
After your employee has completed the Payroll Adjustment Form, the next thing to do is to submit it to your HR's office. Your employee's Payroll Adjustment Form will serve as a formal request for making changes in his payroll. It will also serve as a record of any changes made in your company's payroll system. After the HR receives the lucky employee's Payroll Adjustment Form, the HR will then start processing and finalizing the payroll adjustment.