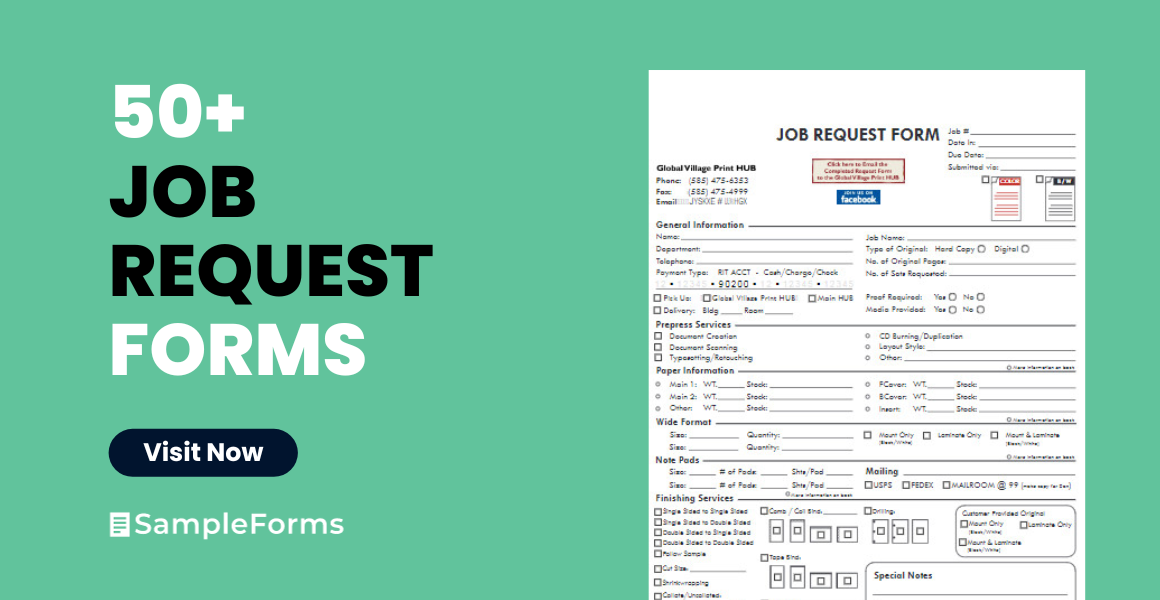 A Job Request Form, a bridge between potential job seekers and recruiters, streamlines the process of matching the right candidate to the perfect role. Whether an internal departmental shift or an external candidate's first touchpoint, this form ensures that both parties are on the same page. Dive into its significance, various types, exemplar templates, creation guide, and best practices. This comprehensive insight will equip you to design and deploy an effective Job Request Form, optimizing recruitment efficiency.
What is a Job Request Form ? – Definition
A Job Request Form is a structured document or digital form used by employees or departments within an organization to formally request the creation of a new job position or the filling of an existing vacant role. It typically outlines the specifics of the desired position, including job responsibilities, qualifications required, and reasons for the request. This form serves as a standardized method for communicating staffing needs and ensures that all pertinent details are considered before a new job is posted or filled.
What is the Meaning of a Job Request Form?
The meaning of a Job Request Form extends beyond just a mere document; it signifies a structured approach to identifying and addressing staffing needs within an organization. It serves as a formal communication channel between departments and HR, ensuring that any request for a new job position or filling of an existing vacancy is backed by valid reasons and is aligned with organizational goals. By standardizing the process, the form helps in maintaining consistency, transparency, and efficiency in recruitment or role adjustments, ensuring that both operational demands and employee growth are balanced.
What is the Best Sample Job Request Form?
Creating an effective Job Request Form depends on the organization's specific needs, industry, and scale. However, a good sample should be comprehensive yet concise. Here's a basic sample of what a Job Request Form might look like:
Requestor Details:
Name: [Full Name]
Department: [Department Name]
Position: [Current Position]
Contact Information: [Email, Phone Number]
Job Position Details:
Job Title: [Proposed Title]
Department: [Relevant Department]
Job Type: [Full-time/Part-time/Contract/Temporary]
Reports to: [Immediate Supervisor/Manager]
Job Description:
Key Responsibilities:

[Primary Task]
[Secondary Task] … [And so on]

Desired Qualifications: [List of qualifications]
Required Experience: [Years of experience, specific industry expertise]
Reason for Request:
New Position
Replacement of [Previous Employee Name]
Departmental Restructuring
Project-specific Need
Other: [Specify]
Justification for Job Request: [Provide a brief explanation on why this job position is necessary, its potential benefits to the department and organization, and any other relevant information.]
Preferred Start Date: [Date]
Budget Considerations:
Estimated Salary: [Range]
Other Costs: [List any additional costs such as training, resources, equipment]
Approval:
Department Head Name & Signature: _________ Date: ________
HR Reviewer Name & Signature: _________ Date: ________
Remember, the above is just a basic template. Depending on the organization's size and nature, additional fields might be necessary, such as specific software proficiency, certifications, or even physical requirements for certain roles. It's also crucial to ensure that the fillable form is easily adaptable and flexible to accommodate varying job roles and requirements.
FREE 50+ Job Request Forms in PDF
51. Event Job Request Form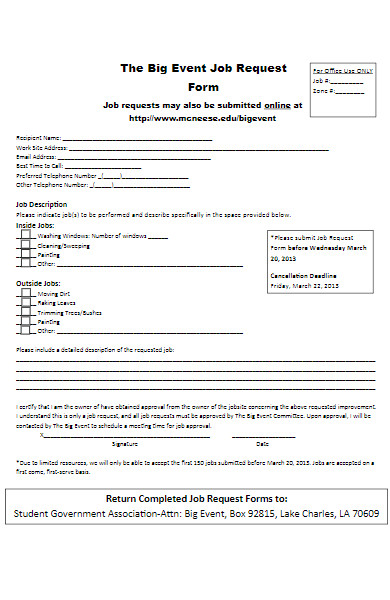 How do I fill out the Job Request Form accurately?
Filling out a Job Request Form accurately is essential to ensure that the hiring department has all the correct information they need. Here's a step-by-step guide to help you:
Read Instructions Carefully: Before you begin, read any instructions provided. These will guide you on how to complete the form and avoid common mistakes.
Use Black or Blue Ink: If filling out a paper form, use black or blue ink unless otherwise specified. This ensures clarity when the form is photocopied or scanned.
Complete Personal Details: Fill out your full name, contact information, and any other personal details required.
Job Details: Specify the position you're applying for. If there's a job reference number, make sure to include it.
Previous Employment: List your previous jobs in the order specified, usually starting with the most recent. Include company names, job titles, and durations.
Qualifications: Detail any relevant qualifications or certifications that relate to the job you're applying for.
References: If required, provide names and contact information for professional references. Ensure you've obtained their permission first.
Availability: If there's a section asking about your availability, be clear about any days or times you can't work.
Answer All Questions: Don't leave any sections blank unless they're labeled optional. If a section doesn't apply to you, write "N/A" (not applicable).
Check Your Answers: Review all your answers for accuracy. Ensure that dates, names, and other details are correct.
Attach Required Documents: If the form asks for specific documents (like a resume or certificates), ensure they're attached and labeled clearly.
Signature and Date: If required, sign and date the form. This often acts as an acknowledgment that all the information provided is accurate.
Keep a Copy: It's always a good idea to keep a copy of the completed form for your records.
Submission: Follow the instructions provided for submission, whether it's via email, online portal, or physical handover.
Remember, honesty is crucial. Providing inaccurate information on purpose can lead to disqualification from the job or more severe consequences down the line. If you're unsure about any section, it's better to ask for clarification than to guess. You should also take a look at our Material Requisition Forms.
Can I submit the Job Request Form online or only in-person?
The method of submitting a Job Request Form—whether online or in-person—largely depends on the employer's preferences and the systems they have in place. Here's a general answer to guide you:
Typically, many modern companies and organizations offer an online submission method for Job Request Forms, especially if they have a digital HR system or utilize job portals. This facilitates a quicker and more organized processing method. If an online portal or email address is provided for submission, you can submit the form digitally.
However, some organizations, especially smaller businesses or those with more traditional operations, might still prefer or require in-person submissions, either because they don't have an online system in place or because they value the personal touch of an applicant coming in.
To be certain, always refer to the instructions provided on the Job Request Form in MS Word or any accompanying documentation. If in doubt, don't hesitate to reach out to the company's HR department or the relevant contact person for clarification.
What documents should accompany my Job Request Form?
The specific documents that should accompany a Job Request Form vary based on the job position, the industry, and the employer's preferences. However, here are some commonly requested documents:
Resume/CV: This provides a comprehensive overview of your professional history, including your education, work experience, skills, and achievements.
Cover Letter: Some employers require a cover letter that details your interest in the position and explains why you're a good fit for the role.
Certificates and Diplomas: Academic qualifications, professional certifications, or any other relevant training certificates that demonstrate your qualifications for the job.
Reference Letters: Letters from past employers or colleagues that vouch for your skills, character, and work ethic.
Portfolio: For jobs in creative fields like writing, design, or photography, a portfolio showcasing your previous work might be required.
Identification Documents: This could be a driver's license, passport, or any other valid ID, especially if proof of work eligibility is needed.
Proof of Work Eligibility: For jobs in countries where you're not a citizen, documents that prove you're allowed to work there, such as a work visa or work permit.
Professional Licenses: For jobs that require a specific professional license, such as law, medicine, or aviation.
Background Check Results: Some employers might request this upfront, though many will conduct this check themselves.
Drug Test Results: Certain positions or industries might require a clean drug test before employment.
Other Relevant Forms: Some jobs might have specific forms related to the industry or position, such as a driving record for transportation jobs.
Always refer to the instructions on the Job Request Form or the job posting to know which documents are required. If unsure, it's always a good idea to contact the company's HR department or the relevant contact person to get clarification.
How long does it take to process my Job Request Form?
The processing time for a Job Request Form can vary widely depending on several factors:
Company Size and Structure: Larger companies with more bureaucratic structures might take longer to process applications than smaller startups or businesses.
Volume of Applications: If a company has received a high number of applications for a particular role, it may take them longer to review all forms.
Complexity of the Role: Positions that require a more rigorous screening process or additional assessments may naturally take longer in the evaluation phase.
HR Resources: Companies with a well-staffed HR department or those using sophisticated applicant tracking systems might process forms more quickly than those without.
Background Checks: If the job application process includes background checks, reference checks, or any other verifications, this can add to the processing time.
Interview Process: Some companies might review forms in batches and schedule interviews in phases, which can affect the overall timeline.
Company's Urgency: If the company needs to fill a role urgently, they might expedite the review process.
On average, for many companies, the initial review of a Job Request Form might take anywhere from a few days to a couple of weeks. However, the entire hiring process, from form submission to final job offer, can span several weeks to even months in some cases.
It's always a good practice to ask the HR representative or hiring man
ager about the expected timeline if it's not already communicated. This way, you can manage your expectations and plan any follow-ups if necessary. You should also take a look at our customer request form.
Who do I contact if I encounter issues with the Job Request Form?
If you encounter issues with the Job Request Form, follow these general guidelines:
Check the Form: Often, forms will have a contact name, phone number, or email address listed specifically for inquiries or issues. This could be at the top or bottom of the form or in an attached set of instructions.
Human Resources (HR) Department: If no specific contact is provided on the form, reach out to the company's HR department. They are typically responsible for managing the recruitment process and should be able to assist or direct you to someone who can.
Hiring Manager or Listed Contact: If you received the form from a specific individual or if there was a named contact on a job listing, you could reach out to them for assistance.
Company Website: Many companies have a "Contact Us" section on their website with general contact information. While this might not directly address your issue with the form, they can often redirect you to the appropriate department.
Technical Support: If you're filling out an online form and encounter technical issues, check if there's a technical support link or FAQ section. Larger companies, or those using third-party application platforms, might have dedicated tech support for application-related issues.
Follow-up after Submission: If you've submitted the form and haven't received confirmation or any communication within the expected timeframe, it's a good idea to follow up to ensure it was received correctly.
When reaching out, always be courteous and clear about the issue you're facing. Providing specific details will help the company assist you more efficiently. Also, ensure you have a backup of all the information you've entered into the form, especially if you're dealing with technical issues on an online platform.
Can I edit my Job Request Form after submission?
Once a Job Request Form is submitted, whether electronically or in hard copy, you typically cannot edit the information directly on the form. However, if you realize you've made an error or need to update information, here's what you can do:
Contact HR or the Relevant Department: Reach out to the company's HR department or the relevant contact person as soon as you realize the mistake. Explain the error and ask if there's a possibility to provide corrected information.
Resubmit the Form: Depending on the company's policy, they might ask you to fill out and submit a new form with the corrected information.
Supplementary Information: If the error is minor or if it's something that needs to be added (like an additional reference), some companies might allow you to simply send an email with the correction or addition. This email would then be appended to or associated with your original form.
Online Platforms: If you submitted the form through an online job portal or an applicant tracking system, there might be an option to log back into your account and edit your application before it's reviewed. However, this varies by platform and company policy.
Take Precautions for Future Submissions: To avoid such situations in the future, always review your form carefully before submitting. Double-check all entries, especially critical information like contact details, job history, and references.
In any case, it's essential to act promptly and communicate transparently with the employer. Most employers understand that mistakes can happen and will appreciate your proactive approach in correcting the information.
How secure is my personal information on the Job Request Form?
The security of your personal information on a Job Request Form depends on several factors, including the company's data protection measures, the mode of submission, and the protocols they have in place for handling and storing sensitive information. Here are some points to consider:
Data Protection Laws: Companies are generally bound by data protection and privacy laws of their country or region. These laws mandate that companies take necessary precautions to protect the personal information of individuals. For instance, in the European Union, the General Data Protection Regulation (GDPR) has stringent requirements for data protection.
Secure Online Platforms: If you're submitting the form electronically, check if the platform uses HTTPS (look for a padlock symbol in the address bar of your browser). This ensures that data transmitted between your computer and the company's server is encrypted.
Company's Privacy Policy: Before submitting your form, it's a good idea to review the company's privacy policy. It should detail how they collect, use, store, and protect your personal data.
Data Retention: Companies typically have data retention policies that dictate how long they keep personal data. After a certain period, they should securely dispose of or anonymize your information.
Physical Forms: If you're submitting a hard copy, inquire about who will have access to your form and how it will be stored. Secure companies will keep such forms in a locked environment with limited access.
Limit Sharing: Companies should limit the sharing of your personal data only to relevant personnel involved in the hiring process and not disclose it to third parties without a valid reason or without obtaining your consent.
Security Breaches: Despite best practices, breaches can occur. It's essential to provide only the information that's absolutely necessary for the job application and be wary of forms that ask for overly personal details that aren't relevant to the job, like social security numbers (unless it's a standard practice in your country for job applications).
If you have concerns about the security of your personal information, don't hesitate to ask the HR department or the relevant contact person about their data protection measures. Your privacy and the security of your personal details should be a top priority for any reputable employer.
Do I need to renew or update my Job Request Form annually?
Generally, a Job Request Form is specific to a particular job application and isn't something that needs annual renewal or updating. However, there are a few contexts and scenarios where updates might be relevant:
Internal Job Postings: If you're applying for a different role or position within the same company, you might need to fill out a new Job Request Form or update your previous one, especially if your qualifications or job experience have changed since your last submission.
Temporary or Seasonal Jobs: If you're applying for seasonal employment, such as holiday-related positions, you might be asked to resubmit or update a Job Request Form each season.
Recruitment Agencies: If you're registered with a recruitment or staffing agency, they might maintain a profile for you. In this case, it's a good idea to update your details, qualifications, and experience annually or whenever there's a significant change.
Talent Pools: Some companies maintain a talent pool or database of potential candidates. If you've given permission to be part of this, you might want to update your information periodically, so they have the most current data if they consider you for a future role.
Open Applications: Some companies allow prospective employees to submit open applications without a specific job posting. If you've done this, consider updating your details if you're still interested in opportunities at that company after a significant amount of time has passed.
Background Checks: If a company conducts annual background checks for its employees, they might request updated information, though this typically wouldn't be in the form of a Job Request Form.
However, for most standard job application forms, once you've submitted your Job Request Form and completed the application process, there's no need for annual updates unless you're applying for a new position. Instead, focus on updating your resume, cover letter, and other application materials to reflect your most recent experiences and skills.
How to Create a Job Request Form?
Creating a Job Request Form is essential for organizations to streamline their hiring process and gather consistent information from all applicants. Here's a step-by-step guide to creating an effective form:
Determine the Purpose: Understand the specific information you need to gather. Is this form for internal job transfers, external job applications, or another specific purpose?
Choose a Format: Decide whether you'll create a digital form (e.g., using online form builders like Google Forms, Typeform, or JotForm) or a printable form using software like Microsoft Word or Adobe Acrobat.

Header Information:

Company Logo: Place your company logo at the top for branding.
Title: Clearly label the form as "Job Request Form" or a similar title.
Date: Include a date field to know when the form was filled out.

Personal Details:

Full Name
Contact Information (phone number, email address)
Address

Position Information:

Desired Position/Role
Desired Department/Team
Desired Start Date
Type of employment (Full-time, Part-time, Temporary, Contract)

Previous Employment Details:

Company Name
Position Held
Duration (Start date – End date)
Reason for leaving

Education & Qualifications:

Institution Name
Degree/Course
Duration
Any other relevant certifications

Skills & Experience:

List specific skills relevant to the job.
Years of experience in the relevant field.

References: Ask for 2-3 professional references, including their names, positions, companies, and contact information.
Additional Information: Leave a section for applicants to add any other relevant information or to elaborate on specific details.
Signature & Date: If it's a printed form, include a space for the applicant to sign and date, acknowledging the accuracy of the information.
Disclaimer: Include a brief disclaimer mentioning that providing false information can lead to disqualification from the application process or termination if already hired.
Instructions: Provide clear instructions on how to fill out, save, and submit the form, especially if it's a digital form. Mention any supporting documents that should be attached.
Privacy Notice: State how the applicant's information will be used, stored, and protected. This is crucial for GDPR compliance and other privacy regulations.
Test the Form: Before rolling it out, test the form internally to ensure all fields work correctly, and the information is captured accurately.
Feedback & Iteration: After a few uses, gather feedback from both HR staff and applicants on the form's effectiveness and make necessary adjustments.
By following this guide, you'll have a comprehensive Job Request Form that efficiently captures all the necessary information from applicants. Ensure it's easily accessible, either on your company's career webpage for online submissions or at relevant locations for physical submissions.
Tips for creating an Effective Job Request Form
Creating an effective Job Request Form is crucial for streamlining the hiring process and ensuring that HR and hiring managers gather consistent and relevant information from all applicants. Here are some tips to help you design an effective form:
Keep it Concise: Only ask for the information that's truly necessary. Long and redundant forms can deter potential candidates.
Clarity is Key: Make sure each question or information request is clear and easy to understand to avoid confusion.
Logical Sequence: Organize the form in a logical sequence, starting with personal details, followed by educational background, work experience, references, etc.
Use Dropdowns and Multiple Choice: For online forms, wherever possible, use dropdown lists or multiple-choice options. This ensures uniformity in responses and makes data analysis easier.
Include Instructions: Provide clear, step-by-step instructions on how to fill out and submit the form, especially if there are specific formats or attachments required.
Mobile-friendly Design: If it's a digital form, ensure it's mobile-responsive since many candidates might access it via mobile devices.
Privacy Matters: Add a privacy statement or disclaimer about how the candidate's information will be used, stored, and protected.
Validation Checks: For digital forms, include validation checks to ensure that mandatory fields are filled out, and data entered (like email addresses) is in the correct format.
Flexible Format Options: If the form is online, allow candidates to save their progress and return later, especially if the form is long.
Feedback Section: Include an optional section where candidates can provide feedback on the form itself or any other relevant aspect.
Update Regularly: Keep the form updated to reflect any changes in company policies or job requirements.
Diversity and Inclusion: Ensure the language used in the form is neutral and inclusive. Avoid asking for information that isn't directly relevant to the job and could lead to biases (like age, marital status, etc.), unless it's a legal requirement.
Error Messages: For online forms, provide clear error messages to guide applicants in case they fill out something incorrectly.
Attachment Options: If the form requires additional documents (like a CV or certificates), ensure the upload process is simple and supports multiple file formats.
Auto-acknowledgment: For digital forms, send an automatic acknowledgment email or notification once the form is submitted, reassuring the applicant that their request has been received.
Review & Test: Periodically review and test the form for any glitches or outdated information. Consider feedback from candidates and HR staff to improve it further.
By focusing on clarity, user-friendliness, and relevance, you'll create a Job Request Form that facilitates the application process for both the candidates and the hiring team.