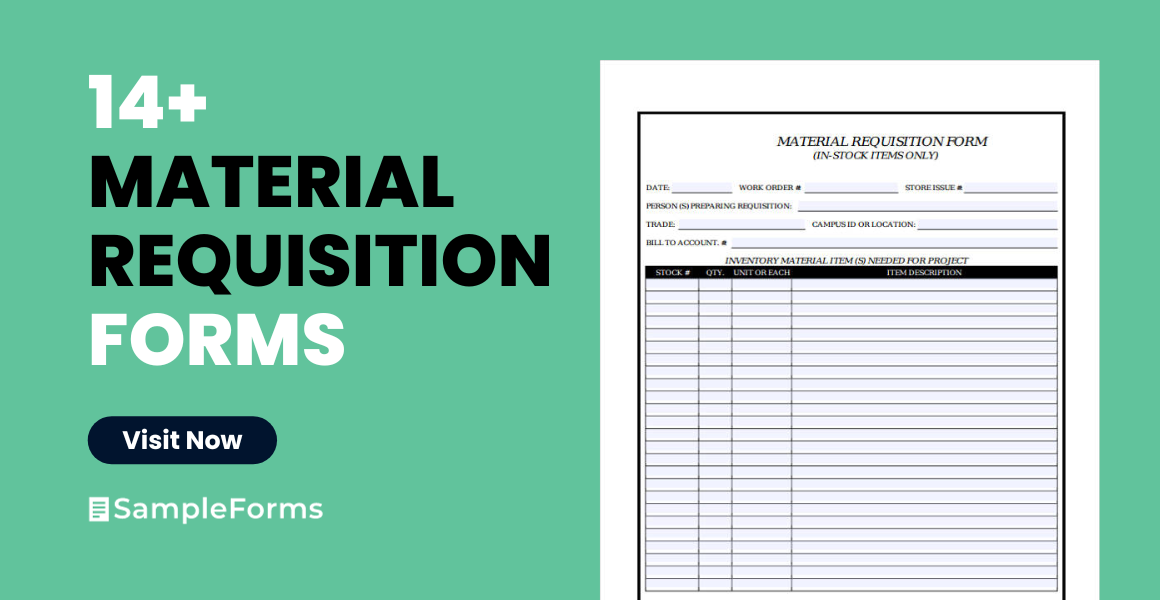 Businesses require specific materials for them to operate, and move forward with their projects and events. These materials have to be accounted for in the company's inventory, which is when a Material Requisition Form comes in handy for streamlining such requests.
It can be pretty hard to come up with your own forms, so you can download our forms available here for you to peruse and use as a basis for your own forms. They are all in PDF format so they are easy to view. Using our pre-made forms will help make sure you have all the information you need for the purchase request.
What is Material Requisition Form?
A Material Requisition Form is a document used within organizations to formally request specific materials or supplies from internal inventory. It details the required items, quantities, and purpose, and often requires managerial approval. This best form is essential for efficient inventory management, ensuring that departments have the necessary resources for their operations. It aids in tracking material usage, controlling inventory levels, and maintaining accountability in resource allocation.
What is the best Sample Material Requisition Form?
This sample form is designed to efficiently handle requests for materials within an organization. It can be customized to fit specific operational needs.
Note: This fillable form is a template and can be modified to include additional fields such as budget codes, priority levels, or specific supplier preferences, depending on the organization's requirements.
14+ Material Requisition Forms in PDF | MS Word
Radioactive Material Requisition Form
Store Material Requisition Form Example
Material Requisition Form Downloadable
Material Purchase Requisition Form in PDF
Material Issue Services Requisition Form
Marketing Material Requisition Form
Workshop Materials Requisition Form
Department of Material Requisition Form
New Material Requisition Form Sample
Printable Welding Material Requisition Form
Cleaning Material Requisition Form
Materials Management Requisition Form
Mechanical Material Requisition Form Format
Blank Material Delivery Form
Purchase Order Material Requisition Form in DOC
What is the purpose of a Requisition Form?
The purpose of a requisition form in an organization is multifaceted, serving as a key tool for efficient operational management. Its primary functions include:
Formalizing Requests: It provides a formal and standardized method for employees or departments to request goods or services, ensuring clear communication and proper documentation.
Authorization and Approval: The form typically requires approval from a supervisor or manager, which helps in controlling spending and ensuring that the request aligns with the organization's needs and budget.
Inventory Management: In the case of material or supply requisitions, the form aids in tracking inventory levels, helping to maintain adequate stock and prevent shortages or over-ordering.
Budget Tracking: By documenting requests and approvals, the organization can monitor and manage its budget more effectively, ensuring that expenditures are planned and justified. You may also see Stock Requisition Forms.
Record Keeping: Requisition forms create a paper trail that is essential for accounting, auditing, and historical analysis.
Efficiency and Timeliness: They streamline the procurement process, ensuring that requests are processed quickly and efficiently, which is crucial for maintaining uninterrupted operations.
Compliance and Standards: The form can ensure that requests and purchases comply with organizational policies and, in regulated industries, legal standards.
Project Management: For project-based work, requisition forms help in allocating resources appropriately, ensuring that projects are well-supported and can proceed on schedule.
Transparency and Accountability: They promote transparency in organizational spending and hold departments accountable for their resource usage.
Overall, a requisition form is a critical component in managing an organization's resources, facilitating smooth and responsible operations.
Uses of a Material Requisition Form
Components of a Material Requisition Form
The name of the employee and department requesting the materials
What the materials are for (If it is for a project or job, then the job number should be specified so that the receiving departments will be aware as to who the materials will be charged to.)
The date the request was placed, along with the date the materials are going to be needed
A description or item number of the materials requested
Unit or quantity of materials that have to be pulled from the stock
The name and signature of the authorized personnel
If the materials have to be delivered, then a delivery address should be included on the Material Requisition Form as well. And if the form will be used as a basis for a service invoice, then the cost of the materials can be included as well so it is easier to calculate the total cost for the service/s provided.
There are various projects for which a Material Requisition Form can be used. You just have to use the right forms that are properly labelled so as to avoid confusion. We also have other Sample Requisition Forms that are used for other types of requests, not just materials and items needed for a project or service.
When Material Requisition Slip is prepared?