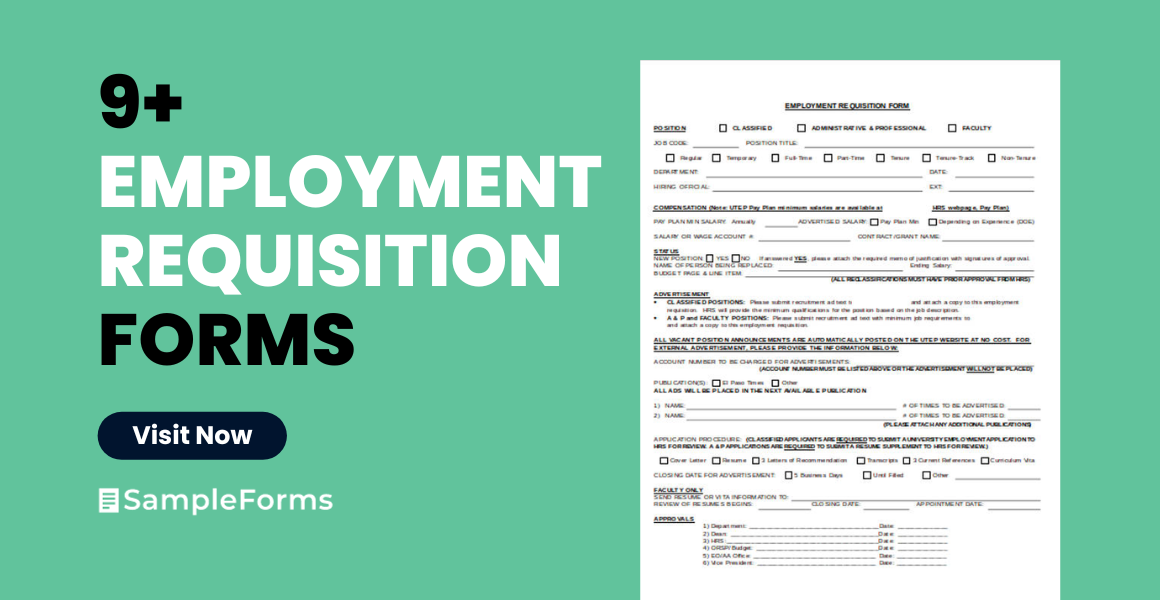 Every Company or Organization has a need for a certain type of profession within their ranks. If these businesses lack the necessary manpower within their ranks, then they can make formal requests for certain positions to be opened. That's what you call Employment Requisition.
Employment Requisitions are handled every single day, and there are a lot of slots that either need to be filled or opened, depending on what the particular company or organization needs. However, these requests cannot be deemed official unless they're the right kind of documentation. So, to ensure that they are, there are Employment Requisition Forms.
Employment Exchange Requisition Form
Employment Personnel Requisition
New Employment Requisition
Student Employment Requisition
Employment Requisition Form Sample
The Different Types of Employment Requisition Forms.
Much like Purchase Requisition Forms, there are many different types of Employee Requisition Forms that cater to the needs of just about any establishment in the event that they need to hire more people to fill in certain roles. Here are some examples of these types of forms.
For New Employment Requisitions
New Employment Requisition Forms are forms that are utilized by just about every business when they need to open up new positions. If a person happens to leave a particular company, then that means there is a slot open to take their place. In this case, those with the authority in these businesses can then use these forms to ask management to open a position for willing applicants to take over.
These forms have to state the necessary qualifications that the applicant must have, along with they type of position that they're looking for. Anything else that the applicant must state in these forms can include their personal information, and any kind of experience they have that relates to the position being opened up. So if you need someone new in your department, then make sure to take full advantage of these forms.
Temporary Employment Requisition
Employee Requisition Form
Student Intern Employment Requisition
Employment Reimbursement Requisition
General Employment Requisition Form
For Temporary Employment Requisition
Temporary Employment Requisition Forms are used in the event that a business needs to open up a position, but only for a temporary employee. There might be some projects or activities that a company or organization might partake in that may require them to hire people from different fields. However, they may choose not to keep those employees permanently, so they opt to hire them only for a specified duration of time.
These forms can state the profession of the person that they need to hire, along with certain agreements such as the duration and pay for the service that they'll be providing. So if you plan on hiring a temporary employee, then feel free to use these forms.
The Importance of Having These Employment Requisition Forms
Lets say that you are working for a company that focuses mainly on writing. As part of management, you notice a lack of graphic designers that can take control of making advertisements for your company. So what are you going to do?
One of the first steps you should take is to use these forms in helping you by making a request as to who you need and why. You can submit these forms to your superiors in the hopes that they agree to the job opening, so long as the reason for the opening is valid. To give you a better clue, there are a ton of Sample Requisition Forms for employment here in for your viewing pleasure.