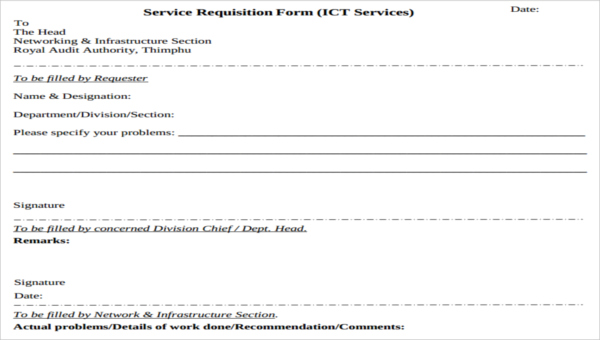 There are many different types of requisitions. For example, there are purchase requisitions that let people make a formal request as to what they need to buy. You'll just need to know which requisition forms is used for the right purpose.
Requisitions and orders are different from one another. Let's say that you make a purchase order instead of a requisition, making the order means that you'll actually get what you need while a requisition requires that you have authorization before you can make the purchase. Which is why if you're going to make any kind of requisition, you're going to need to have a valid reason as to why it's being made in the first place.
Food Service
Material Service
Service Requisition in PDF
Civil Service
What is a Service Requisition?
Think of these like purchase requisition forms, but instead of asking for something to be purchased, you're asking to have a specific type of work done for you. There are many different establishments that benefit from these forms, as there are many different services that they require every single day. When a company needs to have a cleaning service come in and clean all the facilities, they'll need to make a requisition as to what they want done, who they want to provide the service, and when the service should be provided.
How to Create a Service Requisition
If you plan on making something like a service requisition form, then you'll have to take note of the following information that you have to put in:
Name of the person making the requisition
The person's position and the department that he or she is from
The company that the person is based from
The type of service that they require to be done
The purpose of the service
The date of when it would be best to start the service
The date of when the requisition  is made
So in the event that you plan on making any kind of service requisition, just make sure that you place in all of that. So long as the service is beneficial to the everyone, then there should be no problem with its approval.
Warranty Service
Purchase Requisition
Printing Design Services
Internal Service
Bus Service Requisition
Digital Service
Formal Service Requisition Form
Tips on Completing a Payment Requisition Form
When completing a payment requisition, here's some of the things that you're going to have to do:
Make sure that you know what's being paid for. In every payment, even you would want to know why the total bill is what it is. So make sure that you have the details as to what products or services you bought, the quantity of these products and services, and the total amount of everything.
Know as to who you're requesting the payment from. You're going to need all the personal information from the person you're requesting the payment. So that means the name, contact details, and even the address has to be placed in these forms.
Make sure that you're accurate with the total amount. Ensure that everything that needs to be paid for is taken into account and that all the numbers are accurate to avoid further problems.
So take all of these into account when you're making any kind of payment request. It's like after you're food requisition form is accepted and you have to pay for whatever meals are being delivered. If you need to know more about any kind of requisition, then we have all the sample requisition forms that you can look into.