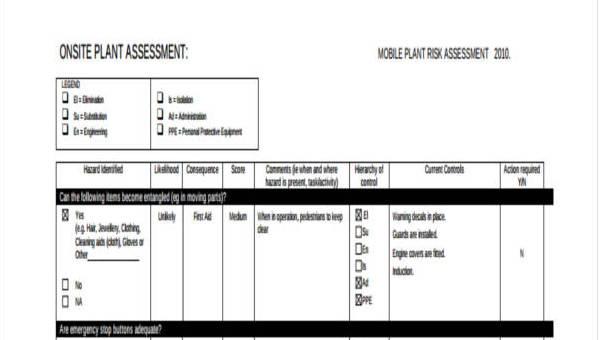 Manufacturing and industrial plants can be hazardous due to the use of various hazardous chemicals and heavy machinery. This is why plants make use of Risk Assessment Forms to identify and lessen, if not eliminate, the risks present in a plant. The process of Risk Assessment has to be very thorough because the consequences could be dire if anything is missed.
We have various types of Plant Risk Assessment Form Samples here that are easy and free to download. These forms come in PDF and Word format, making them easy to edit to fit the needs of your company. Download and use these forms as basis for your own forms.
Plant Equipment Risk Assessment Form
Plant Risk Self Assessment
Sample Mobile Plant Risk Assessment
Plant Equipment Risk Management Form
Uses of a Plant Risk Assessment Form
A Plant Risk Assessment Form is a lot like Health Risk Assessment Forms. They are both used to assess any threats or risks that could compromise the health and safety of individuals at a certain place or location, especially those who are exposed to certain chemicals or operating heavy machinery.
A company's constituents are their asset, and that is why it is important for them to ensure their health and safety. Aside from that, there are also workplace safety and labor laws in place that require plant owners and manufacturers to keep the risks  at a minimum level.
Using Plant Risk Assessment Forms help in ensuring that every possible risk and every possible angle is looked into and checked thoroughly. This is because all the possible risks are outlined properly with their corresponding degree and likelihood of occurrence. This information will allow a company to prioritize the risks they identify so that those that are urgent and severe in nature can be focused on first.
Conducting a Plant Risk Assessment will also let employees feel that they are valued and that their employer is dependable. This will encourage them to stay longer in the company and be motivated to be more productive.
Plant Risk Assessment Worksheet
Onsite Plant Risk Assessment Form
General Risk Assessment
Plant Equipment Risk Assessment
Example of Plant Risk Assessment
Step by Step Process of a Plant Risk Assessment
The first step in conducting a Plant Risk Assessment is to prepare a comprehensive Plant Risk Assessment Form to serve as a guideline for the whole process. If you are going to do a risk assessment for a construction site, you should utilize a Construction Risk Assessment Form.
Once you have prepared a form to use as guidelines, you can then check the possible risks listed and identify which risks are actually present. After you have identified the present risks and hazards, you should then identify the degree or severity of the risk, and the likelihood of its occurrence.
This will help you prioritize risks that are urgent and severe in nature. There is only so much time in a day so it is important that the risks with a high likelihood of occurrence and severe consequences are focused on first.
You should then identify the workers or people who are at risk. Those are the people who are directly or indirectly exposed to the risk. They could be the workers actually operating a heavy machine or those who are tasked for maintenance and cleaning.
Once these prior steps are done, you can then formulate plans to eliminate or reduce the risks present.