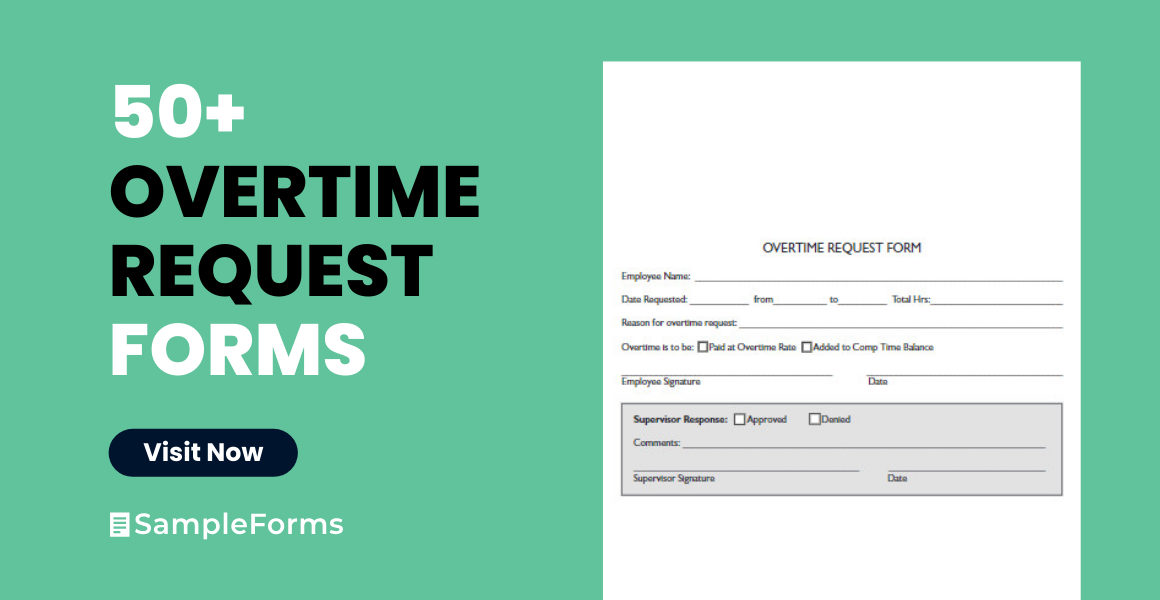 In today's fast-paced work environments, the demand for extra work hours is inevitable. An Overtime Request Form acts as a bridge between employees' desires to put in additional hours and a company's need to manage and approve these requests systematically. Whether you're an employee seeking approval or a manager aiming for efficient staffing, understanding the meaning, types, and creation process of this form is essential. Dive into this guide to unravel its nuances and maximize its utility.
What is an Overtime Request Form ? – Definition
An Overtime Request Form is a formal document used by employees to request approval for working hours that exceed their regular scheduled hours. This form provides a structured way for employees to communicate their desire or need to work additional hours, allowing managers or HR departments to review, approve, or decline such requests based on operational needs, budget constraints, or labor laws. The form typically includes details like the employee's name, the date of the requested overtime, the number of extra hours sought, and the reason for the request.
What is the Meaning of an Overtime Request Form?
The meaning of an Overtime Request Form extends beyond its basic definition. It symbolizes a structured communication channel between employees and management regarding additional work hours. The form not only facilitates an employee's intent to work beyond regular hours but also aids organizations in tracking, managing, and ensuring proper compensation for such hours. By using this form, companies can maintain a balance between operational needs and employee welfare, while also ensuring adherence to labor laws and regulations concerning overtime. In essence, it promotes transparency, fairness, and systematic management of overtime work.
What is the Best Sample Overtime Request Form?
A comprehensive Overtime Request Form should capture all necessary details while being user-friendly. Below is a sample template:
Employee Details:
Name: ________________________
Employee ID: __________________
Position/Title: ________________
Department: ___________________
Overtime Details:
Date of Overtime: ___ / ___ / ______
Start Time: ________ End Time: ________
Total Overtime Hours Requested: _______
Reason for Overtime: (Please provide a brief explanation for the need of overtime)
---
Supervisor/Manager Approval:
Approved: [ ] Declined: [ ] (Please check the appropriate box)
Comments/Notes:
---
Signature of Employee: ____________________ Date: ___ / ___ / ______
Signature of Supervisor/Manager: ______________ Date: ___ / ___ / ______
Note: The actual format can vary based on the organization's needs and the platform (paper-based or digital) used. Some forms might include additional fields such as project/task details associated with the overtime, hourly rate for overtime, or any applicable union guidelines. Ensure the sample request form aligns with your organization's policies and local labor laws.
FREE 50+ Overtime Request Forms in PDF
51. Unscheduled Overtime Account Request Form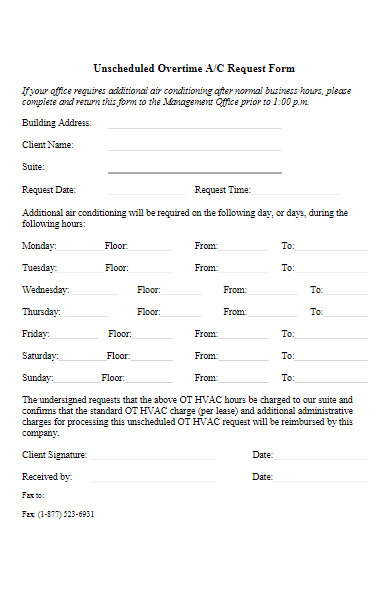 How do I fill out an Overtime Request Form properly?
Filling out an Overtime Request Form accurately is crucial, as it ensures you get the appropriate approval and subsequent compensation for the extra hours worked. Here's a step-by-step guide to assist you:
Employee Details:

Name: Clearly write your full name, as registered in the company records.
Employee ID: Input your unique identification number, if applicable.
Position/Title: Specify your job title or designation.
Department: Mention the department you work in.

Overtime Details:

Date of Overtime: Clearly mark the date when you wish to work overtime. If it spans multiple days, you might need to specify each date.
Start and End Time: Indicate the exact hours you intend to start and finish your overtime. This helps in calculating the total hours.
Total Overtime Hours Requested: Specify the total number of hours you expect to work as overtime. This is typically the difference between the end and start time.

Reason for Overtime:

Be as specific as possible. Indicate why the overtime is necessary. It could be to meet a project deadline, cover for a colleague, or handle an unexpected workload.

Signature of Employee:

Once you've filled out the form, review the information for accuracy. Then, sign and date the form. Your signature confirms the details you've provided are correct to the best of your knowledge.

Supervisor/Manager Approval:

Leave this section blank, as it's meant for your supervisor or manager. They will indicate approval or rejection and might include comments or notes for clarification.

Additional Notes or Comments (if applicable):

Use this section if there's any additional information that you believe would support your request or if there are specific details your supervisor should be aware of.
Additional Tips:
Read Instructions: Some forms might come with specific instructions. Ensure you go through them before filling out the form.
Use Black or Blue Ink: If you're filling out a physical form, use blue or black ink for clarity.
Avoid Overwriting: If you make a mistake on a paper form, it's better to strike through the error neatly and write the correct information above or beside it. Alternatively, you can ask for a new form.
Online Forms: If your company uses an electronic system or online portal, ensure that you save or submit the form after filling it out. Double-check all drop-down menus and fields for accuracy.
Keep a Copy: Always keep a copy of the form for your records, whether it's a physical photocopy or a digital snapshot.
Lastly, ensure you submit the form to the designated authority or department on time to avoid any delays or issues in processing.
How far in advance should I submit my Overtime Request Form?