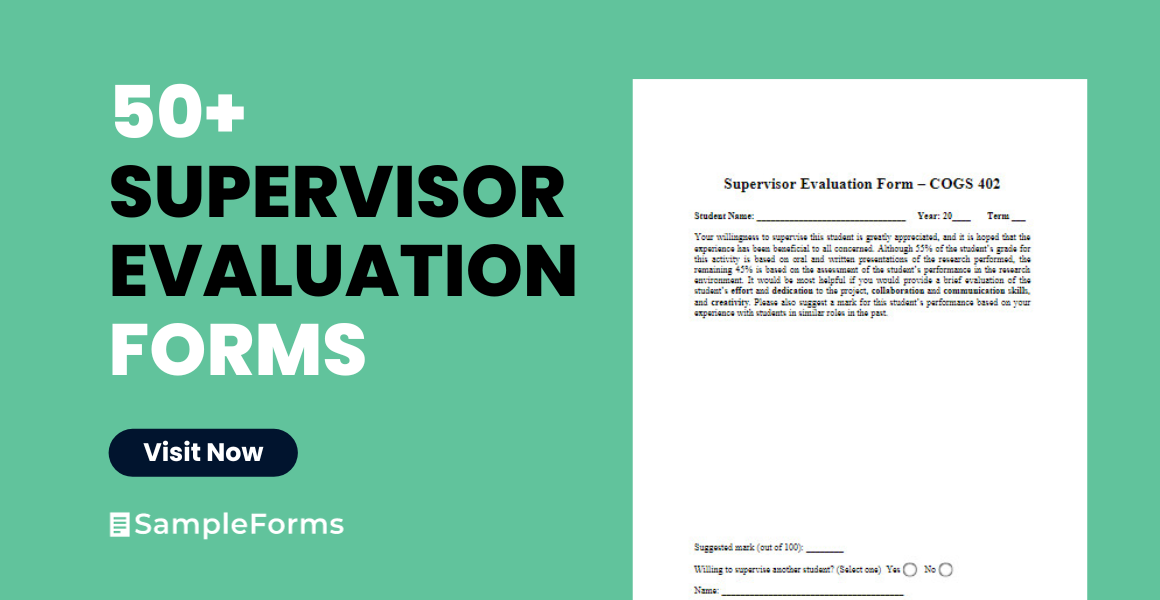 Embark on a journey to refine supervisory skills with the pivotal Supervisor Evaluation Form. A tool designed to assess and elevate leadership, these forms play a critical role in enhancing managerial efficacy across varied sectors. From identifying strengths to pinpointing areas for improvement, they cultivate an environment for constructive feedback and continuous development. Discover the nuanced types, insightful examples, and an easy guide on crafting a proficient form, along with expert tips to navigate through the evaluative process efficiently.
What is a Supervisor Evaluation Form? – Definition
A Supervisor Evaluation Form is a structured tool utilized to assess the performance and effectiveness of a supervisor within an organization. It seeks to gauge various aspects of managerial competence, such as communication skills, leadership quality, problem-solving ability, and team management, among others. These fillable form is typically filled out by subordinates, peers, or higher management, providing a comprehensive view of the supervisor's capabilities and areas that may require improvement, thereby aiding in their professional development and enhancing overall team productivity.
What is the Meaning of the Supervisor Evaluation Form?
The meaning of a Supervisor Evaluation Form extends beyond a mere assessment tool, symbolizing a structured mechanism that encapsulates the qualitative and quantitative analysis of a supervisor's performance and managerial skills. It not only scrutinizes the competencies, behavior, and leadership attributes of a supervisor but also facilitates a constructive platform for feedback form and career development. Essentially, it underpins an organizational strategy aimed at fostering a culture of continuous improvement, accountability, and collaborative growth, by identifying strengths and areas necessitating enhancement in supervisory roles.
What is the Best Sample Supervisor Evaluation Form?
Creating an effective Supervisor Evaluation Form entails a blend of objective criteria and subjective feedback to garner a holistic view of performance. Below is a sample framework to guide you through crafting an efficacious evaluation form:
Section 1: Personal Information
Supervisor's Name:
Department:
Evaluation Period:
Evaluator's Name & Position:
Section 2: Rating Scale
Define a clear, typically numerical, scale for scoring, such as:
1 = Unsatisfactory
2 = Needs Improvement
3 = Satisfactory
4 = Very Good
5 = Outstanding
Section 3: Performance Categories
A. Leadership Skills
Decision Making: Ability to make informed and timely decisions.
Conflict Resolution: Managing and resolving team conflicts effectively.
Motivation: Inspiring and motivating team members.
B. Communication Skills
Clarity in Communication: Ensuring instructions and expectations are clear.
Active Listening: Attentively listening to team members' concerns and feedback.
Feedback Provision: Providing constructive feedback effectively.
C. Management Skills
Project Management: Overseeing projects and ensuring timely completion.
Team Development: Fostering a productive and collaborative team environment.
Time Management: Efficiently managing and allocating time to tasks.
D. Interpersonal Skills
Empathy: Understanding and relating to team members' perspectives.
Team Collaboration: Encouraging and fostering collaborative efforts among team members.
Relationship Management: Maintaining positive and professional relations.
Section 4: Open Feedback
Strengths: Identify and highlight the supervisor's key strengths.
Areas for Improvement: Point out aspects that require enhancement or development.
Additional Comments: Space for any other pertinent feedback not covered above.
Section 5: Overall Evaluation
Overall Rating: Based on the average score from the performance categories.
Recommendations: Suggest actionable steps for improvement or career development.
Section 6: Acknowledgement
Evaluator's Signature:
Date:
Supervisor's Signature:
Date:
This sample action form provides a comprehensive structure that balances quantitative and qualitative assessment, ensuring a nuanced evaluation of the supervisor's performance, skills, and potential areas for improvement. Tailoring specific items to match your organizational culture and expectations will enhance its effectiveness and relevance.
FREE 50+ Supervisor Evaluation Forms
1. Supervisor Evaluation Form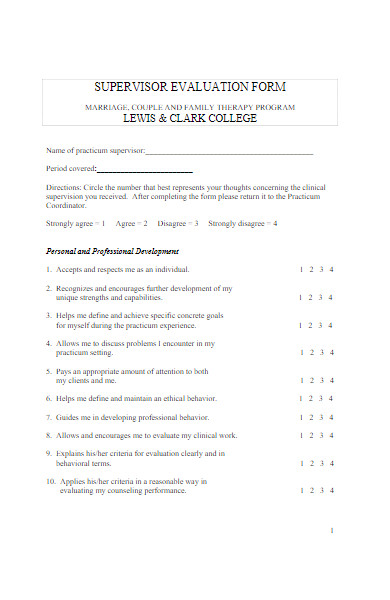 2. Onsite Supervisor Evaluation Form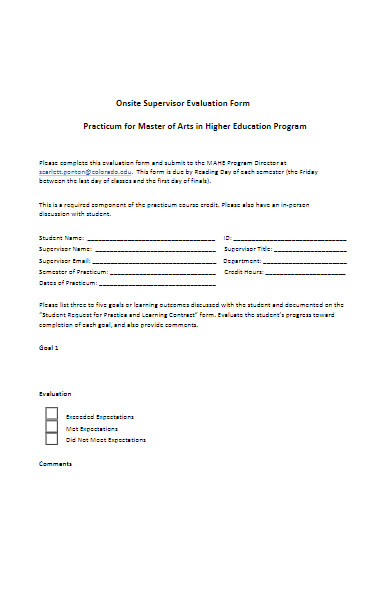 3. Training Program Supervisor Evaluation Form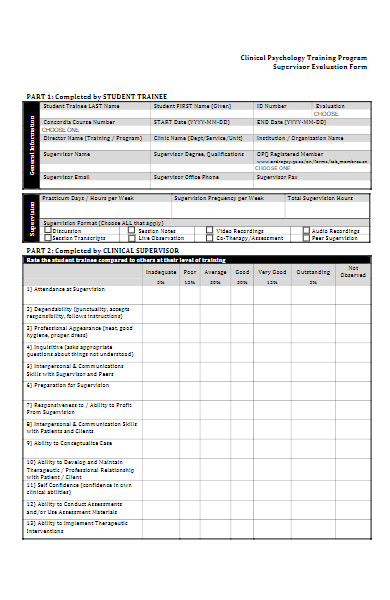 4. Internship Site and Supervisor Evaluation Form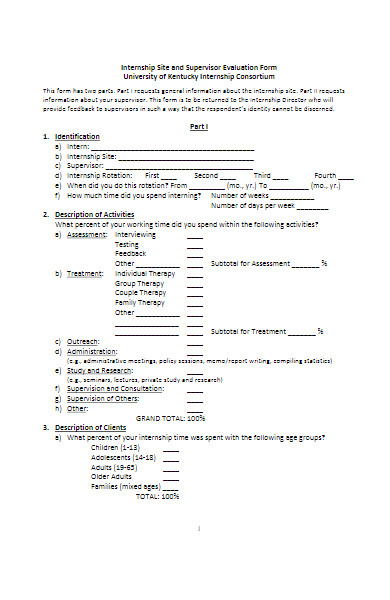 5. Psychology Supervision Evaluation Form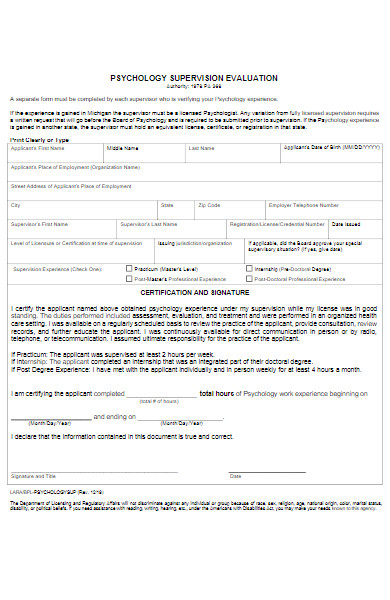 6. Confidential Supervisor's Evaluation Form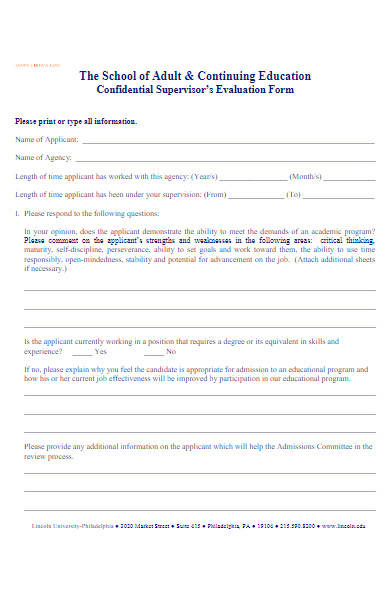 7. Sample Supervisor Evaluation Form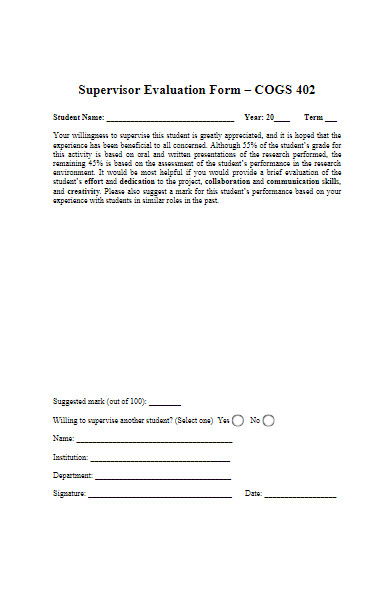 8. On-site Supervisor Intern Evaluation Form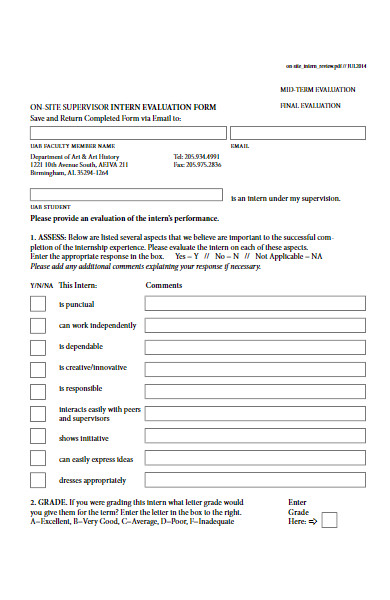 9. Shift Supervisor Evaluation Form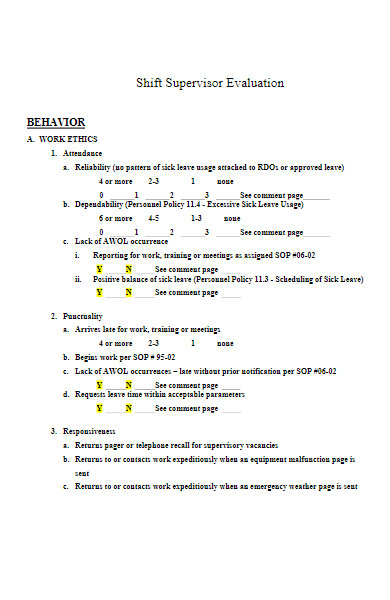 10. Supervisor Final Evaluation Form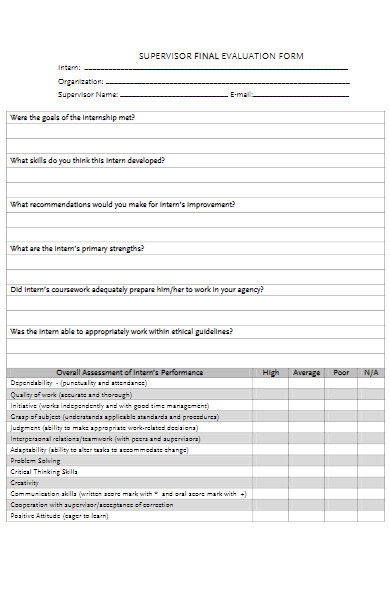 11. Field-Site Supervisor Evaluation Form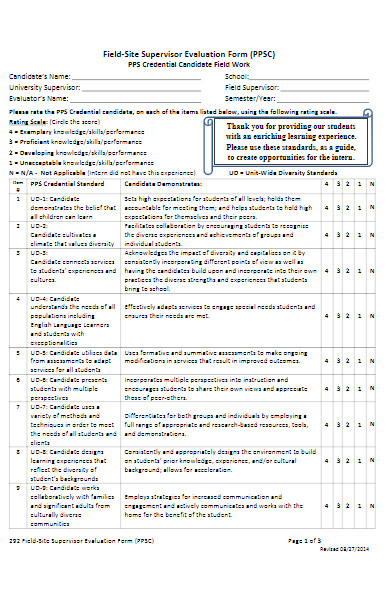 12. Service Supervisor Evaluation Form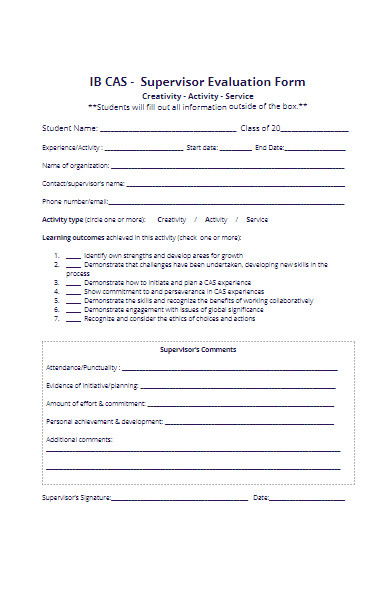 13. Supervisor Evaluation Form Example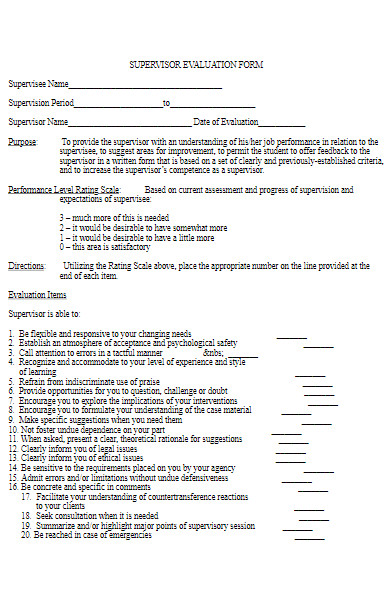 14. Supervisory Evaluation Summary Report Form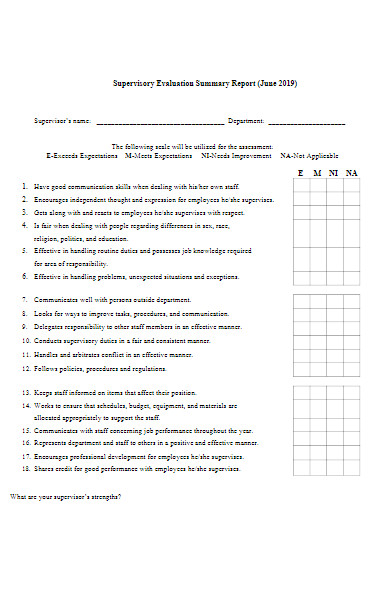 15. On-site Supervisor's Evaluation of Internship Form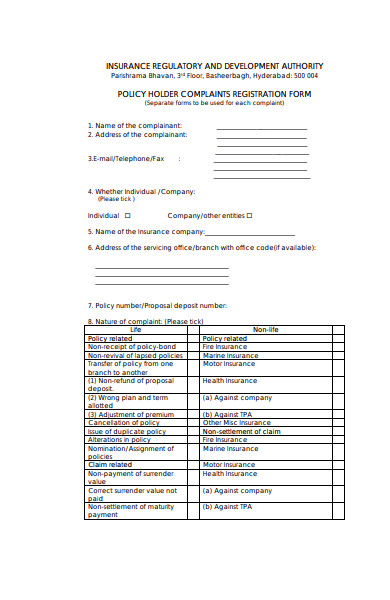 16. Work-Based Supervisor Evaluation Report Form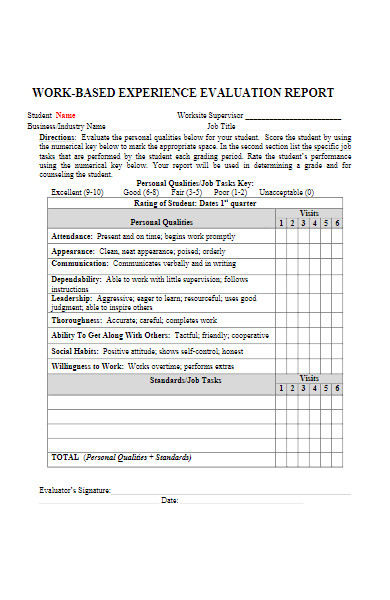 17. HR Supervisor Evaluation Form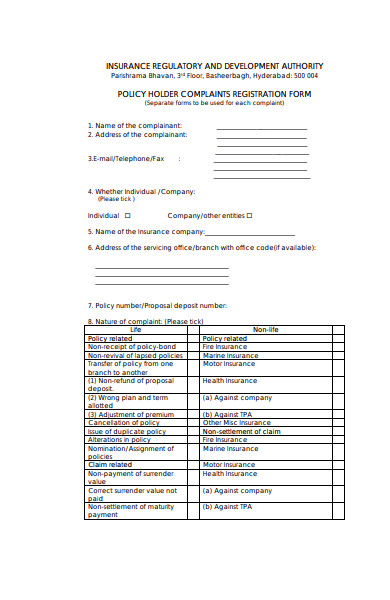 18. Supervisor's Internship Evaluation Form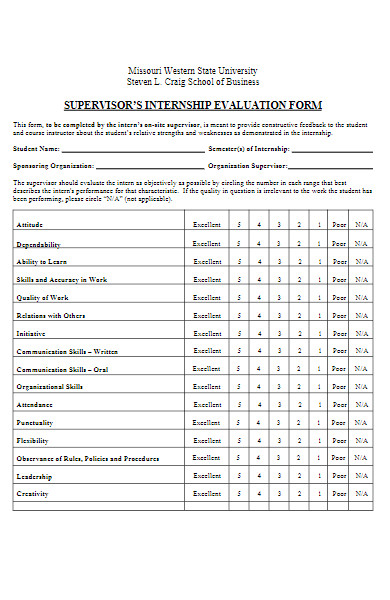 19. Simple Supervisor Evaluation Form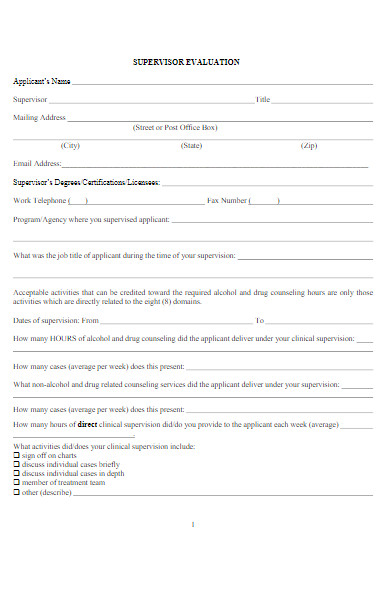 20. On-Site Internship Supervisor Evaluation Form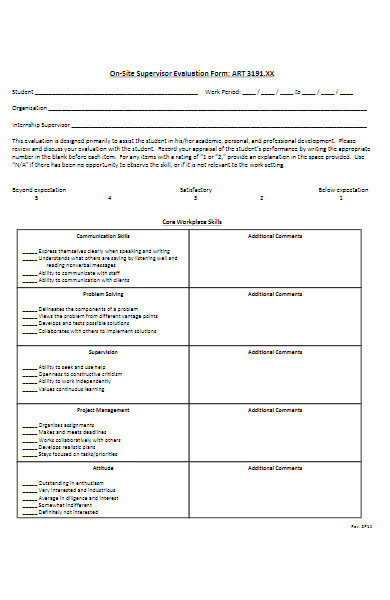 21. Medical Supervisory Evaluation Form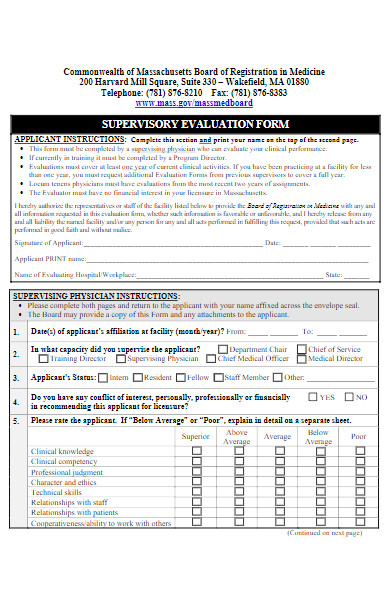 22. Agency Supervisor Evaluation Form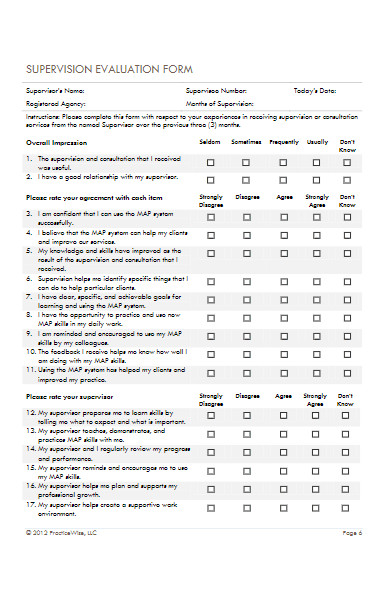 23. Supervisor Evaluation Form in PDF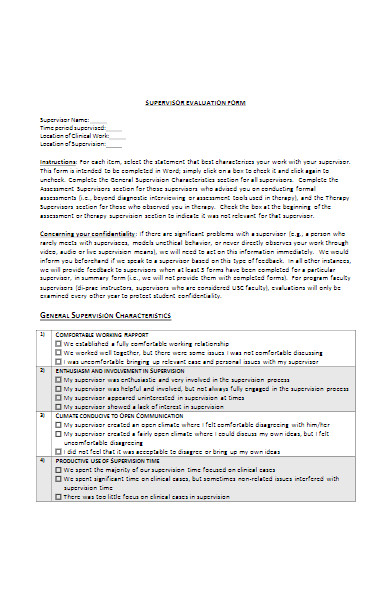 24. Internship Supervisor Evaluation Form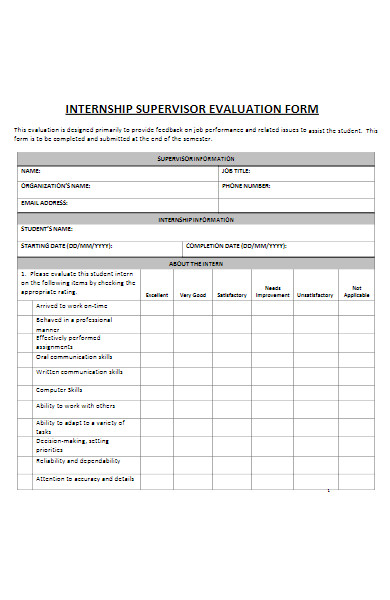 25. Entrepreneurial Internship Supervisor Evaluation Form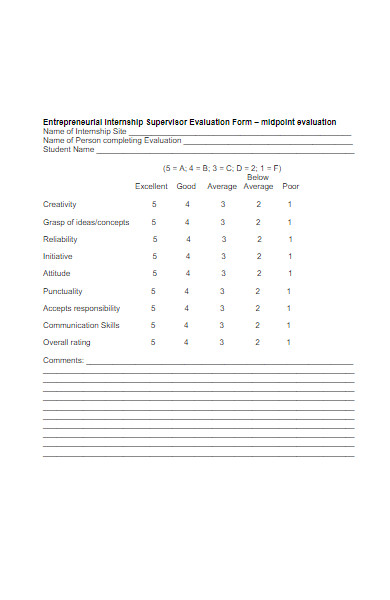 26. Education Supervisor's Evaluation Report Form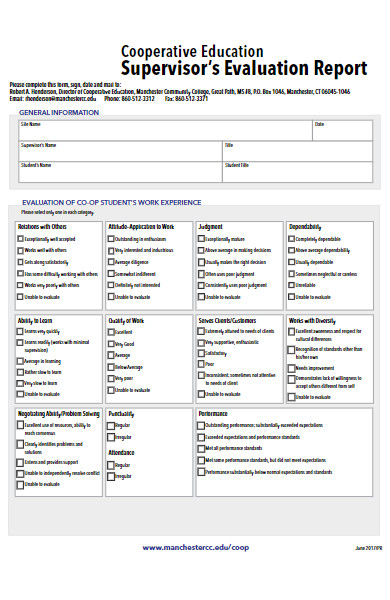 27. Final Supervisor Evaluation Form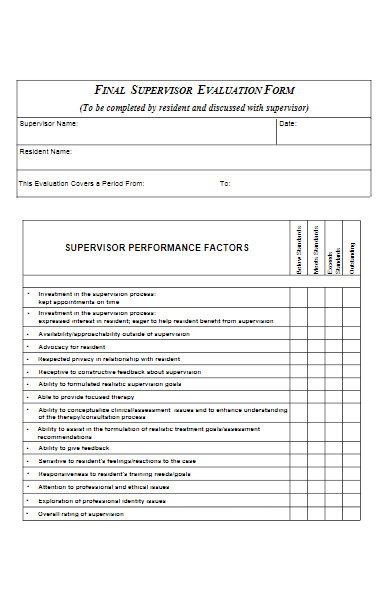 28. Supervisor Intern's Performance Evaluation Form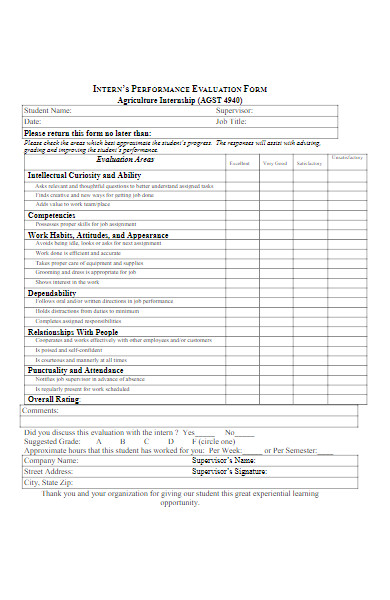 29. Organization Supervisor Evaluation Form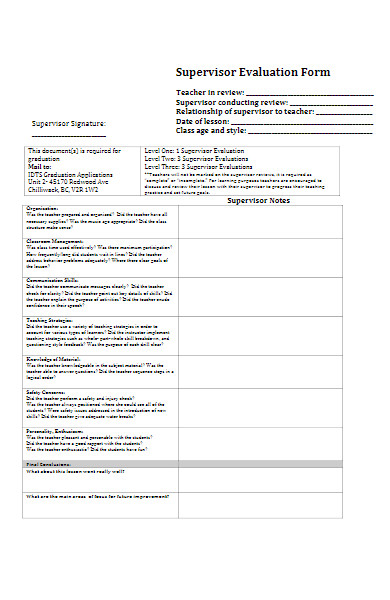 30. Employee Performance Evaluation Non-supervisory Form
31. Intern Supervisor Evaluation Form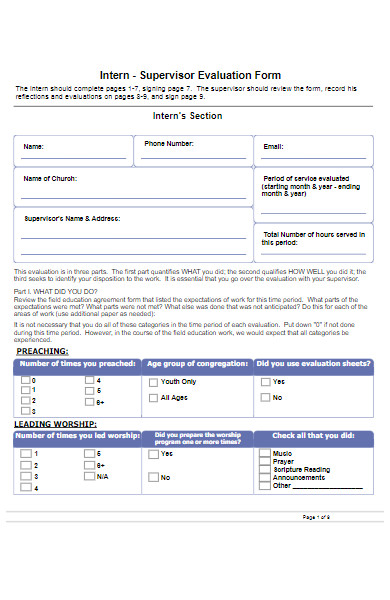 32. Supervisor 180 Day Evaluation Form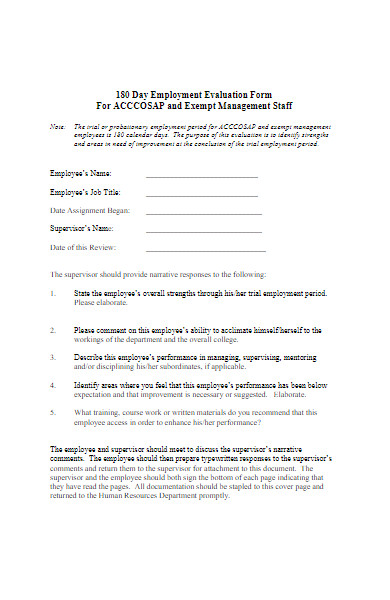 33. Project Supervisor Evaluation Form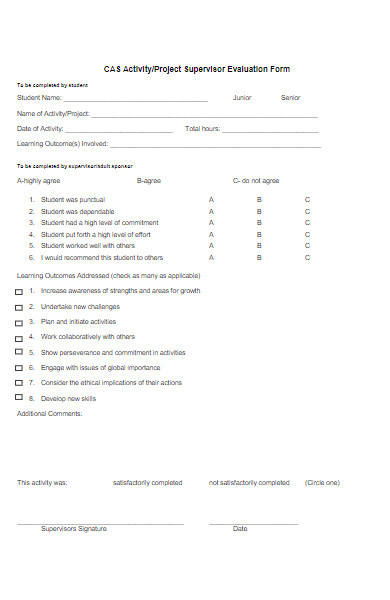 34. Basic Supervisor Evaluation Form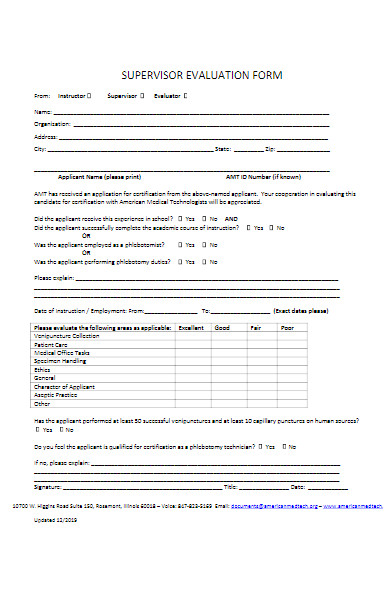 35. Host Site Supervisor Evaluation Form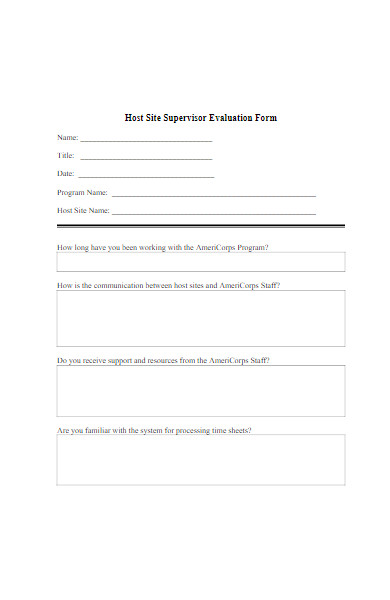 36. Supervisor's Evaluation of Student Form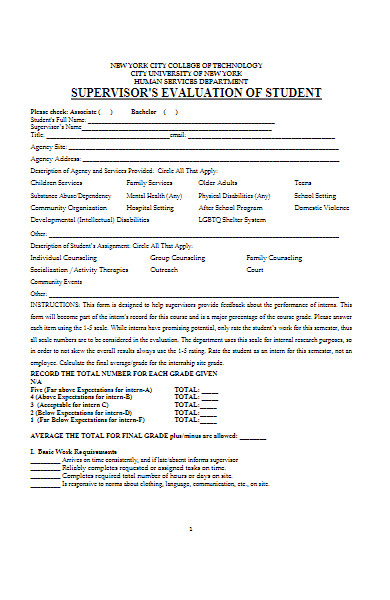 37. Internship Evaluation for Supervisors Form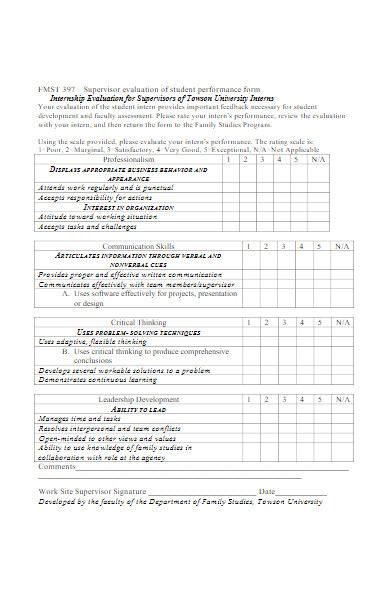 38. Supervisor Evaluation of Student Form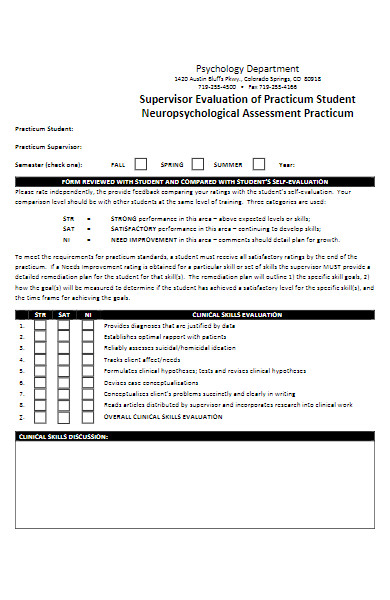 39. Organization Supervisor Intern Evaluation Form
40. University Supervisor Evaluation form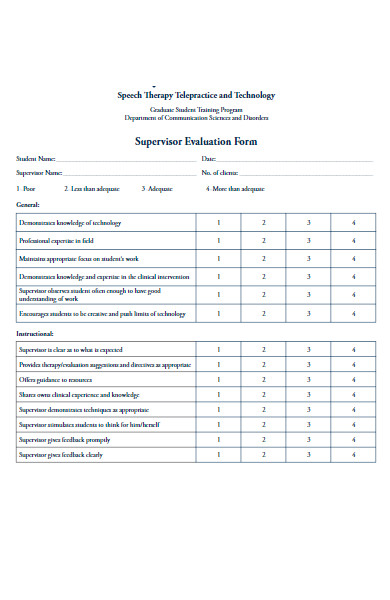 41. Supervisor's Evaluation of Intern Form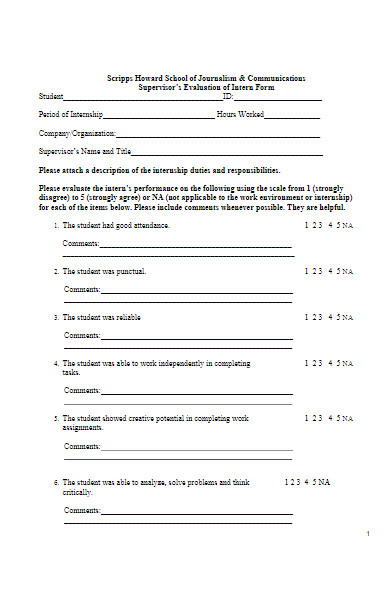 42. Board Supervisor Evaluation Form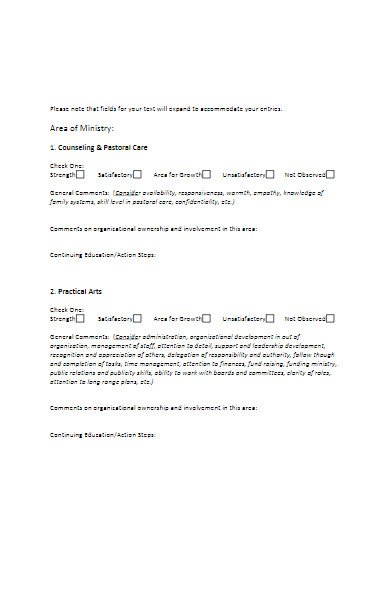 43. Supervisor Evaluation Form for College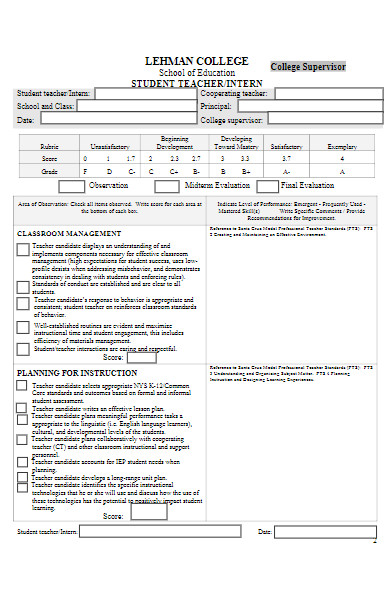 44. Externship Supervisor's Evaluation Form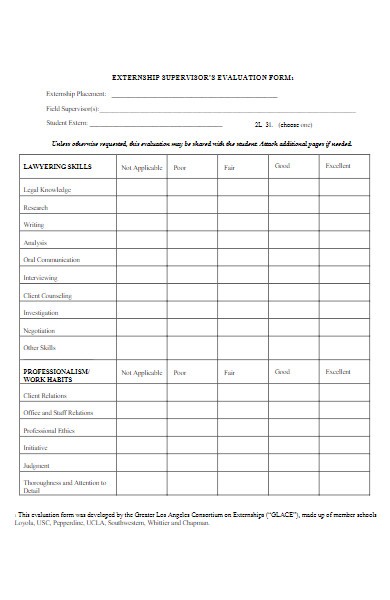 45. Supervisor Evaluation Worksheet Form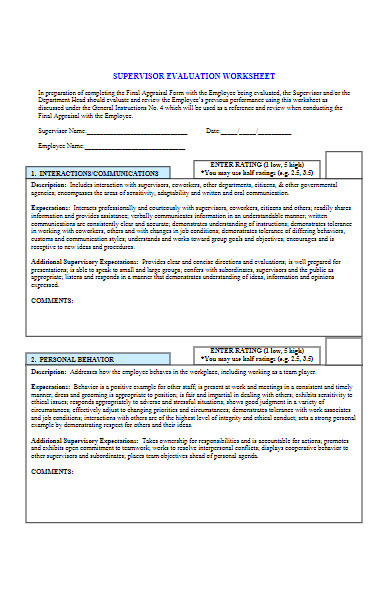 46. Standard Supervisor Evaluation Form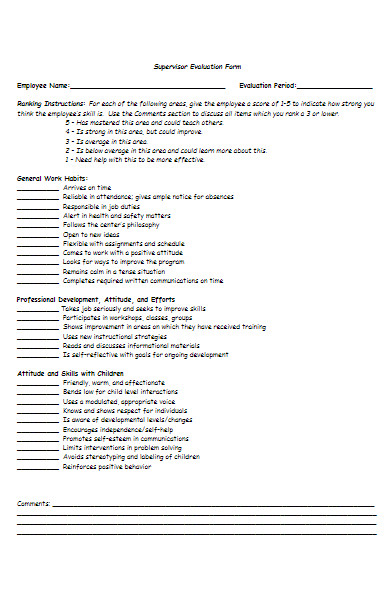 47. Supervisor Evaluation Form for University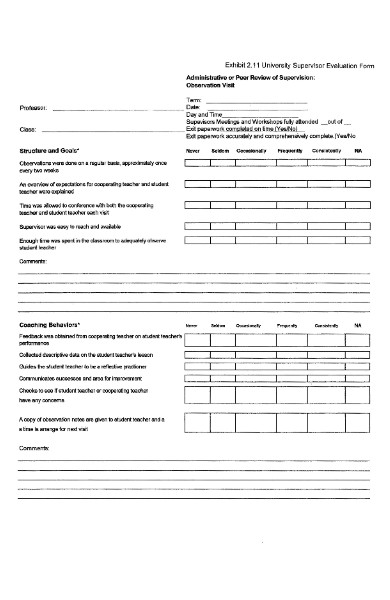 48. College Supervisor Evaluation Form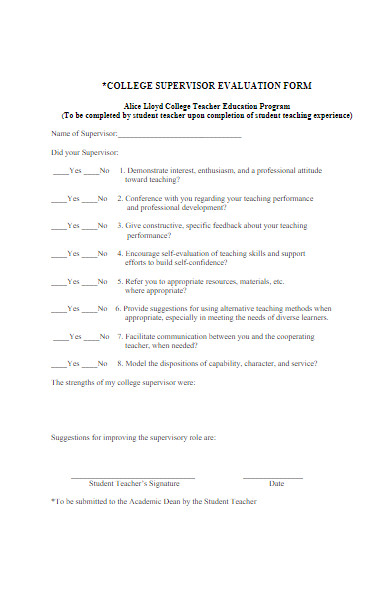 49. Community Supervisor Evaluation Form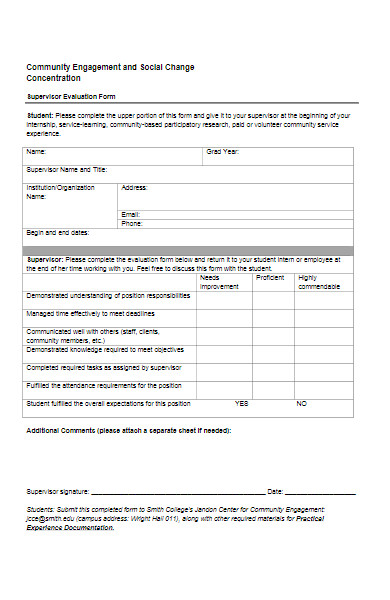 50. Field Education Supervisor Evaluation Form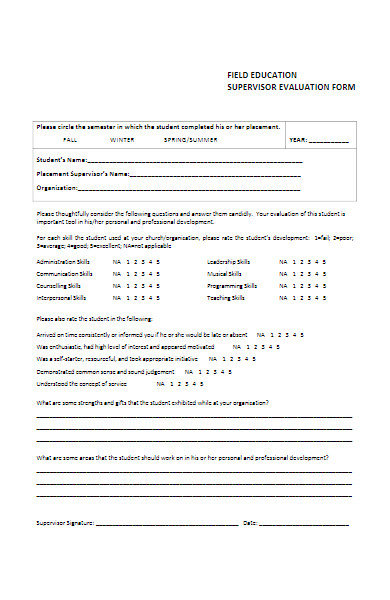 51. Supervisor Faculty Evaluation Form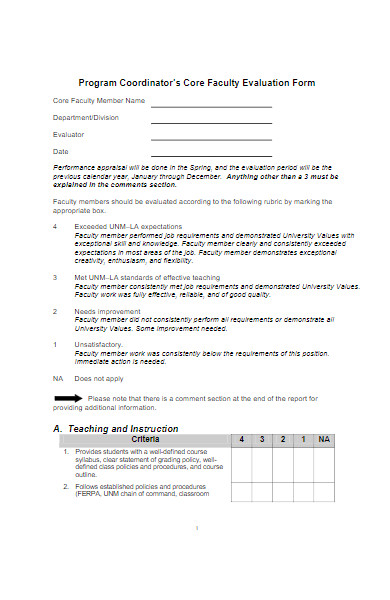 What is the Purpose of a Supervisor Evaluation Form?
The purpose of a Supervisor Evaluation Form is manifold:
Feedback and Assessment: The primary purpose is to gather feedback from employees regarding their supervisor's performance, management style, and overall effectiveness. This feedback provides a comprehensive assessment of the supervisor from the perspective of those who work directly under them.
Professional Development: The feedback can identify areas of strength as well as areas that might need improvement or further training. This helps in tailoring professional development programs specific to a supervisor's needs.
Enhancing Work Environment: By understanding the dynamics between a supervisor and their team, organizations can take steps to foster a positive and productive work environment.
Decision Making: The feedback can assist higher management and HR departments in making informed decisions regarding promotions, role changes, or further training.
Open Communication: The form promotes a culture of open communication, allowing employees to voice concerns, appreciations, and suggestions without fear of direct repercussions.
Conflict Resolution: If there are ongoing issues or conflicts between a supervisor and their team, the feedback from the form can be a starting point for resolution discussions.
Continuous Improvement: Regular evaluations ensure that supervisors are aligned with the company's values, goals, and objectives, and are constantly striving for improvement in their roles.
In summary, the Supervisor Evaluation Form is a vital tool for organizations to ensure that supervisors are effective in their roles, teams are satisfied with their leadership, and that there's a continuous loop of feedback and improvement in management practices. You should also take a look at our Supervisor Appraisal Form.
Who Should Fill Out the Supervisor Evaluation Form?
The Supervisor Evaluation Form should be filled out by the following individuals:
Direct Reports: Employees who directly report to the supervisor are the primary respondents for the evaluation form. They have firsthand experience with the supervisor's management style, communication, and overall performance.
Team Members: Even if not directly reporting to the supervisor, team members who regularly interact with the supervisor can provide valuable insights into their leadership and collaboration skills.
Peers and Colleagues: In some organizations, peers or fellow supervisors might be asked to fill out the form, especially if they collaborate on projects or share responsibilities. Their perspective can shed light on the supervisor's ability to work laterally and in a team setting.
Self-evaluation: Some organizations include a self-evaluation component where the supervisor themselves fills out the form. This self-assessment can then be compared with feedback from others to identify any discrepancies or areas of self-awareness.
Higher Management: In certain cases, managers above the supervisor, such as department heads or senior managers, might also fill out the evaluation to provide a top-down perspective on the supervisor's performance, especially concerning organizational goals and objectives.
However, the primary focus is typically on direct reports and team members, as they have the most consistent and direct interactions with the supervisor and can provide the most accurate and comprehensive feedback on their performance. Our Performance Evaluation Form is also worth a look at
What is the Primary Objective of a Supervisor Evaluation Form?
The primary objective of a Supervisor Evaluation Form is to systematically gather simple feedback form on a supervisor's performance to enhance the effectiveness of leadership and management within an organization. This feedback aims to:
Identify Strengths and Weaknesses: The form helps pinpoint areas where the supervisor excels and areas that need improvement, enabling targeted professional development.
Promote Open Communication: The evaluation process fosters a culture where employees can voice their opinions, concerns, and appreciations regarding their supervisor's performance in a structured and constructive manner.
Enhance Work Environment: By addressing leadership challenges and reinforcing positive behaviors, the organization can cultivate a more positive and productive work environment.
Guide Training and Development: Feedback from the evaluation can inform the creation or refinement of training programs tailored to address specific leadership challenges faced by supervisors.
Inform Decision Making: The insights gained from the evaluation can be pivotal for higher management and HR in decisions related to promotions, role changes, or other personnel matters.
In essence, the primary objective of the Supervisor Evaluation Form is to ensure effective leadership within the organization, leading to increased team productivity, morale, and overall organizational success. You can check our Employee Evaluation form.
What is the Role of HR in the Supervisor Evaluation Process?
The Human Resources (HR) department plays a pivotal role in the Supervisor Evaluation Process. Here's an overview of their responsibilities in this context:
Designing the Evaluation Form: HR is often responsible for creating or refining the Supervisor Evaluation Form, ensuring it captures all essential aspects of the supervisor's role and is aligned with the organization's objectives and values.
Setting the Timeline: HR determines the frequency of evaluations (e.g., annually, bi-annually) and sets clear deadlines for submission.
Ensuring Confidentiality: One of the primary concerns of employees is the confidentiality of their feedback. HR ensures that responses are anonymous and that the feedback process protects the identities of respondents.
Collecting and Analyzing Data: Once the forms are submitted, HR collects and analyzes the feedback, looking for patterns, areas of concern, and areas of excellence.
Feedback to Supervisors: HR often meets with supervisors to provide a consolidated feedback report, discussing areas of strength and areas needing improvement.
Training and Development: Based on the feedback, HR might recommend or organize specific training sessions, workshops, or coaching sessions to address identified challenges or to enhance existing skills.
Conflict Resolution: If the feedback indicates significant issues or conflicts between a supervisor and their team, HR might mediate or facilitate discussions to resolve these issues.
Continuous Improvement: HR reviews the evaluation process regularly, refining questions, and making necessary adjustments to ensure the evaluation remains relevant and effective.
Documentation: HR maintains records of all evaluations, which can be referenced for future performance reviews, promotions, or other personnel decisions.
Communication: HR communicates the purpose, process, and outcomes of the evaluation to employees, ensuring transparency and clarity. They also address any concerns or questions employees might have about the process.
Ensuring Compliance: HR ensures that the evaluation process complies with employment laws and regulations, ensuring that feedback is used constructively and not in a discriminatory manner.
In essence, HR is the backbone of the Supervisor Evaluation Process, ensuring it is fair, effective, and aligned with the organization's goal action plan, while also acting as a bridge between employees and management.
How do I access the Supervisor Evaluation Form?
The process to access the Supervisor Evaluation Form may vary depending on your organization's procedures and the tools they use. Here's a general guideline:
Company Intranet or Portal: Many organizations have an internal website or portal where all company forms, including the Supervisor Evaluation Form, can be accessed. Check under sections like "HR Resources," "Forms," or "Employee Evaluations."
Email Notification: Often, HR departments send out notifications via email when it's time for evaluations. This email might have a direct link to the online form or an attachment of the form itself.
HR Department: If you're unsure where to find the form, your HR department is the best point of contact. They can provide you with a physical copy or direct you to the online version.
Shared Drives: Some companies store commonly used forms on shared network drives. Look in folders labeled "HR" or "Employee Resources."
Employee Management Software: Companies that use HR or employee management software (like Workday, BambooHR, or others) might have the evaluation form integrated into the system. Log in and look for sections related to performance evaluations or feedback.
Ask Your Supervisor: While it might seem counterintuitive, your supervisor can also guide you on how to access the form, especially if they've been informed by HR about the ongoing evaluation process.
Physical Copies: In some organizations, especially smaller ones, physical paper forms might still be in use. Check with your department's admin or the HR office to get a copy.
Once you've accessed the Supervisor Evaluation Form, ensure you read the instructions carefully, provide honest feedback, and submit it by the given deadline. If you face any technical difficulties or have questions about the printable form, it's best to contact the HR department for assistance.
Where can I get the Supervisor Evaluation Form?
The availability of the Supervisor Evaluation Form depends on your organization's specific procedures and infrastructure. Here's where you might typically find or obtain the form:
HR Department: The first and most straightforward place to check is your organization's Human Resources department. They can provide you with either a digital or physical copy of the form.
Company Intranet or Portal: Many organizations maintain an internal website or portal where they store important documents, forms, and resources for employees. Check sections like "HR Resources," "Forms," or "Performance Evaluations."
Email: HR departments often send out periodic reminders or notifications about evaluations. Review your emails to see if you've received a direct link or an attached form.
Shared Drives or Network Folders: Some organizations store essential documents on shared drives accessible to employees. Look in folders related to HR, evaluations, or forms.
Employee Management Software: If your company uses HR or performance management software (e.g., Workday, BambooHR, PeopleSoft), the evaluation form might be integrated into that platform.
Supervisor or Manager: Your direct supervisor or manager might have copies of the evaluation form or can guide you on where and how to access it.
Company's HR Website: Some larger organizations or corporations have dedicated HR websites separate from the main company site. This site might have a forms or resources section.
Physical Locations: In some workplaces, especially where not all employees have regular computer access, physical forms might be available in common areas, like break rooms or notice boards.
Ask Colleagues: Sometimes, your peers or colleagues, especially those who have been with the company longer, can guide you on where to find the form.
Once you locate the Supervisor Evaluation Form, ensure you complete it by the given deadline and according to any provided instructions. If you have questions or need clarity on any part of the form, it's best to reach out to HR for assistance. In addition, you should review our General manager evaluation form.
Is it mandatory to complete the Supervisor Evaluation Form?
Whether or not it's mandatory to complete the Supervisor Evaluation Form largely depends on the policies and practices of the individual organization. Here's a general overview:
Organizational Policy: Some organizations may make it mandatory for employees to complete the evaluation form to ensure comprehensive feedback from all team members. This policy might be in place to get a holistic view of a supervisor's performance from the entire team.
Voluntary Participation: In many organizations, while the completion of the Supervisor Evaluation Form is strongly encouraged, it's not mandatory. They recognize the importance of honest and willing participation for genuine feedback.
Anonymity Concerns: Organizations that make the form mandatory often ensure that the feedback process is anonymous. This is to alleviate concerns employees might have about potential repercussions from giving honest feedback.
Check with HR: If you're unsure about the mandatory nature of the evaluation in your organization, the best course of action is to check with the Human Resources department. They can provide clarity on the policy and any implications of not completing the form.
Potential Implications: In some cases, if the form is mandatory and an employee chooses not to complete it, there might be implications. These could range from being marked as non-compliant in HR records to more direct consequences, especially if evaluations are tied to broader performance management or appraisal processes.
In any case, even if not mandatory, it's generally beneficial to participate in the evaluation process. Providing feedback can lead to positive changes in the work environment, management practices, and overall team dynamics.
Are there guidelines on how to fill out the Supervisor Evaluation Form?
Yes, most organizations provide guidelines on how to fill out the Supervisor Evaluation Form to ensure consistency and clarity in feedback. Here's a general overview of typical guidelines that might be provided:
Be Honest: Provide genuine feedback based on your experiences and observations. Honest feedback is crucial for the effectiveness of the evaluation process.
Be Specific: Instead of giving vague feedback, try to provide specific examples or incidents that support your evaluation. For instance, instead of saying "good communicator," you might say, "Regularly holds team meetings to update us on department goals."
Avoid Personal Bias: Focus on the supervisor's professional behavior and performance, not personal likes or dislikes. Your feedback should be objective.
Maintain Confidentiality: Even if the evaluation process is anonymous, avoid discussing your responses with colleagues to maintain the integrity of the process.
Use Constructive Criticism: If pointing out areas of improvement, try to do so constructively. Offer potential solutions or recommendations when possible.
Avoid Extremes Unless Warranted: Avoid rating everything at the highest or lowest scale unless genuinely warranted. Overly positive or negative feedback without justification can diminish the credibility of your evaluation.
Review Before Submitting: Before finalizing your feedback, review your responses to ensure they accurately reflect your experiences and observations.
Ask Questions if Uncertain: If you're unsure about any question or how to respond, reach out to the HR department for clarification.
Stay Professional: Use professional language and avoid any comments that might be considered inappropriate or offensive.
Consider the Entire Evaluation Period: When providing feedback, consider the entire evaluation period (e.g., the whole year) rather than just recent events.
Feedback is Not Just Negative: Remember to highlight the positive aspects, commendable behaviors, and strengths of the supervisor, not just areas of improvement.
It's worth noting that specific guidelines can vary based on the organization and the design of their Supervisor Evaluation Form. It's always a good idea to thoroughly read any instructions provided with the form or ask the HR department if you have any doubts.
How to Create a Supervisor Evaluation Form?
Creating a Supervisor Evaluation Form requires careful planning to ensure it effectively captures the necessary feedback. Here's a step-by-step guide to help you design one:
1. Define the Purpose:
Understand and outline what you aim to achieve with the evaluation. Is it for professional development, feedback, or performance review?
2. Research & Gather Inputs:
Look at existing evaluation forms, both within your industry and outside.
Seek input from HR professionals, managers, and even employees to understand what they believe should be assessed.
3. Choose a Format:
Decide if you want a paper-based form, a digital form, or an online survey. Tools like Google Forms, SurveyMonkey, or specialized HR software can be used for digital evaluations.
4. Decide on Question Types:
Use a mix of question types for a comprehensive review:

Rating Scale: e.g., Rate the supervisor's communication skills on a scale of 1-5.
Multiple Choice: e.g., How often does the supervisor provide feedback? (Daily, Weekly, Monthly, Rarely)
Open-Ended: e.g., Describe an instance where the supervisor demonstrated leadership.
5. Cover Key Performance Areas:
Design questions that cover all essential areas of a supervisor's role:

Communication skills
Leadership and guidance
Problem-solving abilities
Team dynamics and conflict resolution
Task delegation and management
Feedback and mentorship
6. Include Opportunities for Specific Feedback:
Allow space for employees to provide specific examples or incidents that support their evaluation.
7. Ensure Anonymity:
Make sure the design and the process guarantee that feedback remains confidential, ensuring honest and open responses.
8. Test the Form:
Before rolling it out, test the form with a small group. Gather feedback on the clarity of questions, the format, and the overall process.
9. Provide Clear Instructions:
At the beginning of the form, include clear instructions on how to fill it out, the importance of honesty, and details about the confidentiality of their responses.
10. Review & Iterate:
Once the evaluation is done, review the effectiveness of the form. Were you able to gather actionable insights? If not, refine the questions or format as needed.
11. Implement Feedback Mechanisms:
After evaluations, ensure there's a system in place to act on the feedback, whether it's training programs, one-on-one sessions, or other interventions.
12. Store Safely:
Ensure completed forms, especially if they are paper-based, are stored safely to maintain confidentiality. For digital forms, ensure the data is secure and access is restricted.
Remember, the goal of a Supervisor Evaluation Form is not just to assess but to drive positive change. Regularly updating the form based on the evolving needs of the organization and feedback from the evaluation process will ensure its continued effectiveness. You may also be interested in our Job Evaluation form.
Tips for creating an Effective Supervisor Evaluation Form
Creating an effective supervisor evaluation form is pivotal for gathering insightful feedback about managerial performance, ensuring that supervisors are fostering a healthy, productive, and positive work environment. Here's a guide to creating a form that elicits useful, actionable information:
1. Define Clear Objectives
Purpose Identification: Clearly outline why you are conducting the evaluation.
Focus Areas: Identify key aspects of supervisory roles that you wish to evaluate, such as leadership, communication, and decision-making.
2. Use a Simple and Understandable Language
Accessibility: Ensure the language used is easy for all employees to understand, regardless of their role or level.
Clarity: Provide clear instructions on how to fill out the form and offer examples where necessary.
3. Employ a Balanced Rating Scale
Scale Consistency: Stick to one type of scale throughout the form, like a 5-point Likert scale ranging from "Strongly Disagree" to "Strongly Agree".
Neutral Option: Include a neutral middle point to accommodate indifferent responses.
4. Incorporate Open-Ended Questions
Feedback Space: Allow space for employees to provide additional comments and suggestions, granting them the freedom to express their thoughts.
Actionable Insights: Phrase questions in a way that elicits constructive feedback that can be utilized to enact real change.
5. Maintain Anonymity and Confidentiality
Anonymity Assurance: Ensure employees that their feedback will remain anonymous to promote honest and unbiased responses.
Confidentiality Promise: Reiterate that the information shared will be used exclusively for performance improvement purposes.
6. Include Various Evaluation Aspects
Leadership Skills: Evaluate their ability to inspire, guide, and support the team.
Communication Skills: Assess their effectiveness in conveying information, listening, and providing feedback.
Conflict Resolution: Understand their approach and effectiveness in managing and resolving conflicts.
Decision-Making: Examine their ability to make informed, timely, and beneficial decisions.
7. Use a Structured Format
Categorization: Organize questions into relevant categories to make it easy to analyze later.
Consistency: Maintain a consistent format throughout the evaluation form to avoid confusion.
8. Pilot Test the Form
Feedback Loop: Before the company-wide rollout, test the form with a small group and collect feedback on its clarity and effectiveness.
Revision: Amend the form based on the feedback received to ensure that it is as effective as possible.
9. Ensure Ease of Use
User-Friendly Design: The form should be easy to navigate, with a logical flow from one section to the next.
Accessibility: Ensure the form is accessible to all employees, considering different abilities and technological proficiencies.
10. Provide Feedback Guidelines
Constructive Criticism: Encourage employees to provide constructive criticism, focusing on behaviors rather than personal attributes.
Be Specific: Remind employees to provide specific examples to support their feedback.
11. Data Analysis and Action Plan
Quantitative and Qualitative Analysis: Ensure that both numerical data and written feedback are analyzed thoroughly.
Follow-Up: Share general findings with the team and create an action plan to address identified areas for improvement.
12. Regular Reviews and Updates
Periodic Evaluations: Don't limit evaluations to a one-off occurrence; conduct them periodically to track progress.
Form Reevaluation: Regularly review and update the form to ensure it continues to meet organizational needs and remains relevant.
By adhering to these tips, your supervisor evaluation form should be well-equipped to garner insightful, actionable feedback that can drive positive organizational change and foster continuous improvement in leadership practices. You may also be interested to browse through our other Interview Evaluation Form.