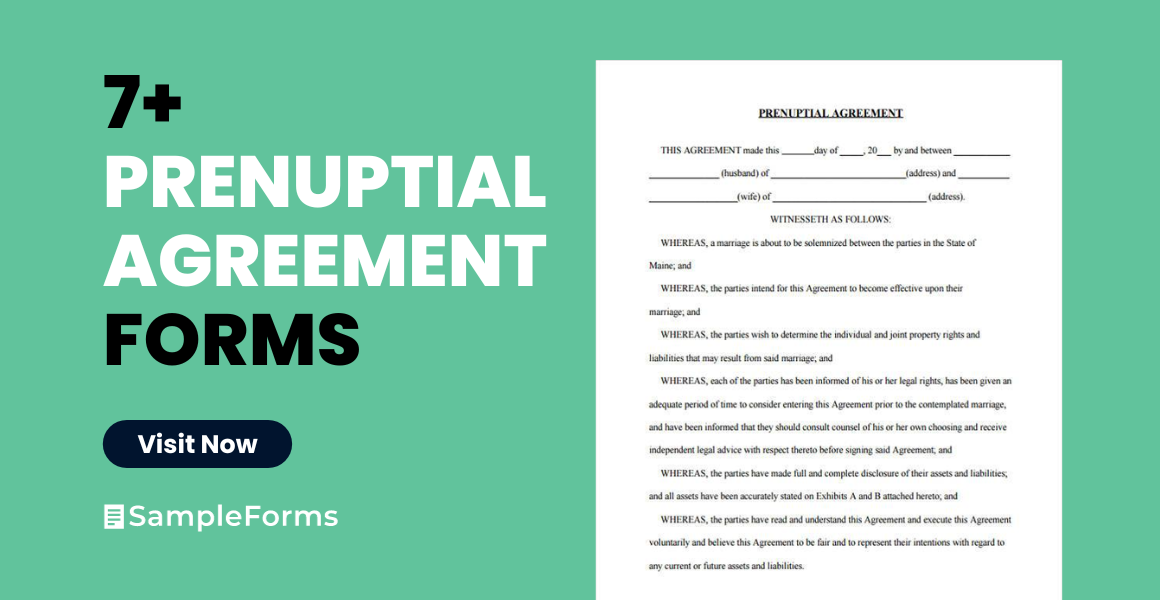 A Prenuptial Agreement, more commonly known as a prenup, is a contract entered into by both parties before a marriage or civil union. Its main objective is to create provisions for division of property and spousal support in the event of a divorce, separation, or death of a partner. Contrary to popular belief, Prenuptial Agreement Forms are not just for rich and famous people with a lot of assets to protect. Although it is not the most romantic thing to do before marriage, it would be very practical for engaged couples to draw up a prenup and prepare for the future.
Printable Prenuptial Agreement Form
Fillable Prenuptial Agreement Intake Form
Free Prenuptial Agreement Form
Prenuptial Agreement Form Example
Prenuptial Agreement Financial Disclosure Form
The Benefits of Having a Prenuptial Agreement
It will help in the division of property during divorce. This is one of the common areas of dispute during a divorce. Divorce is hard enough without having to decide who gets what. Prenuptial Agreement Forms can set that for you in advance to save yourself from the hassle. It is also useful if you have children from a previous marriage. This will help to protect your properties so that these can be passed on to your children and also make sure that specific heirlooms stay in your family in the event of a divorce or death.
It will help set the provisions for spousal support. The duration of spousal support depends on the length of the marriage. Having a prenup can give you the option to create your own terms for spousal support or avoid it altogether.
Divorce is expensive. Lawyers are expensive. The more issues you have to resolve with your spouse during a divorce, the longer the process is going to take and the more expensive it is going to be. When everything is spelled out in advance, the process is going to be quicker and easier.
A prenup protects you from any debt your spouse may have. When you are married, your spouse's problems become yours as well. This can be very strenuous for someone going through a divorce. It can only add additional unwanted tension to the whole process. To avoid this, and to make sure that both of you are liable for your own finances, a prenup would be helpful.
Married couples often fight and break up for financial reasons. To be financially independent, even when you are already married, can be freeing and would cause less stress and tension in your marriage.
Generic Prenuptial Agreement Form
Prenuptial Agreement Form Sample
Prenuptial Agreement Questionnaire Form
No one goes into marriage thinking that things are going to fall apart or that it would eventually lead to divorce, but research shows that nearly 20 percent of marriages fail in the first five years and over 30 percent do not even make it to 10 years. So it would be best to be prepared if the worst happens. Aside from this, a prenup can also help you assure yourself and your children from a previous marriage, if any, that your partner is not just marrying you for your wealth. Aside from Prenuptial Agreement Forms, we also have other Basic Agreement Form for other purposes.