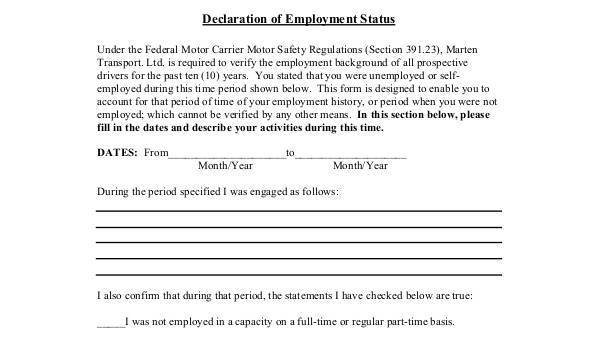 People who work for companies must maintain their positive status within the company at the risk of being terminated if their records start to maintain a less than positive status.  Basically all they have to do is make sure that they do their job, and don't cause any problems within the workplace.
However, when company employers or managers do feel the need to change these workers statuses, they must have the proper forms on hand. Status of Employment Forms are available for employee status changes, whether positive or negative.
Employment Status Change Form
Employment Status Verification Form
Employment Status Form Example
Employment Status Assessment Form
Self Employment Status Form
The Different Types of Employment Status Forms
There are various types of forms that just about any employee or company owner can use if they ever feel the need to change their employment status or that of anyone else's. Here are some examples of these types of forms.
Employee Status Change Forms are forms utilized by company heads or company managers when they see the need to change the status of any of their employees. These can range from the positive, such as a recommendation for promotion, to the negative, such as suspension or even possible termination.
Notice of Employment Status Change Forms are used when company employers need to provide notice to certain employees who are going to undergo a change in their employee status.
Employment Status Assessment Forms are forms that can be used by either the employee or the business higher-ups to properly evaluate their status in the business and if they need to make certain changes or improvements. Assessments are always conducted during important sessions wherein any employer needs to see the current status of any of their employees. In order to go into detail regarding the factors that can potentially affect an employee's status, they use these forms.
Notice of Employment Status Change Form
Employment Status Form in PDF
Employment Status Update Form
Declaration of Employment Status Form
General Employment Status Form
The Importance of Having Employment Status Forms
Companies need to ensure the statuses of their employees. They need to understand which of them is doing outstandingly well, which of them is simply meeting the bare minimum of quality, and which of them is under performing or not doing well at all. Which is why there are forms such as
Employee Status Information Forms to help them out in determining all these factors.
These forms can also be helpful to the workers. An employee that assesses their status regularly will be able to figure out their current standing within any company or organization. It allows them to know if they're close to trouble and if they're on the verge of losing their jobs, or if they're close to getting that promotion or raise that they've been hard working for. So if you're working in any kind of company or organization, then always make sure that you perform at your peak so that the only status changes you'll be seeing are positive ones.