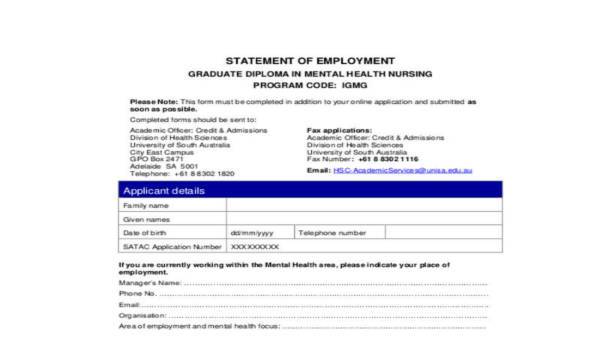 Companies and organizations make full use of statements to help them out. Having a statement ensures that one is able to know all the facts and information about certain situations that occurred. So if you need to know information regarding a recent purchase, then make a Purchase Statement, if it's for a deposit on a property you wish to lease then make a Deposit Statement.
There are also moments wherein an employee is required to make a statement. There are multiple reasons as to why an employee needs to make them. However, they have to ensure that any statement they make is properly documented to ensure its authorization.
And to make sure that they are, there are Employment Statement Forms that can help them out.
Self Employment Statement Form Sample
Employee Injury Statement Form
Employee Supplemental Statement Form
Employee Counseling Statement Form
The Different Types of Employment Statement Forms
There are various types of Employment Statement Forms or Employee Statement Forms that any businesses worker can use to guarantee that all of the information that they hand out is taken into account by their higher-ups.  Here are some examples of these types of forms.
Employee Injury Statement Forms are the kind of forms that are used by employees who have suffered any minor or major injury within the company premises. These help employees state every bit of information regarding the injury. Which means they're able to explain as to how the injury happened, when it happened, why it happened, and people who could have been involved with it.
Employee Counseling Statement Forms are used by employees for when they're required to enter any kind of counseling session. Some employees might require these sessions due to unruly behavior or other problems in the workplace. These statements detail what was discussed during the counseling session, as well as other information that was shared.
Employee Witness Statement Forms are used by whenever an employee has witnessed any situation that has caused harm to other employees, or on occasions that involve important company matters. These help these employees state what they witnessed, as well as who were involved.
Employment Statement Form Format
Employee Accident Statement Form
Employee Witness Statement Form Sample
Employment Statement Form Example
The Importance of Having Employment Statement Forms
The reason as to why there are forms such as Statement of Employment Application Forms is because company owners need to take every piece of information that could be very useful for certain situations. Company owners and managers need to know everything that goes on around the company, and these statements could prove useful by having the employees give all the official information they have.
These also help out the employees themselves. Lets say for example that two employees witnessed an incident of theft within the company. One of them might be accused for the action, and the other is given a chance to form a statement to prove in fact that both were only witnesses to the incident and nothing more. So these forms can come very handily during situations such as those. Which is also why it's best that in the event that any employee has important information regarding major situations, it's best that they place everything in detail with these forms.