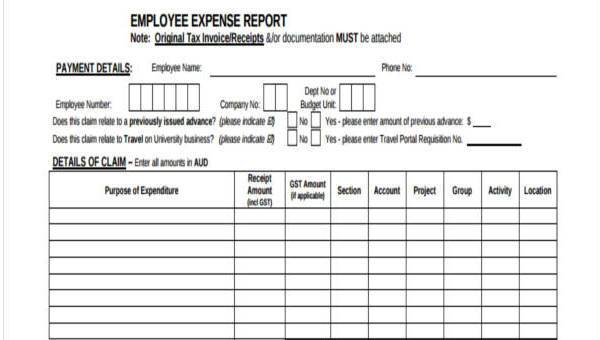 There are times when an employee incurs expenses for business-related purposes. These expenses can either come from an employee's own pocket or from a fund that is used for such business purpose. Whatever the case may be, Employee Expense Forms are required to formally document such expenses for the purpose of record-keeping and to reimburse the employees of expenses that came from their own funds.
Business expenses are necessary for the daily operation and development of a business. Such expenses could include travel expenses for business trips, and expenses for materials and equipment necessary to keep the business afloat. You may browse through our samples below.
Employee Business Expense Form
Non-Employee Travel Expense Report Form
Employee Expense Form in PDF
Employee Expense Claim Form
Employee Expense Tax Form
Benefits of Using Employee Expense Forms
Using pre-made Employee Expense Forms can allow you to save time and resources that would otherwise be spent on making your own Expense Forms from scratch. This can prove to be tedious, and it is best to do away with such a tiresome process by downloading our sample forms here and using them as basis for your own forms. This will make things a whole lot easier. You may also see our Expense Report Forms for other samples.
Employee Expense Forms are properly labelled so they are easier to organize and keep. This will allow easier access when you need them for future reference, and there will come a time when you will indeed need them, especially for audits.
They also help a company or business organization keep an eye on their expenses by keeping records of it. The only way for a company to be sustained is for them to be financially stable, and what better way to ensure that than to keep an eye of your expenses and make sure that they are not going beyond your income, to make sure that your company is making a profit and not just hemorrhaging money.
Employee Expense Report Form Example
Non-Employee Expense Payment Form
Employee Expense Report Form in PDF
Uses of Employee Expense Forms
Business Financial Statements – Employee Expense Forms are used for drafting business financial statements that are necessary to make sure that your company is making a profit. This is done by calculating the difference of the total expenses that a company has incurred to the total income or earnings of a company, over a set period of time. If the expenses are greater than the income, then surely there is a loss of profit. If the income exceeds the expenses, then there is profit. Every single expense is to be included, even those incurred by employees for business purposes.
Employee Reimbursement – Employee Expense Forms are also used to reimburse employees who used their own personal funds for business expenses. One example is the use of Travel Expense Forms to calculate all the travel expenses incurred by an employee, along with the specific details of the expenses, so that the company can have ample time to process the form and expend funds for employee reimbursement.
Tax Calculation – Employee Expense Forms are also used by businesses, especially self-employed business owners, to calculate their taxes. There are certain business expenses that can be deducted from the total tax of the business for the year, and that is why this is important. It should just be kept in mind that the expenses have to be related to the business and not just personal expenses.