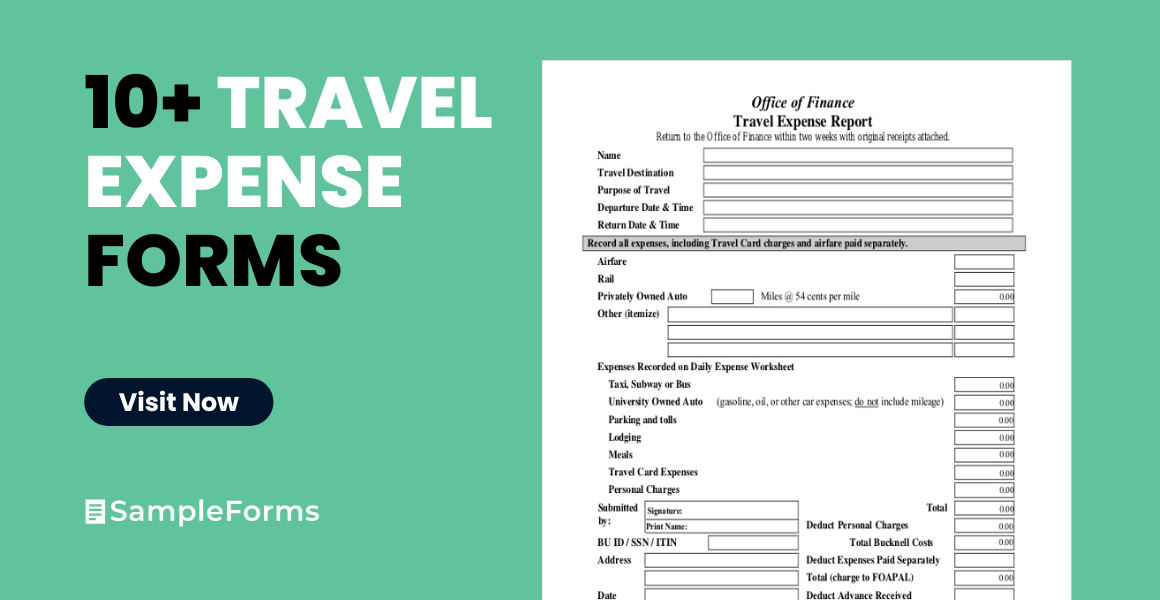 Almost every sort of organization, whether big or small, requires maintaining a travel expense form for employees sent on business tours. These expenses are meant to be noted down so that reimbursement can be made to the concerned employee without any hassle. Generally one needs to submit this form and get the payment approved within a span of 15 working days after the completion of the tour. All he needs to do is just submit the relevant documents that prove the fact that he has travelled. You may also see Travel Consent Forms
Sample Travel Expense Reimbursement Claim
If you are scheduled to b reimbursed on the expenses incurred in your travel, you can forward your claim through the travel expense reimbursement form. You have to provide complete receipt details here.
Travel Expense Statement
This particular form basically consists of the details of expenses made on lodging, fooding, transport and other kinds of things – that the traveler had met in his travel. It helps the concerned authority to decide on the reimbursement.
Worker Travel Expense Form
A worker travel expense form comprises of all the details of the traveler in terms of the expenses he had to meet during his travel. These forms also include data on his personal details and travelling itinerary and destination.
Sample External Recruitment Travel Expense
Some organizations readily bear the travel expenses of the potential candidates traveling to the company campus for recruitment interview. If you are such a candidate, you have to submit an external recruitment travel expense for to get your expenses reimbursed.
Travel and Professional Development Expense Reimbursement
This particular form is used to reimburse travel and business related expenses for places like offices, colleges, universities, etc. In such cases, you need to make a claim within 20 days after travelling otherwise the reimbursement will get cancelled.
Non-Employee Travel Expense Payment Form
There are companies or organizations that are flexible to bear the travel expenses of non-employees if the tour is beneficial to the agency or institution. If you happen to be such a traveler, you can get your reimbursement by filling the non-employee travel expense payment form.
Travel Expense Report
A travel expense report documents the expenses incurred during a travel, including the expenses meant for transportation, lodging, mileage, phone, meals and so on. It helps the concerned authority to check whether or not the expenses were in alignment with the purpose and regulations of the tour.
Sample Vehicle and Travel Expenses
If you are supposed to get reimbursed for your tour expenses from your company or organization- you would have to offer a complete data of the transport vehicle and other expenses related to the travel.
Travel Expense Report Form
Standard Travel Expense Form
What are The Things That a Travel Expense Form Will Cover?
A travel expense form covers a wide range of aspects related to a tour. Primarily, it will include sections on the name of the traveler and purpose of the trip. If you are an employee on a business tour, you will need to mention your employee ID and designation in the company. Then, there will be separate columns for the travel date, location of the trip, trip reference, trip description and so on. Besides, the travel expense form will have a wide range of categories on the different types of expenses that a traveler will have to cover during the travel- such as accommodation, transport, meals, phone and miscellaneous expenses. You can also see Mileage Reimbursement Forms
What is The Use of a Travel Expense Form?
A travel expense form serves as an important document when an organization needs a complete report of the travel taken by its employee. On one hand, such a form allows the traveler to forward his claim for reimbursement by citing the different areas where he had to spend during the trip. On another hand, as the form offers details on the different expenses met by the traveler during his tour -it enables the employer to check whether or not there has been any unwanted out of proportion expense. The information is really important when the company is about to reimburse the expenses incurred by the traveler. Useful Business Expense Forms
What are Facts You Need to Consider Regarding Travel Expense Form?
A travel expense form is what you need when you are looking for a reimbursement of your travel expenses –for a professional tour on part of your company. However, before filling such a form, the traveler must check the guidelines for reimbursement as any miss-step here can cancel his refund. Thus, you must check beforehand the typical expenses the company is ready to bear and not ready to bear. For example, your company won't reimburse your personal shopping bills. Besides, you should also check within how many days you would be needed to forward the travel expense form for reimbursement as any late submission might nullify your claim.
A travel expense form is a handy tool when your company is seeking a complete report of the expenses that you made during your business tour. Some of these forms also have place for the receipt details so that you can present a valid proof for reimbursement. It's easy to create the travel expense forms today, thanks to the pre-designed travel expense form templates online.