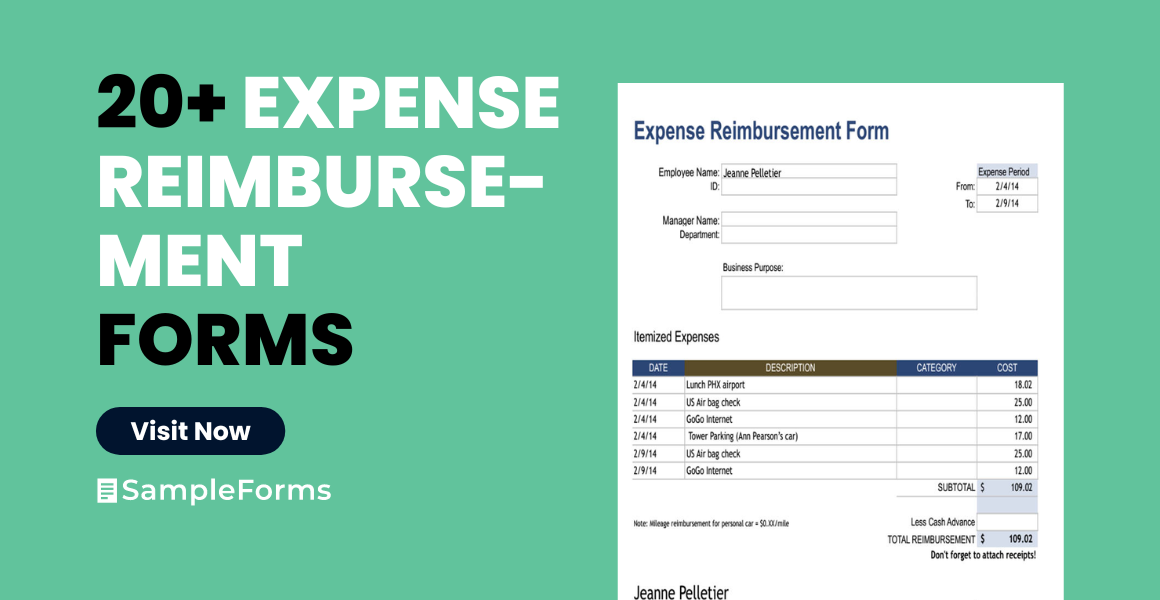 All the funds gained and lost are formally recorded by the company in various financial reports and financial statements. This includes expenses spent in the company and ones spent for field work. Expenses for field work such as a business trip is counted since the funds belong to their own pocket. Employees who use such funds may be repaid through an expense reimbursement in the workplace.
Employees who are delegated with the task of working outside the workplace are sometimes coming from their own personal funds to cover the expenses they will encounter in their field work. Once field work is complete, they return to the company and can get the money back by requesting reimbursement.
Travel Expense Reimbursement
Sample Expense Reimbursement
Simple Expense Reimbursement
What Is an Expense Reimbursement Form?
The activities of a company may bring some of their employees to work at other locations. Employee typically pay for expenses from field work and business related trips with their own pocket money. These expenses are paid back to the employees since it is coming from the employees themselves.
The Employee Expense Reimbursement Forms are in charge of recording the expenses from field work and business related trips. The expenses are enumerated to its specific amount, labeled to its kind of expense and liquidated to the overall amount. The liquidation report format of these funds is how the reimbursement form is designed.
What's an Accountable Plan for Reimbursing Employees?
In the educational aspect, expenses from classes, projects, and other academic activities can pile up and cause some financial difficulty to the student. There are cases where these expenses are take cared of with the student's own money. Any academic business that the student has spent for may be repaid to them through the completion of a Student Reimbursement Form.
In the industrial setting, employee reimbursement is done in order to maintain balance in the company's expenses. An accountable plan is a method used for this situation. It is an reimbursement allowance arrangement for employees when the funds from business related expenses come from their personal funds.
Expense Claim Reimbursement in PDF
Expense Reimbursement for Business
Medical Expense Reimbursement in PDF
Church Expense Reimbursement
How to Use Expense Reimbursement Form
An aspiring business owner has the opportunity to invest their time, effort, and money into any business venture they want to pursue. Business ventures and concepts have their own share of unique characteristics that make one stand out. These same characteristics can present factors that may be challenging on the business owner or on the employees of the company.
Some businesses may require travelling to other place for business related activities. Funds for the travelling and the business related events can cost a company or the employee a lot if the funds and expenses were not taken into account or recorded into the company's financial statements.
The finance department creates reimbursement form with the use of online or the company's standard reimbursement form template as a reference. The use of a expense reimbursement form is for the circumstance wherein an employee utilizes their own personal funds in order to take care of expenses that a business related events encompass and is repaid by the company.
This kind of reimbursement form is usually in correspondence with a Travel Expense Form. Business related events and activities may require employees of a company to travel to various locations. Travelling can incur a lot of expenses which in turn, the employee spends a lot of money.
Since the employee's personal money was spent on business related expenses, it would be unfair towards the employee if all the funds spent were not reimbursed by the company. That particular situation is unfair because any business related event is supposed to be taken cared of by the company itself in all aspects of the event or activity.
The utilization of a expense reimbursement form in line with the company's finances is a way of practicing financial responsibility and enforcing an ethical procedure between employees and the authority figures of the company.
Employee Expense Reimbursement
General Expense Reimbursement
Candidate Expense Reimbursement
Mileage Expense Reimbursement
Expense Reimbursement Form Template
Moving Expense Reimbursement
Expense Reimbursement Request
How Do You Create an Expense Reimbursement Form?
Expense reimbursement forms are created in order to systematically track down and record all the expenses that occurred during a business related event relating to company, school, or another setting. This form requires the individual to list down all the kinds of expenses that happened as well as their corresponding amount. A standard format may be provided or one can search for a Reimbursement Form in PDF format as the basis for the form.
The first section contains the general information of the person requesting reimbursement. What follows is tabular form of a liquidation report which all the expenses and amount of funds are indicated. The form is then signed to validate its content and claim.
Ways to Improve Your Employee Expense Management
The supervision of the expenses of employees is important to uphold in any company. There may be instances wherein unaccountable employee expenses an affect the annual financial reports of a company as well as their overall financial performance. Financial discrepancies can cause conflict within a company. Having an effective employee expense management can decrease the likelihood of conflicts and financial problems.
There ways to practice a good employee expense management in the company. One way is to limit expense accounts in order to gain more control over of costs. Another way is creating well-written financial documents through the use of references such as a Reimbursement Form Sample. The clarification of acceptable and unacceptable expenses can improve the tracking of finances.
Daycare Expense Reimbursement
Healthcare Expense Claim
Expense Payment Reimbursement
Parking Expense Reimbursement
Commuter Expense Reimbursement
Printable Expense Reimbursement Form
General Expense Reimbursement Form
Guidelines for Expense Reimbursements
Any kind of reimbursement form such as a Nextcare Reimbursement Form, Cash Reimbursement Form , and Travel Reimbursement Form is considered to be a useful, informational, and important document. It takes care of the reimbursement of expenses from a company's account of funds. There may be instances of financial discrepancies or inconsistencies which may be hard for the company to handle.
To lessen or fully eliminates situations like that, a company would develop and implement financial guidelines for employees to abide by. Violation of such guidelines puts the employee in question in an unfavorable situation involving penalties r punishments.
Reimbursement of expenses can come from different kinds of expenses. Accepted or reimbursable expenses can come from air travel, car rental, hotel and lodging, personal meals, business meals, telecommunication expenses, business mileage, baggage fees, license fees, and passport fees.
Guidelines for expenses depend on the nature of the expense. Guidelines may require the provision of financial documents as proof of payment or purchase, approval from an authoritative figure through a signature, information of the people involved, details on the location of where the funds have been spent, the exact amount paid by the employee, and the date of when the expenses occurred.