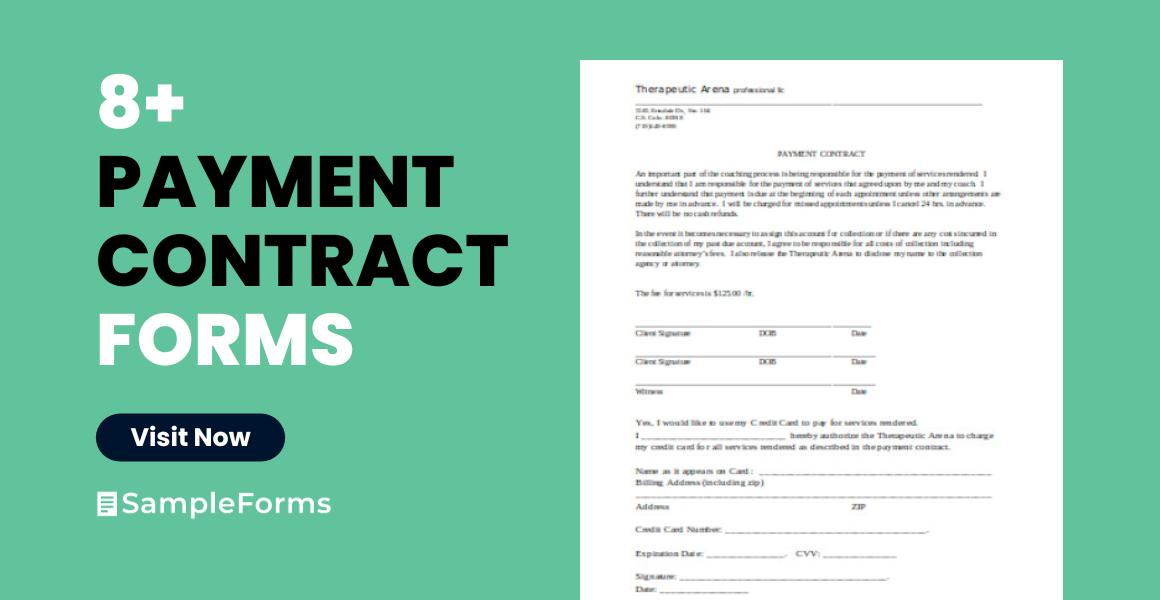 If people want to buy something, then they're going to have to pay for it. If these people have the money, then they can purchase whatever it is they need or for whatever purpose they want.
However, there are some things that require a huge amount of money or that require a period of time before they can be fully paid for. Companies need to make sure that if certain customers wish to purchase these products despite all things considered, then they'll need to forge contracts with that person.
These people will need to make sure that they're able to pay these companies the amount due, and with our Payment Contract Forms readily available here for download, such a process will prove much smoother.
Car Payment Contract Form
Monthly Payment Contract Form
Installment Payment Contract Form
Contract Payment Agreement Form
Loan Payment Contract Form
The Various Types of Payment Contract Forms
There are many different types of Payment Contract Forms that people can use to make sure that companies guarantee that their customers pay the necessary amount.
Payment for Car Sale Contract Forms are the kind of forms used by those companies to help them before a customer purchases a vehicle. It helps these customers understand the kind of payment method they'll be using for the vehicle purchase.
Payment for Loan Contract Forms are for those loan agencies to make official contracts with those clients who have done proper business with them. These make certain that their clients pay them back in the proper time and with the right amount.
Down Payment Contract Forms are used by those companies that need a down payment on certain products or services that they're selling. These are to make sure that the customer is willing to shell out an amount of money before purchasing the whole product or service.
Down Payment Contract Form
Housing Assistance Payments Contract Form
Payment Contract Form Free
Land Contract Payment Schedule Form
General Payment Contract Form
The Importance of Having Payment Contracts
These kinds of forms are really important for any business. They're to make sure that they're actually paid by those people who requested for their services or by those who purchased certain products from them. These are especially important when it comes to those products that have a very high price.
For example, let's say that a person wishes to buy land that someone else owns. We all know how expensive land can be, and this person wishes to pay the owner of the land through a series of installments. Both parties can settle on an agreement they're satisfied with by using Payment of Land Contract Forms.
So if you're a company owner, make sure that you have the necessary contract forms if a customer is willing to purchase any of your products that require these contracts.