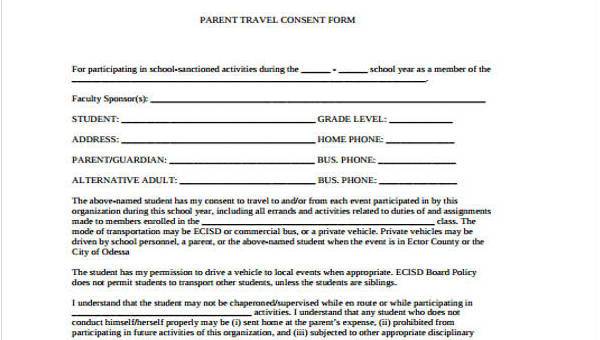 Everyone needs to travel at some point in there lives. Whether it's for a vacation, a job, or even emergency situations, everybody needs to travel from one place to another. Although traveling nowadays can be somewhat unsafe. There could be cases where someone boards the wrong plane or a student happens to have missed his flight.
Airlines are now making sure that they take the necessary precautions to make sure that they aren't cornered with any legal issues. That's why there are Travel Consent Forms, which give the necessary information and permission of those who wish to travel or those with children whom they wish to go and travel.
Minor Travel Consent Form
Child Travel Consent Form
International Travel Consent Form
Single Parent Travel Consent Form Sample
The Different Types of Travel Consent Forms
There are different kinds of Travel Consent Forms that people need to sign before they travel from one location to another. These forms make sure that there is consent between both parties. Here are some examples of these forms:
Travel Parental Consent Forms are to make sure that the parents give their consent for their child to travel on any airline.
Minor Travel or Child Travel Consent Forms are used by parents of children below the age of 13, and when that child needs to travel for a particular situation.
Student Travel Consent Forms are consent forms that are used when a student needs to travel to another country or area within the country he resides for educational purposes.
Single Parent Travel Consent Forms are forms for those single parents who wish for their child to travel to any destination and gives their consent to the airline that will handle their child's travel safety.
International Travel Consent Forms are for those parents who allow their child to travel internationally. These forms show airlines that the parents have allowed their child to travel to a specified destination outside the country of origin.
Travel Parental Consent Form
Free Travel Consent Form
Student Travel Consent Form
Travel Consent Form Example
Minor Parental Travel Permit Consent Affidavit Form
The Importance of Travel Consent
Travelling internationally, or even domestically, with children is not as simple as it was before. Whether the children want to tag along with mom or dad on a business trip, or grandma and grandpa want to take their grandchildren on a vacation, or especially when a child needs to travel alone due to certain circumstances, more documentation than the child's passport may be necessary to get through customs.
Many countries have introduced new rules for children who travel internationally. The rules are intended to help reduce instances of kidnapping, child trafficking, and child custody disputes. This is why the Travel Consent Forms can help prevent any of those incidents from happening, and they help make sure that there are no complications when a child travels alone.