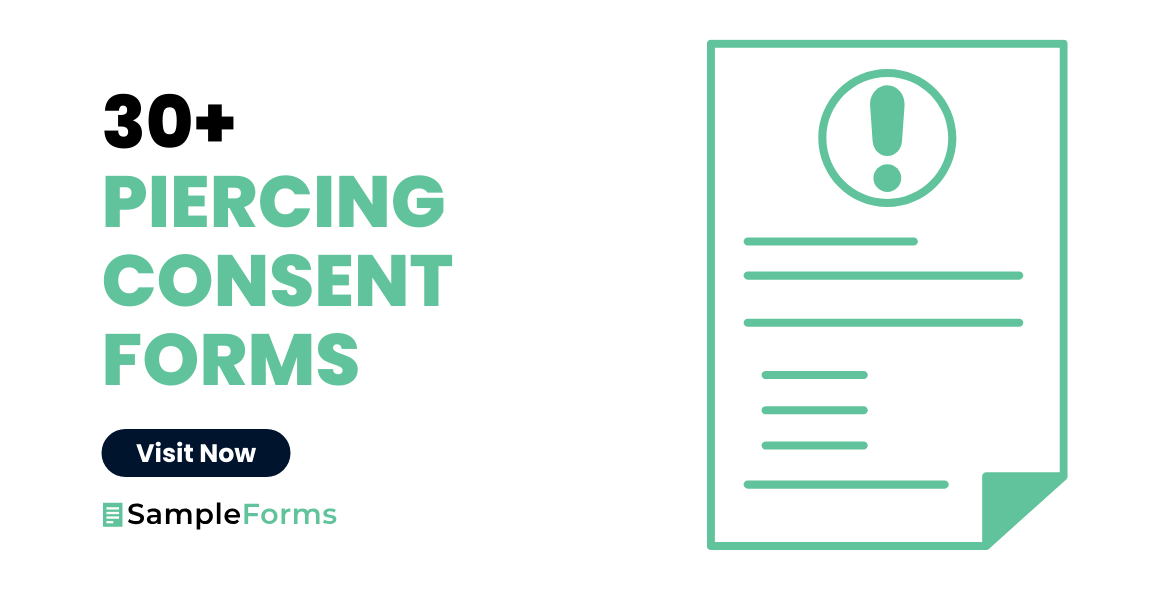 A Piercing Consent Form: Ensuring Safe and Stylish Body Modifications Body piercing is a popular form of self-expression, but it's essential to prioritize safety. A Piercing Consent Form plays a crucial role in this process. In this comprehensive guide, we'll explore the meaning, types, examples, and offer step-by-step instructions on creating one. Plus, we'll provide valuable tips to make sure your body piercing journey is both stylish and safe. Whether you're a piercee or a piercer, understanding this form is a must.
What is a Piercing Consent Form? – Definition
A Piercing Consent Form is a legal document that individuals sign before undergoing any form of body piercing procedure. This form outlines the specific details of the piercing, the associated risks, and the responsibilities of both the piercee and the piercer. It serves as a written agreement form , ensuring that the procedure is performed with informed consent, promoting safety, and reducing potential legal liabilities for the piercing studio.
What is the Meaning of the Piercing Consent Form?
The Piercing Consent Form holds significant meaning in the world of body modification. It represents a crucial step in the process of getting a piercing, serving as a legal and ethical document. These printable form signifies that the individual willingly consents to the procedure, understanding the associated risks and responsibilities. It ensures that the piercing is conducted with informed consent, prioritizing safety and legal compliance. Essentially, the Piercing Consent Form symbolizes the commitment to a safe and responsible body piercing experience.
What is the Best Sample Piercing Consent Form?
A comprehensive Piercing Consent Form should encompass the following key components:
1. Personal Information:
Full legal name of the piercee.
Date of birth.
Contact details, including address, phone number, and email.
2. Piercing Details:
Specify the type of piercing (e.g., ear, nose, tongue, belly button).
Provide exact details of the location (e.g., left earlobe, right nostril).
3. Risks and Complications:
A thorough list of potential risks associated with the specific piercing, such as infection, swelling, bleeding, scarring, allergic reactions, and nerve damage.
Explanation of the importance of proper aftercare to minimize risks.
4. Aftercare Instructions:
Clear, step-by-step aftercare guidelines to ensure the proper healing and maintenance of the piercing.
Include information on cleaning, avoiding certain activities, and recognizing signs of infection or complications.
5. Consent Statement:
A prominent section where the piercee acknowledges that they have read and comprehended the risks and potential complications.
Confirmation that the piercee is giving informed consent for the procedure.
6. Release of Liability:
A section outlining the limitations of liability for the piercing studio or piercer.
Emphasize that the piercee assumes responsibility for any complications or risks associated with the piercing.
7. Studio Information:
Name and address of the piercing studio.
Contact details, including phone number and email.
Signature of the piercer, indicating their commitment to following industry standards and providing accurate information.
8. Witness Statement:
Space for a witness to sign, confirming that they observed the piercee's consent and the completion of the form.
9. Date and Signatures:
Areas for the piercee, piercer, and witness to sign and date the form, indicating their agreement, understanding, and consent.
10. Emergency Contact: – Collect the name and contact information of an emergency contact person to ensure prompt communication in case of unforeseen complications.
Always keep in mind that the best sample Piercing Consent Form should adhere to local regulations and be adaptable to meet the specific needs of the piercing studio. This comprehensive document plays a pivotal role in safeguarding both parties involved and promoting a secure and responsible piercing experience.
FREE 30+ Piercing Consent Forms in PDF
31. Piercing Supplemental Application Consent Form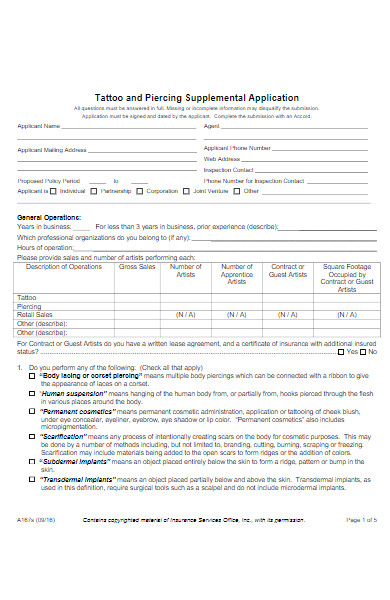 Why do I need to fill out a Piercing Consent Form?
Filling out a Piercing Consent Form is a crucial step in the piercing process for several reasons:
Informed Consent: It ensures that you, as the client, are fully informed about the piercing procedure, associated risks, and aftercare instructions.
Liability Protection: For piercing studios, the consent form serves as a legal document that demonstrates you have willingly consented to the procedure. It helps protect the studio from potential legal issues in case of complications.
Health and Safety: The form may ask about your medical history and allergies, allowing the piercer to assess any potential health risks or complications.
Aftercare Guidelines: It provides you with clear instructions on how to care for your piercing post-procedure, promoting a safe and hygienic healing process.
Record Keeping: Studios maintain copies of these forms for their records, which can be useful for reference in case of any future issues or inquiries.
In summary, a Piercing Consent Form is a crucial tool to ensure transparency, safety, and legal protection for both the client and the piercing studio.
What information is typically included in a Piercing Consent Form?