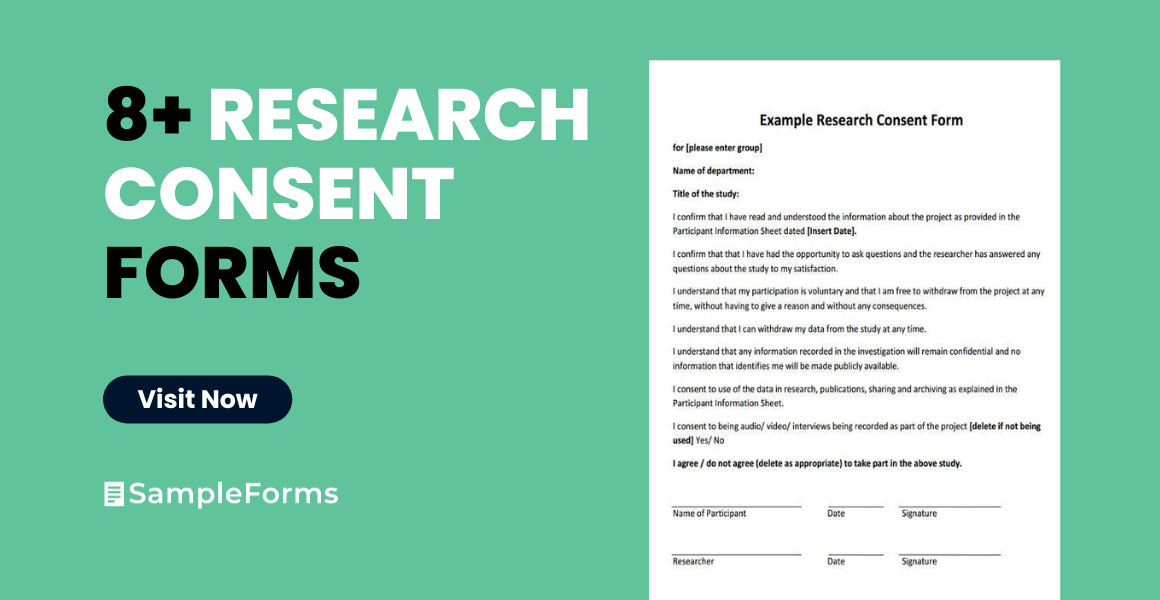 Research is a very important part of today's society. It helps in discovering different things that could end up being very beneficial to everyone, especially to those that conducting the research. There are research projects that are being conducted every single day, and it's all for the sake of progressing further into the studies of the different areas of how things work or how people work.
There are even some who volunteer themselves to be a part of research programs. They volunteer not as the researcher, but as the subject of the research.
However, in order for these people to be a part of the research, they must provide their full consent on paper, and one way to do that is by having Research Consent Forms.
Psychology Research Consent Form
Medical Research Consent Form
Free Research Consent Form
Research Participant Consent Form
The Different Kinds of Research Consent Forms
There are various types of these forms that allow anyone who wishes to partake in any research to give their full consent. Here are some examples of these kinds of forms.
Research for Business Consent Forms are the kind of forms that are used by those people that want to make sure that they give the companies their consent on doing different types of research that should benefit the company. So these forms are very helpful in assessing the different kind of marketing strategies that one can do in order to improve the business's chance of success, assuming that it has the consent of the right authoritative figure to approve the project.
Research Informed Consent Forms are used by researchers that want to make sure that the subject of their research is properly informed as to what they will be going through. It helps make certain these subjects understand the possibility of the many different things that could happen and that subject has given their full consent despite that.
Psychology Research Consent Forms are for those who wish to participate in psychological research and give proper consent to make sure that they fully understand as to different psychological methods they'll be experiencing during the research. So this means that the subject will be informed as to what tests and activities that they may go through, along with specific information that may have to be divulged during the research procedure.
Research Informed Consent Form
Generic Research Consent Form
Research Interview Consent Form
Research Consent Form Example
Simple Research Consent Form
The Importance of Having Research Consent Forms
It's really important that before you start any form of research, that you have your research subject's consent. This helps plan out as to what you'll be doing and these will help make sure that the subject understands the different kinds of risks he or she will be taking before accepting. Otherwise, if they didn't give their full consent, then these researches will be experiencing many different kinds of legal issues on their hands.
These can even help simple researches such as those conducting surveys by having the proper Research Survey Consent Forms. Basically, if you're going to let someone participate in any research, make sure they fully understand as to what they're getting into. Which is why these forms allow them to take a good look at all the terms and conditions before they take part in any research. So make sure to use any Research Consent Form, depending on the type of research you're about to do.