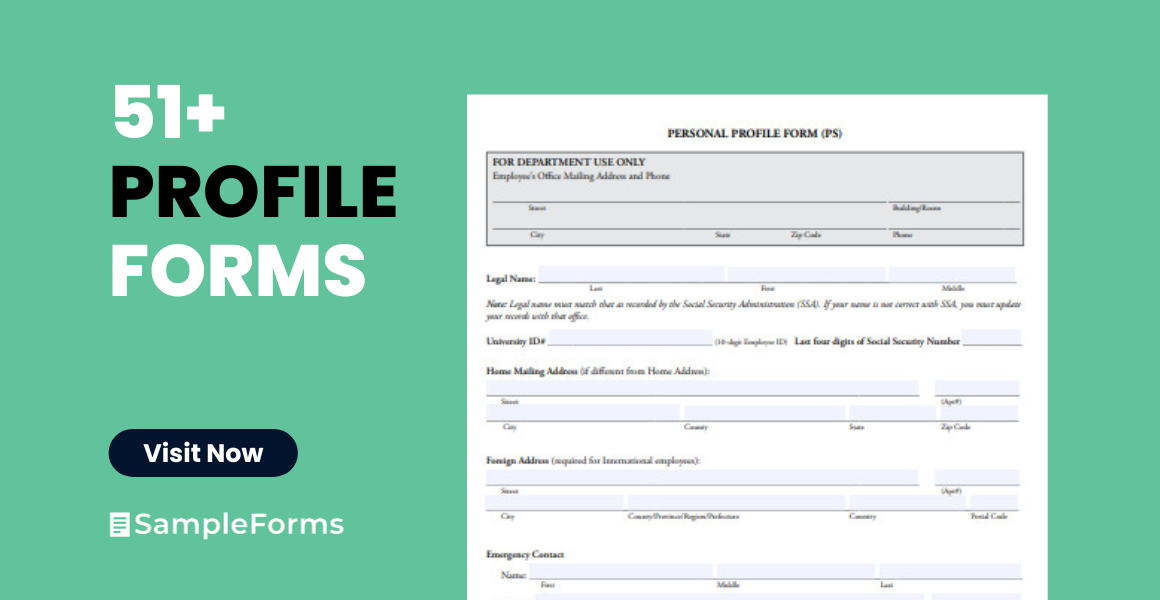 Organizations and institutions owe much of their success by knowing more about their potential clients and business partners. Information answers the fundamental questions about who the client is, what makes them tick, where's the best angle to approach them, how to convince them effectively. It also provides additional personal details such as their favorites, as well. Information is a potent tool that allows us to see first, hear first, and know first. Queries, surveys, and profiles are vessels in which vital information is stored, ready to use whenever the time is ripe to use them.

FREE 51+ Profile Forms in PDF | Ms Word | Excel
Why is Profiling Important?
Profiles allow us to paint a picture of a person or an entity before we can see them with our own eyes. It lets us understand who they are and which angle to approach them. Profiles contain personal information as well as intimate details such as hobbies. That being said, it allows us to make accurate decisions or policies based on the information and data inside the profile itself.
Organizations and businesses usually maintain a library of profiles about their clients, customers, or the people that they frequently interact with. They also keep profiles of other organizations that they maintain business dealings with, as well. Profiles are handy and helpful tools as they let us stay more focused on the type of business that we are into.
Profiles are also crucial to further improvement or development of a product and service that we offer to the market. It lets us know what our customers and clients are looking for, how frequently they use our products or services, as well as their personal preferences. In turn, it then allows us to create and recreate the products and services we offer and subsequently establish a household brand out of them.
Profile Forms: The Essential Factors
Profiles are forms and documents that contain a plethora of information that gives a detailed description of who the person or entity is. What profiles do to organizations and businesses is that it offers them a full understanding of their behavior, preference, and tendencies. At the same time, it also allows us to make the right or accurate decisions and actions based on what the information and details in the profile tell us. Information and details that are based on the essential factors that are listed below, as follows:
What are the Other Documents Involved in Creating a Profile?
Profiles are a detailed compilation of information, about a particular individual or entity, collected in the field. Collecting this vital information is made possible by conducting activities such as surveys, gathering feedback and suggestions, and by listening or reading product reviews. And in doing information collecting activities, the use of forms and documents is essential to record the data gathered. These forms come in different shapes following the functions that they fulfill. And here are some of them:
Criminal Profiling: Finding Out The Inner Workings of a Criminal Mind
Humans are all creatures of habit. Patterns, routines, you name it, we are more inclined to do things repeatedly either randomly or succeedingly. Habits can be beneficial as they can lead a person to become a productive and law-abiding citizen. However, habits can have its dark side as well. Infamous serial killers and repeat offenders commit the same crimes out of sheer habit.
Renowned law enforcement agencies like the FBI and Scotland Yard apprehend even the most elusive criminals with the help of forensic psychology and crime scene analysis. Criminal profiling, as what the science itself is called, is the process of collecting information from the crime scene and analyzing them for patterns that they can use to identify the person responsible. Likewise, it also prevents future crimes from happening by predicting where the suspect will strike next using that same information and analysis.
Criminal profiling is also useful in intelligence gathering, especially in terms of identifying and preventing threats before they had the chance to do harm to the public. This is possible through the use of information gathered from previous crimes and cross-examining them against present information gathered from informants and human assets. This allows law enforcement and counter-terrorism agencies to establish a baseline on how criminals and terrorists alike operate, thus allowing to prevent bad things from happening.
How Do You Create a Client or Customer Profile
Client and customer profiling is the science and art of understanding customer behavior and consequently predicting their future purchasing patterns. These are based on what demographic group they belong, their social and economic standing, and individual preferences. Client and customer profiling helps businesses improve the current products or services that they offer to the market. It also enables them to develop new products in response to the market's current as well as changing needs and wants.
Step 1. Establish a Baseline
Baselines function like a solid platform through which you can start working from. Demographics, socio-economic status, and individual psychographic information are baselines that you can establish and use to gathering information about the individuals that make up your target market. Baselines let us focus on our goal and objective which is to collect relevant information with surgical precision and accuracy. Establishing a baseline is a two-way process, which involves understanding everything about your product. In turn, it also lets you understand how your end-users are likely to use your products.
Step 2. Consult Other Documents
Customer information doesn't start in creating a profile about them. Most of them are found in different materials used in information collection activities such as surveys. Sometimes, you can also find or collect them from feedback forms that we use to distribute to every shop we own, for customers to write their comments on. Each of these documents is filled with a trove of information that you can use in creating a customer or client profile. Some of them might be filled with information that is not what you are really looking for, so its best to filter them before listing them down.
Step 3. Transfer Them on a Profile Form
Now that you have all your initial information for creating a customer or client profile, the next thing in line would be listing them down on a profile form. But before doing that, the wisest thing to do is to at least put them on a separate list first. That will enable you to narrow down the list any further and finalize the information to write on the profile with pinpoint accuracy. After doing that, you can finally create a profile about what your customers are like, in relation to the product or service that you offer to them. And once you're done, store them in your file cabinet for safekeeping.
Step 4. Update From Time to Time
Customers' needs, wants, and preferences change from time to time. The same could be said about their attitude towards your products and services, as well. However, the goal and objective of creating a profile about your customers and clients are to drive all their positive opinion into your brand. To keep it that way, updating your customer or client profiles in your file cabinet should be necessarily done from time to time. By doing so, it allows you to draw creative and innovative decisions to specifically targeted to the changing times. In that way, you can maintain customer loyalty to your brand.
Business is a two-way interaction between humans, first and foremost. And since it is completely human for us to change our preferences or attitude towards a product or service offered to us, the same also applies to our customers or clients as well. Aside from that, getting to know our customers or clients intimately lets us maintain a healthy relationship with them. Creating a profile allows us to know exactly what they want, what they need, how they generally feel about what we offer them. In that way, we can let them feel that our business is all about them and not solely about making a profit.