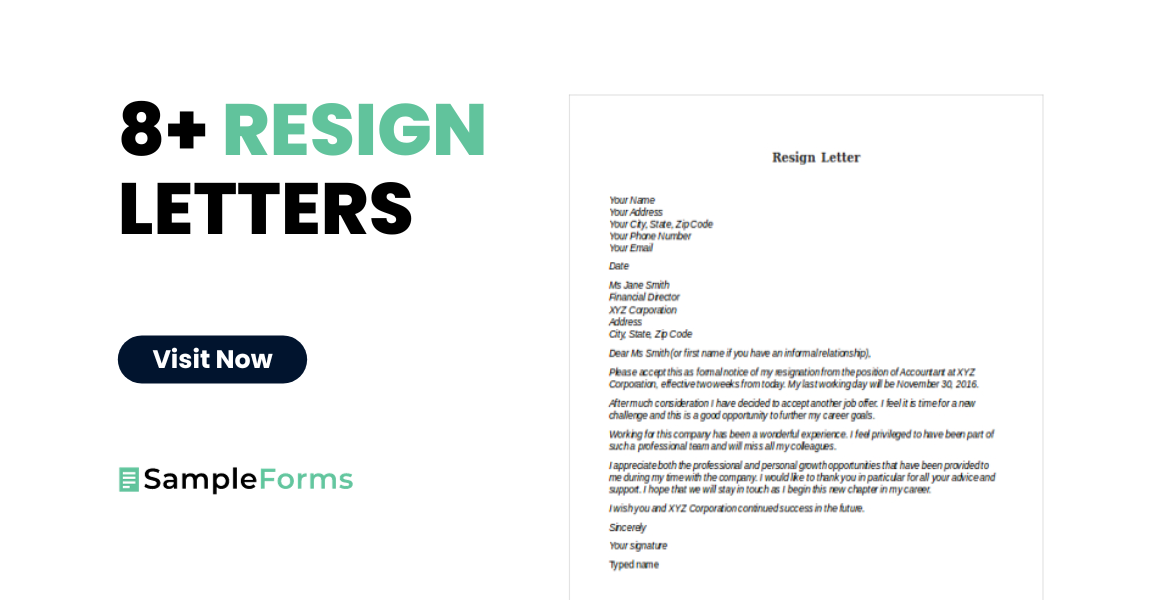 A Letter of Resignation is one of the easiest letters to compose. You've set your mind, you've landed an awesome job elsewhere, and you've decided to move on. However, for some people, the idea of resigning and actually writing a Resignation Letter can be an awkward and overwhelming task.
Resignation Letters play a key role when you wish to terminate ties between you and a current employer. Polishing a professional Letter of Resignation is an act of courtesy and politeness. It will undoubtedly reflect on your performance as an employee and will furnish the remarks on your references.
Also see: Sample Letters
Resign Letter Format Sample
Resign Letter for Personal Reason
Resign From Job Letter Example
Resignation Letters: The Importance of Giving One
As much as you would like to pack your things, dramatically shout that you quit, and move on to your new job, deep down you know that you need to make a graceful and polite exit. First of all, there is a 50% chance that your fabulous new job may not be as fabulous as you thought – putting you in a very difficult position of having to knock back on your ex-employer's door. Second of all, it's a small world out there and you do not want to burn bridges – unless you utterly need to. So breathe in, breathe out, get over your excitement, and compose the best Resignation Letter there is on the planet.
Resignation Letters 101
Be Tactful
Your Resignation Letter should carefully express what you want to say to your boss or your employer. Take the time to carefully reflect and ponder on what you want to say and how you want to say it. Be tactful with your words and make sure you do not make statements and remarks that are rude or offensive. Remember, you want to make a graceful exit with one foot at the door – just in case it doesn't work out with your new boss. Try not to include remarks in your letter that would imply disgust or skepticism.
Provide Ample Time
Generally, the rule of thumb is that your Resignation Letter should be submitted at least 2 weeks prior to the date it is due to take effect. If your new employer wants you to commence work as soon as possible, then that leaves you no choice but to issue a letter of immediate resignation. However, if your new boss is fine with giving you time to make a proper exit from your current job, then by all means, do so.
Giving ample time for your current employer to take in your resignation is not just a show of courtesy, it also gives them the time they need to fill in the position that you are going to leave behind.
Also see: 2 Week Notice Letters
Resign Letter Sample in PDF
Company Resign Letter Printable
Simple Resign Letter Free
Show Praise and Avoid Negativity
Try to include positive feedback and phrases when creating your Letter of Resignation, indicate how the company or the organization has helped you hone your skills to become a better professional. After complimenting the management or the company, indicate the reason why you are leaving.
Your reason for leaving should be disclosed in a professional matter. Avoid any negativity as this will only tarnish your references with your current employer.
Offer Help
Offer help to your current boss in finding a replacement for the position that you will soon be leaving vacant. You may refer or recommend people you know who also excel in the type of job that you do with your current company. Another way to offer help is to voluntarily train your replacement if you still have time to do so.
Thank Your Employer
Even if you're ecstatic about leaving your current job and shouting "good riddance!" at the top of your lungs, it's always a good idea to express your thanks in your Resignation Letter. Showing gratitude for the opportunities and the experience that the company has given you will leave a lasting impression on your boss and will guarantee you good references down the road.