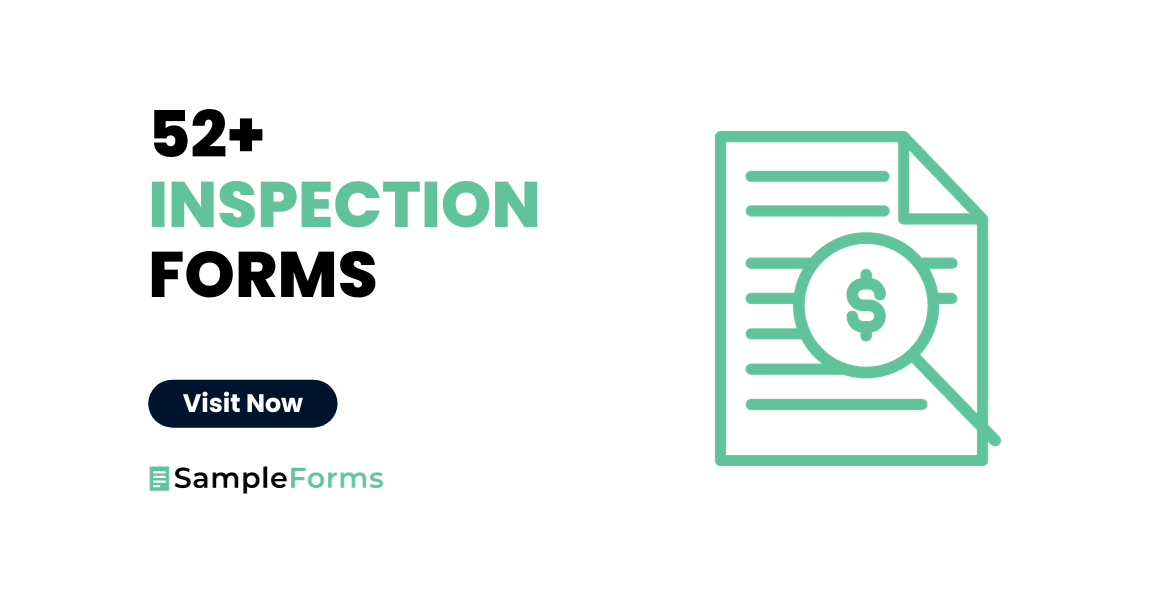 We have been setting standards ever since consciousness started to dwell inside our bodies. Starting on how we want our favorite food to be cooked or how our dream house should look like, setting personal standards is our way of getting a little piece of perfection. And because of it, we usually scrutinize everything that we come in contact with. Evaluations, examinations, inspections, or whatever the world may call it; these actions are what we constantly do to ensure that everything in this world is aligned with our preferences and standards.

FREE 52+ Inspection Forms in PDF | MS Word  | XLS
1. Cylinder Inspection Form
2. Environmental Quality Inspection Form
3. Hazards Inspection Form
4. Chemical Storage Inspection Form
5. Existing Building Inspection Form
6. Sample of Inspection Form
7. Ambulance Inspection Form
8. Monthly Safety Inspection Form
9. Limousine Inspection Form
10. Vehicle Identification Number Inspection Form
11. Ladder Inspection Form
12. Uniform Verification Inspection Form
13. Vehicle Inspection Certificate Form
14. Property Inspection Report Form
15. Technical Inspection Form
16. Point Inspection Form
17. Inspection Agreement Form
18. Storm Water Field Inspection Form
19. Community Pharmacy Inspection Form
20. Final Electrical Inspection Form
21. Pre Demolition Building Inspection Form
22. Plumbing Inspection Form
23. Unit Inspection Form
24. Visual Monthly Inspection Form
25. Overtime Inspection Request Form
26. Laboratory Self Inspection Form
27. One Site System Inspection Form
28. Synthetic Web Sling Inspection Form
29. Daily Inspection Form
30. Special Inspection Form
31. Vehicle Inspection Form
32. Immigration Inspection Form
32. Inspection Proposal Form
33. Transfer Inspection Form
34. Move in Inspection Form
35. Environmental Inspection Form
36. Central Transport Inspection Form
37. Food Establishment Inspection Form
38. Pharmacy Inspection Form
39. Special Inspection Short Form
40. Statement of Special Inspection Form
41. System Malfunction Inspection Form
42. Visual Inspection Form
43. Inspection Report Form
44. Construction Site Inspection Form
45. Materials Inspection Form
46. Storage Area Inspection Form
47. Safety Inspection Form
48. Inspection Request Form
49. Contractor Safety Inspection Form
50. Asbestos Inspection Form
51. Fuel Burning System Inspection Form
52. Building Inspection Form
53. Apartment Inspection Form
Why are Inspections Necessary?
Achieving or maintaining a certain level of perfection is possible by performing inspections. Objects such as buildings, tools, equipment, and materials are constantly evaluated to see if they perform properly, as expected. Apart from that, professions of different kinds are also evaluated to ensure that the people who wish to fill the role are competent enough. And to determine whether these things meet the expectations set upon them, standards are set as a basis or reference in judging and measurement.
Aside from the things mentioned above, inspections are also done the investigate claims of excellence or legitimacy by some parties. Claims that are meant to supersize a person or thing's qualities are mostly done to get money, fame, and influence. Without putting these claims under the eye of scrutiny, these claims will most likely compromise the public's safety either by using the thing or believing the person making such a dubious claim.
The list of reasons that makes inspections necessary is long but never endless. Safety through quality and efficiency is one of the major reasons why inspections are needed in the first place. Society itself has to stand on something solid for it to function normally as how we perceived it. And by ensuring the quality of things that we make and in the activities that we do, catastrophes would be averted and delays avoided as well.
Inspection Forms: Ensuring Safety, Quality, and Efficiency
Inspections are performed in many different ways. Audits, examinations, and evaluations are some of the ways of how inspections are conducted. All of those are done with one objective or goal in mind, and that is to ensure the safety, quality, and efficiency in everything that we do as well as things that revolve around us. To ensure safety, quality, and efficiency, all of the observations and findings should be documented in an inspection form. Inspection forms contain all the criteria and standards an inspector based their judgment on. Criteria and standards that provide a lot of benefits that are listed below, as follows:
Identify and Mitigate Risks: Faults and defects naturally occur in things, which sometimes are unwittingly overlooked upon. Inspections enable us to see these faults and defects hidden in plain sight. Inspections also allow us to fix or correct those as well. By doing so, we can prevent accidents and other catastrophes from happening.
Prevents Accidents From Happening: Accidents and mishaps happen when we least expect it. But, it doesn't mean to say that incidents like these can't be prevented. Regular inspections allow us to update existing safety measures and equipment in a facility. It also enables us to update existing skills among its staff as well. By ensuring safety in the workplace, it enables its staff to work efficiently by providing confidence and the needed peace of mind.
Opportunity For Improvement and Efficiency: Employees work and function efficiently when they're put in a comfortable spot. By establishing safety and security, the results and output of their work would be of top quality as well. But, stopping on the current level of efficiency that you have right now wouldn't stand against the dynamic nature of business and commerce. As mentioned, inspections help you identify and mitigate risks. But aside from that, it also helps identify areas of improvement as well. Areas that will help you further improve the efficiency of your current procedures and practices.
Do Inspections Matter in Business?
Inspections are also done to ensure quality, safety, and efficiency in everything that we do. These three are achieved by meeting international standards required and accepted by most countries worldwide. International trade wouldn't prosper without uniform standards to conform to. Products, services, and systems adopted by major industries and businesses all conform to these standards. Regular inspection guarantee that these standards are maintained, which in turn also ensures quality, safety, and efficiency in products, services, and practices.
Before international standards were formulated and agreed upon, industries around the world have their own standards that they follow. Individual standards that are acceptable in their countries but unacceptable in others. This resulted in products and services being inferior, unsafe, and unreliable in the eyes of their international consumers. In relation to that, copies of household brands of bad quality proliferated, hurting businesses as well. Organizations such as the International Standards Organization and the World Intellectual Property Organization ensured that these harmful products, services, and practices are stopped and put to an end.
On a smaller scale, regular inspections enable your business to maintain the reputation that it's known for. And aside from that, it also enables it to improve current production systems as well as your products or services' quality. What's more, other important things in business such as finances can be regularly checked and monitored through frequent inspections. Other than these, the list of benefits that inspections can give to a business doesn't end with those that were mentioned. They are bound to change?—added or reduced?—as times change, as well.
How Do You Perform Site Inspections
Site inspections are commonly performed in construction sites, factories, offices, and other facilities. These are done to assess and evaluate their existing equipment, staff, internal controls, and practices, and to ensure that quality, safety, and efficiency standards are followed to the letter. Other than that, inspections also help the management ascertain a site's current status, especially if a project is currently in progress. Site inspections are no simple task. Such involved meticulous preparation and an eye for detail. Although difficult as it may sound, performing inspections are absolutely doable by taking a closer look at these steps.
Step 1. Make Prior Preparations
Like every activity that we do, whether for leisure or for business, prior preparations enable us to do these things as smoothly as possible. The same can also be said with performing site inspections too. In preparing for a site inspection, tools in the form of papers such as inspection forms should be ready at hand. Inspection forms are where you write your observations and findings obtain at the site. Aside from that, a schedule planner would also help you as well. Schedule planners allow you to organize tasks entailed in performing a site inspection within a strict timeframe. Also, having a notebook to put your notes on would come handy as well.
Step 2. Observe But Don't Rely on Memory
Observation and a keen eye for detail are important in conducting a site inspection. Equipment, current practices, systems, and internal controls should all be taken into account. Aside from that, be sure to take note of everything that is said while interviewing the site's key personnel and staff. Don't shy away from asking essential details, as well. Nothing should go amiss in performing a site inspection. In relation to that statement, it is important that all your observations and findings are well documented on record. Human memory is prone to get lost in transition, don't rely purely on it.
Step 4. Compare and Contrast
The site that you are inspecting right now is most likely to have one through the same in the past. And for sure, inspection reports have been created previously as well. Apart from that, internal documents such as incident and status reports, evaluation forms, and inventory lists exist on-site also. At the end of your site inspection, an inspection report would be required to be for you to submit to the higher-ups for decision making. For you to effectively do that, it is important for you to acquire copies of these documents and compare their findings and information against the ones that you have. This will enable you to write a comprehensive and detailed report, and help the management to decide on them with pinpoint accuracy.
Step 4. Create an Inspection Report
Writing an inspection report is an essential requirement after performing a site inspection. This report details all your findings, observation, and other needed information as well as those that were made in the past. What a report does is that it contains all the needed information about the site's current status and progress, problems that should be addressed, and practices that need to be updated. All of these help the management to arrive at the right decision, and correct problems and mistakes?—if any?.
The obsession for order, certainty, and perfection to some degree are naturally occurring in us—regardless of race, age, gender, and creed. With such, everything that is presented right before us is immediately treated with the utmost skepticism. Yet despite that, if we do find something interesting, we sought to remove the veil of skepticism and begin inspecting it with an eye of scrutiny. But there is nothing entirely wrong with that. If it were not for the same level of inspection that we subject everything into, chaos would have filled our world today.