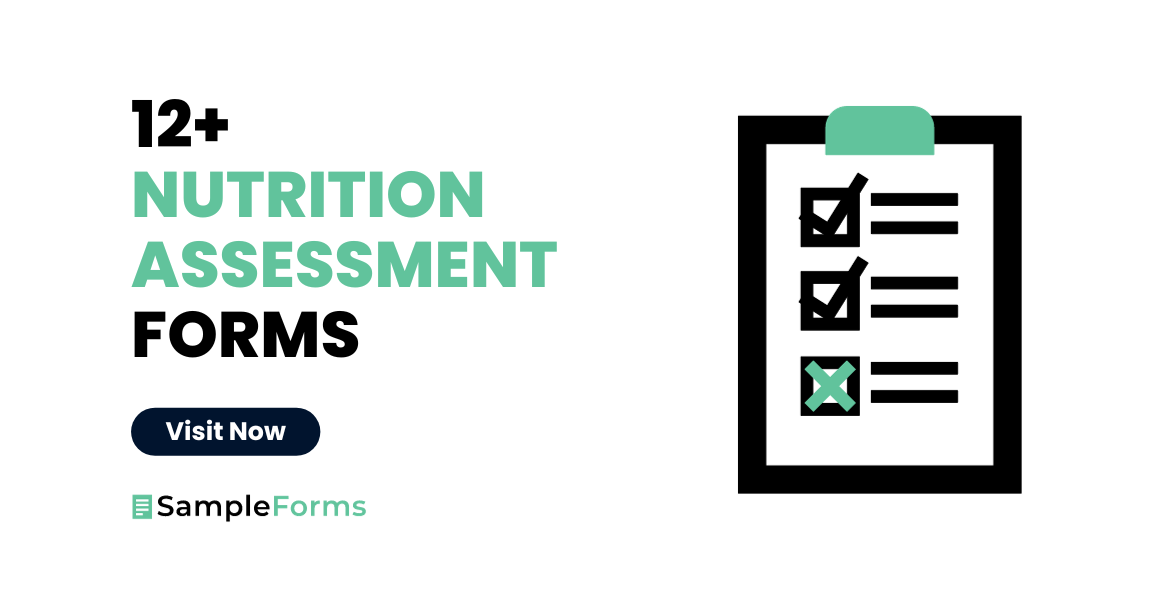 A nutrition assessment is a type of assessment that focuses on the nutritional health and/or development of an individual. It is a means of ensuring that the person taking the assessment has met at the very least the minimum level of nutrition or nutrient intake. In most cases, these kinds of assessments are used to determine a child's state, whether they are malnourished, average or obese. It can be done as a type of self-assessment simply by having the person take the assessment on themselves.
A nutrition assessment goes hand in hand with a health assessment in terms that a person nutrition will directly affect their health. This is because proper nutrition is needed to be able to live a healthy normal life.
Pediatric Nutrition Assessment Form
Initial Nutrition Assessment
Clinical Nutrition Assessment
Dietitian Nutrition
New Patient Nutrition
Bariatric Nutrition Assessment Form
What are the Nutrition Assessment Techniques?
In gauging a person's nutritional intakes there are four ways to do so these being:
Anthropometrics

This type of approach in gauging a person nutrition intake by means of measuring a person's BMI or body mass index by measuring their physical growth such as height, weight, and other physical attributes of the person.

Biochemical data

This type of approach in gauging a person nutrition intake by measuring the nutritional intake of the person by analyzing any fluid that originates from the subject such as blood, urine, and even the person's fecal matter.

Clinical methods

This type of approach in gauging a person nutrition intake by doing a simple physical examination with a bit of reviewing the patient's past medical history.

Dietary

This type of approach in gauging a person nutrition intake by analyzing and monitoring the amount of food intake the person ingest daily so as to determine the person's daily nutritional value.
Each of these nutritional assessment techniques has Nutrition Assessment Form Examples dedicated to each type of examination.
What are the Components of a Nutrition Assessment?
The exact components of a nutrition assessment are quite similar, and will only ever vary in a small way. In some cases, it can be confused for a Health Risk Assessment Form. The exact contents being:
Identifications of the patient and the medical examiner.
A list of known medical conditions.
Anthropometrics about the patient. (Height, weight, bone density, build and etc.)
The actual examination consisting of the four types of nutrition assessment techniques.
Signature from the medical examiner.
Sample Nutrition Assessment Form
Fitness Nutrition Assessment
Adult Nutrition Assessment
Outpatient Nutrition in PDF
Sports Nutrition Assessment
Nutrition Counseling
Nutrition Risk Form
How to Write a Nutrition Assessment Report
Writing a nutritional assessment report will be dependent directly on how well your nutritional assessment went. Depending on the results of the assessment, you can begin the report by simply identifying the patient and indicating any medical issues the patient may have had.
This is in addition to the results of the assessment, as well as the medical examiner's suggestions on how to continue with a healthy nutritional intake. Writing the nutrition assessment report is as simple as that and in some case much easier than writing an actual assessment, such as a Client Assessment Form.
What is a Comprehensive Nutrition Assessment?
A comprehensive nutrition assessment is a type of nutrition assessment that uses all techniques of nutrition assessment (Dietary, Clinical methods, Biochemical data, and Anthropometrics) when determining a person nutrition.
This is often done so as to have a thorough examination of the personal health of the individual, especially since a nutrition assessment is also a part of a Health Risk Assessment Form.