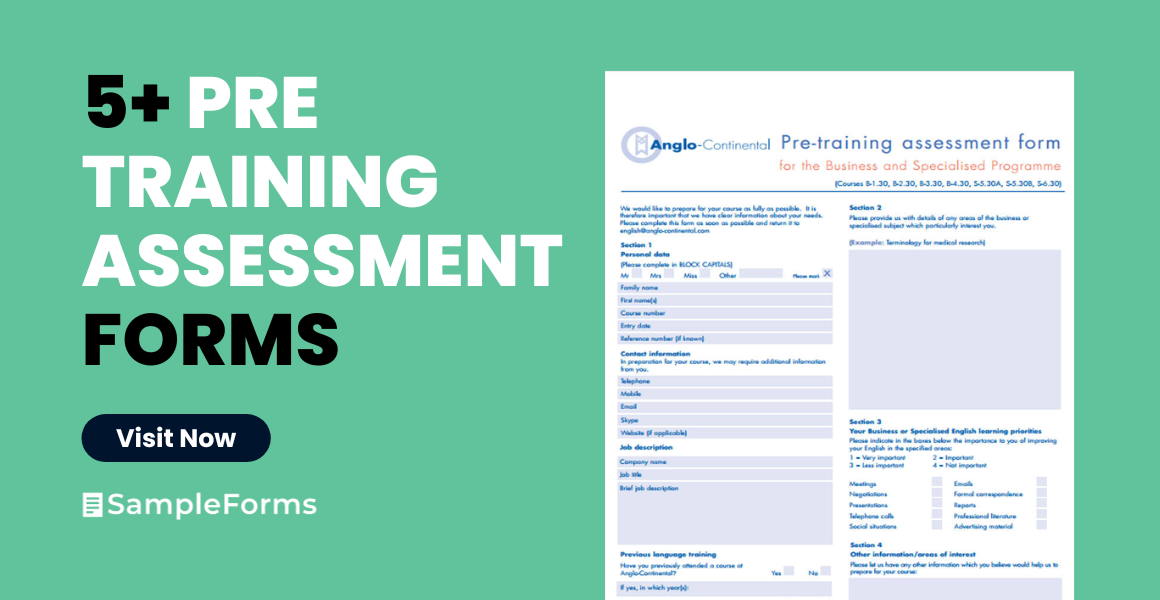 If you ever dreamed of being a part of something that people look up to, or be part of something that will make the change you want for yourself, you may find it daunting at first. You could, but it is not going to be that easy. Because in order to be part of any organization, you will have to undergo through interviews and training, and this will be assessed by the person-in-charge using an Interview Assessment Form.
An assessment is done in order to gather or discuss information that came from different sources and this is done in order to develop a deep understanding regarding a subject. There are different kinds of assessments, and these could be for identifying risks using a Risk Assessment Form, or for training using Training Assessment Forms.
Pre Training Needs Assessment
Pre Training Self Assessment
Assessment Form for Pre Teacher Training
What is a Pre-Training Assessment?
A pre-training assessment is done in order for the trainee to be evaluated whether they fit or meet the standards of the organization. This kind of assessment is done before the training is conducted. This actually serves as a preparation of the trainee before going to the real thing that will test his/her skills and capacity.
A pre-training is conducted in order to gain information about the trainee's experiences and current knowledge. And all this information about the trainee are summed up using a pre-training assessment forms. And just like any other assessments, Project Assessment Forms are used to assess the effectiveness of the projects made.
Using Pre-Assessment To Save Time and Money
A pre-assessment also serves as a heads up for the organization to know trainee's personal interests and priorities. This also gives them ideas or details that they may need in the near future. This is a test to know how much the trainees know and what else do they have to learn to improve.
Using a pre-assessment would help the organization determine who deserves to go to the next level and who is/are not. Pre-assessment includes interviews, surveys, reviews, and monitoring of the trainees or employees in order to find out their style of learning, and what they need. That's when Blank Assessment Forms are filled out by the trainer.
Pre Training Survey Assessment
Pre Training Assessment Sample
Pre Training Assessment Example
The Importance of Pre-Assessment
Pre-assessment is important because it saves much time and effort of the trainer or HR. This is done in order to know if the training to be conducted is going to be worthwhile and both the organization and if the employee/trainee are going to benefit with it.
This also helps the organization to know the strengths, weaknesses, capabilities, and personalities of who they are dealing with. Of course, in order to stick with the company's purpose, increase their bottom line, and have an effective operations of their business, they have to choose the right people for the right job.
Pre-assessment makes a lot of things easier, most especially for the HR's part. Because when using Client Assessment Forms, it is easier for the HR to assign and identify employees that are most likely to be prepared with the specific assignment or job. That is why it is necessary for organizations to conduct a pre-assessment before the training itself.
Once the training is done, Training Assessment Forms are used to evaluate whether the trainee or employee has accomplished or possessed most of the required skills for a job in order to be qualified. And if the trainee did not make it until the end of the training, there's no problem, since they will be able to know how far he could go and improve for the better.