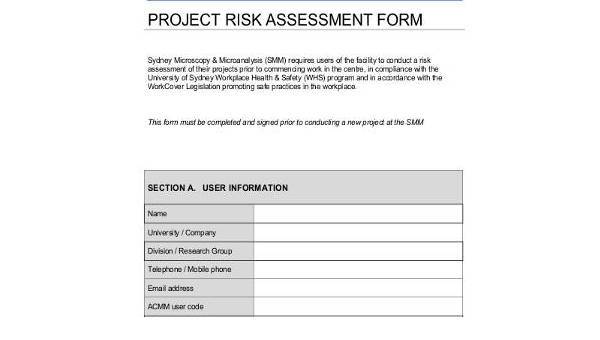 Every Project or Activity being conducted has some form of risk: whether it's physical risks, such as the possibility of actually getting physically injured; or mental risks, such as communication errors or shortage of resources.
This is why there are  Risk Assessment Forms that make clear what risks specifically the project or activity might just undergo. This is to take these projects into careful consideration, and it'll show the necessary precautions that can and should be taken before, during, and after the project.
Student Project Risk Assessment Form
Project/Activity Risk Assessment Form
Project Risk Assessment Form in PDF
Project/Task Risk Assessment Form
The Possible Types of Risks
Every project carries some form of risk. There are different factors that could always go wrong, or something unexpected could happen. Here are some of those examples:
Communication – Communication is very important when conducting a project. One mishap from one member could mean a huge drop of quality or the project being stopped altogether. Whether it's miscommunication or even misunderstanding of requirements, it's always important to prevent all of those.
Resources and Team – If you don't have the resources, then you can't continue or even start a project. If the people in the project don't have the necessary project or training, then the results could be disastrous.
Approvals and Delays – Things such as a delay in recruitment and training for a project would lead to the whole project being delayed. If the goals of the project or the finances needed are too high, then approval to even start the project could be difficult to acquire.
Those are just a few examples. If you wish to go simple, then there are Free Project Risk Assessment Forms, and you can get them in PDF and Word formats.
Project Risk Assessment Form Example
Project Risk Assessment Form Free
Project Risk Assessment Form in Word Format
Generic Project Risk Assessment Form
Why They're Important
Risk Assessment could prevent certain negative outcomes from happening. The forms point out what they are, and they can inform the company of the necessary precautions they should take before starting a project.
The Benefits of Risk Assessment
As mentioned, these could prevent certain unfortunate circumstances from happening. If done right, this will ensure that communication is stable and clear. This will ensure proper resource management and usage. It'll especially ensure that the project continues and that it finishes.
So whether it's Sample Risk Assessment Forms, Student Project Risk Assessment Forms, Project/Accident Risk Assessment Forms, Project/Task Risk Assessment Forms, and so on, these are all important when considering the different factors along with the different risks that they carry. It's a project organizer's, along with the company's, task to make sure that these risks become a non-issue and that a project is successful and beneficial.