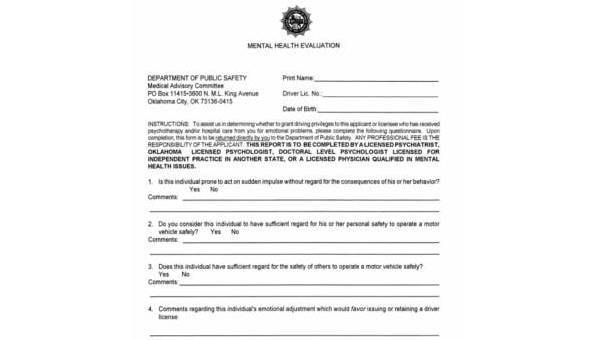 Nowadays, many people are so busy with their careers that they tend to neglect their health. Despite the advancement of technology, which makes our lives convenient, every individual just cannot resist the many forms of diversion, which brings about unhealthy lifestyles. As much as we would want to avoid stress, it cannot be avoided. Have you checked the status of your health lately? How healthy do you think you are? The well-being of every person doesn't only involve the physical aspect but the mental state as well. Do you allow stress to affect you completely? If the answer to this question is yes, then you ought to see a doctor and fill out Health Forms so an expert can give you advice on how to overcome stress. Health forms are documents which keep records of the important information concerning your total being.
Mental Health Assessment Form
Mental Health Evaluation Form
Mental Health Form in PDF
Mental Health Intake Form
Mental Health Screening Form
Are you the type of person who goes to a clinic or a hospital to get their body condition examined? If the answer to this question is yes, then it's about time you find out which aspects of your health need much attention. Medical diseases are genetically acquired from either parent at birth. It is important to know your family medical history, especially in emergency cases.
A Family Medical History is a record of health information about a person and his or her close relatives. A complete record includes information from three generations of relatives, including children, brothers and sisters, parents, aunts and uncles, nieces and nephews, grandparents, and cousins.
In emergency situations, especially life-threatening ones, Health History Forms are considered lifesaver tools.
Health history aids both individuals and healthcare providers by supplying essential information that will assist with diagnosis, treatment decisions, and establishment of trust and rapport between lay persons and medical professionals. The information also helps determine an individual's baseline, or what is normal and expected of that person.
Mental Health Information Form Example
Mental Health Referral Form
Mental Health Risk Assessment Form
Mental Health Application Form in Word Format
Medical care is substantially high, especially in diseases that require daily doses of medicine and medical examinations. Therefore, having health insurance is a must for everyone. The coverage of health insurance plans vary for each individual. However, it saves you time and money to get the medical treatment you need. Health Insurance Forms need to be filled out by the person requesting some medical tests or procedures or, in emergency cases, any next of kin.
You might not find the necessity of having a medical insurance at this point in your life because you believe you are healthy enough. Think again. It is better to be prepared.