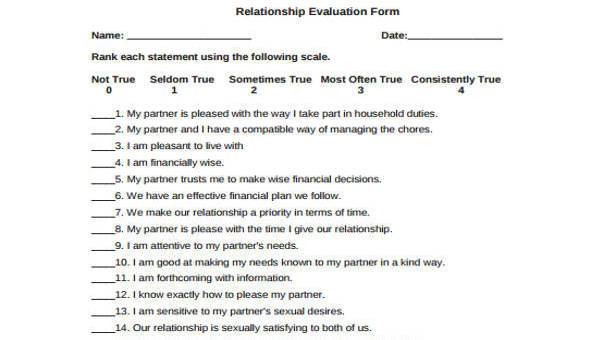 Relationships are the bonds created by two or more people. It's usually formed when two people fall in love and want to make sure they form a strong enough bond to make sure that they last. If it's not in terms of love, then it can be in the form of a strong relationship between parent and child. If not that, then it can even be business-related, wherein one company forms a business relationship with another, showing that both trust each other to the point where the success of one is the success of the other.
However, there are some people who need to evaluate these relationships. It could be because these relationships might be falling apart and they need to find ways to make sure that such does not happen.
How would they do this? People can properly assess their relationships by using Relationship Evaluation Forms.
Couples Relationship Evaluation Form
Marital Relationship Evaluation Form
Business Immigration Relationship Evaluation Form
Relationship Self-Evaluation Exercise Form
The Various Types of Relationship Evaluation Forms
There are many different types of these forms that allow a couple, family, or even business to properly assess their relationship with another to make sure that all problems are clear, assuming that there are any. Here are some examples of these types of forms:
Relationship Self Evaluation Forms are the kinds of forms used to make sure that one of the partners in a relationship understands his or her self-worth and what he or she can offer to the other half.
Couple Relationship Evaluation Forms are used by couples to assess how well they're doing in their relationship and helps them decide if they want to continue or not.
Marital Relationship Evaluation Forms are forms used by married couples in assessing how well their spouse treats them and if they're still treating them right.
Funny Relationship Evaluation Forms are the kinds of forms that are used by couples or even married couples for fun by answering a series of hilarious relationship questions.
School Relationship Evaluation Form Example
Relationship Evaluation Form Sample
Funny Relationship Evaluation Form
General Mentoring Relationship Evaluation Form
The Importance of Assessing a Relationship
When two partners feel as if there's a problem within the relationship and they feel like they can't figure it out themselves, then it's best to have someone who understands relationships properly assess them. This helps couples make important decisions on whether they should continue or if it's finally time to throw in the towel. Some couples can even use these as a way to do better in their relationship rather than ending it outright. Think of it in the same way you would Presentation Evaluation Forms. If people like how something is presented and that there's no problems, then they'll want to hear it anytime. It's the same way if someone likes how another presents himself or herself, then that person's a keeper.