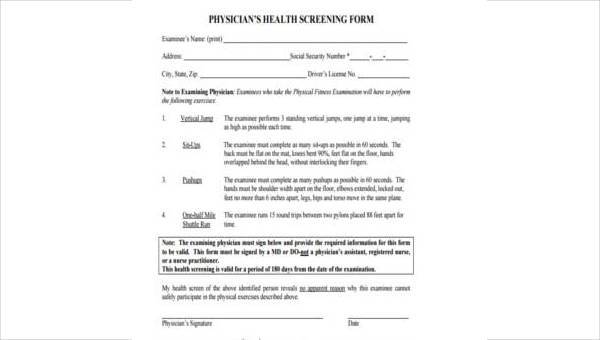 A Physical Exam is an important means of preventive medicine for everyone regardless of race, age, sex, or level of activity. Physical Examinations enable people to pre-screen themselves for potential diseases, ailments, or medical conditions that may exhibit future medical risks.
Physical Examinations are more popularly dubbed check-ups and are a process wherein a medical practitioner goes through the body of a patient looking for signs of disease. Physical Exams usually begin with the documentation of the patient's medical history to aid a healthcare practitioner in determining diseases or giving out accurate diagnosis for a proper plan of treatment.
General Physical Health Form
Child Physical Health Assessment Form
Physical Health Examination Form
Physical Health Monitoring Report Form
Physical Health Screening Form
Physical Exams are recommended for everyone, especially among individuals above the age of 50. Annual Physical Exams help in identifying issues that may be a cause for concern in the future, are a means to update any necessary immunizations, and help ensure that an individual maintains a healthy diet and exercise routine.
A Physical Form or Physical Assessment Forms are usually used by a nurse or a clinician when conducting a Physical Assessment. The initial process of a Physical Exam usually entails interview questions pertaining to a patient's medical history, medications and supplements taken by the patient, a list of symptoms or pain experienced, results from any recent or relevant tests done, medical and surgical history, names and contact information of previous and current doctors, and any other questions related to the patient's health.
Types of Physical Examinations
Routine Physicals
Routine Physical Examinations are assessments typically done on asymptomatic patients – patients who do not harbor any symptoms of illness or disease. Routine Physicals are typically conducted for screening purposes and are done by pediatricians, physicians, primary care providers, or a certified nurse.
Pre-employment Physical Exams
Pre-employment Physical Examinations are usually done to screen employees and to determine their suitability to work based on the results of the Physical Examination. Pre-employment Physical Exams are usually required by employers to make sure that an employee for hire is physically capable of performing his job and coming to work. These types of exam assure employers that an employee will have fewer absences due to sickness, fewer workplace injuries, and a low rate of occupational disease.
Child care Physical Health Check Form
Physical Health Evaluation Form
Physical Health Form Example
Physical Health Form in Word Format
Comprehensive Physicals
A Comprehensive Physical Examination is a more in-depth type of assessment that normally includes laboratory tests, chest x-rays, full-body CAT scans, EKGs, pulmonary tests, urinalysis, and mammograms or prostate exams.
Insurance Physical Exams
Insurance Physical Exams are assessments done when purchasing health or life insurance. The exam consists of the examiner noting the patient's height and weight, blood sample, blood pressure, and urine sample.
Sports Physical Exams
Sports Physical Exams are also known to be a Pre-participation Physical Exam (PPE). This type of exam helps in determining the safety aspects of a candidate to participate in a certain sport. With the use of Sports Physical Forms, clinicians are able to objectively assess an individual's capacity to join a sport based on his medical history and the results of his Physical Exam.