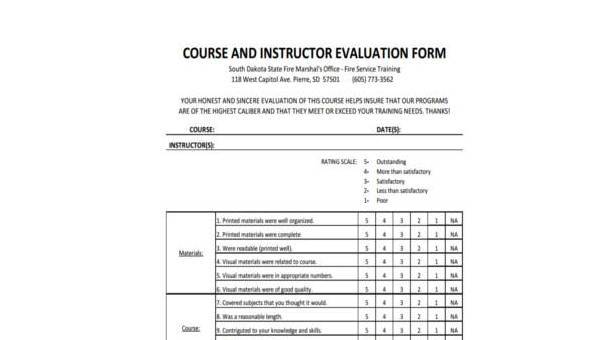 When you think you need help with an activity that you have little or no idea how to go about, then there are always instructors to help you. Instructors are there to guide you through the necessary steps in performing certain tasks. They also make sure that you're doing things the right way.
However, how would you know if a certain instructor has done the right job for you? How would you assess what kind of attitude a certain instructor has and his or her teaching methods?
These questions can be answered with Instructor Evaluation Forms.
Army Instructor Evaluation Form
Fitness Instructor Evaluation Form
College Instructor Evaluation Form
Course and Instructor Evaluation Form
Instructor Course Evaluation Form
The Different Kinds of Instructor Evaluation Forms
There are various forms that allow people to assess the different qualities of certain instructors. These forms help them pick out which instructors do the best job for the specific type of training they need. Here are some examples of these kinds of forms:
Instructor Course Evaluation Forms are forms utilized by those who wish to evaluate the training course provided by a certain instructor. Training sessions can range form a wide variety of courses such as engineering, nursing, call center training, and so much more.
Instructor Performance Evaluation Forms are for those who wish to assess the performance of a certain instructor. These help evaluate factors such as the way an instructor has taught or even his appearance throughout the whole program.
Fitness Instructor Evaluation Forms are used especially by those who often go to gyms. These forms are for those people who hired fitness instructors and wish to assess how well they teach and if their methods of acquiring fitness are right for them or not.
Army Instructor Evaluation Forms are made to  assess the army drill instructors and how well their methods are in producing top quality soldiers for the country.
Instructor Performance Evaluation Form
Instructor Self Evaluation Form
Instructor Peer Evaluation Form
Instructor Evaluation Form Doc
The Importance of Evaluating Different Instructors
It's really important that people evaluate these instructors before seeking their tutelage. Let's say a student wants to enroll in a course he's interested in and that student wants to know that teacher's teaching methods, so what does he do? He looks up the Teacher Evaluation Forms and finds that specific teacher's recent Evaluation Form.
It's also really important to assess instructors you've had the privilege of being taught by. If that instructor was able to teach to the best of his or her ability, then it's good to indicate as many positive comments on his evaluation so more people will know that this instructor is worth training under. Otherwise, if the instructor did a very poor job, then it's best to put that in the Evaluation Form so that people won't be making the same mistake of being taught by that person.