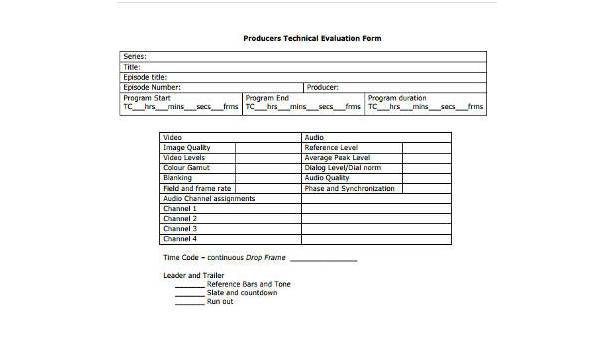 The technical skills and abilities of people are important factors that can provide the success of a project or any other undertaking. Acquiring these skills allow individuals to provide the technical needs of business processes. They're very important for certain jobs that relate to mechanical, IT, mathematical, or scientific tasks. Basically, these people are very good in making very accurate calculations out of the most complex numerical equations. If you're going to simplify things even further, then these are people great with numbers.
If people are going to jobs that are more technical than most, then they'll need to show off their technical skills. And these skills will need to be properly evaluated; the best way to do so is by the use of our Technical Evaluation Forms. See below for examples of these, and feel free to download.
Technical Interview Evaluation Form
Technical Training Evaluation Form
Technical Presentation Evaluation Form
Technical Employee Evaluation Form
Technical Assistance Evaluation Form
The Various Types of Technical Evaluation Forms
There are many different types of these forms that help companies in evaluating the technical skills of possible employees or to assess the current technical skills of people they've already hired. Here are some examples of these types of forms:
Technical Presentation Evaluation Forms are the kind of forms used by those companies that want to assess the presentations of those employees which involve a lot of technical-related subjects.
Technical Employee Evaluation Forms are forms for those companies to evaluate employees who handle the technical side of the business. These try to assess how well they're performing and if the level of quality they're producing is up to company standards or not.
Technical Training Evaluation Forms are for those employees who need to undergo technical training. These are for those companies that need to evaluate how these employees are doing in their technical training and if they're showing improvements or should be let go.
Technical Assistance Evaluation Forms are used by those companies that need to evaluate technical assistance that was performed by either their own employee or an employee of another company who performs technical support.
Technical Candidate Evaluation Form
Technical Evaluation Report Form
Technical Evaluation Form Example
Candidate Evaluation Form  Example
Simple Technical Evaluation Form
General Technical Evaluation Form
The Importance of Having Technical Evaluations
It's really important for companies to choose the right people with the right technical skills as technical problems are very common in almost every company. They'll want the right person for the job, which is why these evaluations are very important and at the same time that's why they have Technical Performance Evaluation Forms to see just which employee has the best technical skills among the bunch.
These can also benefit the employees in some way. If an employee has a high level of technical skill, then their chances of being hired are much greater. So if you're someone with great technical skills, don't be afraid to have yourself evaluated; you might just land yourself a good job position.